Such a beautiful, simple side dish: Carrots Vermouth. 
Carrots Vermouth, Spectacular Side Dish!
Hi. It's Lois in the kitchen at Recipe Idea Shop, telling you about our fabulous Carrots Vermouth Recipe, which comes from an excellent cookbook, Ciao Italia Family Classics by Mary Ann Esposito.
For once, I didn't make any changes to the recipe. Do yourself a favor and buy this cookbook now; the recipes are absolutely to die for. I swear, Mary Esposito is the Julia Child of Italian Cooking. Every. Single. Recipe. Is. Out. Of. This. World.
Don (Who Doesn't Like Carrots) Liked The Carrots Vermouth!
Don doesn't generally like cooked carrots (unless they are in either a pot roast or carrot cake), but he did like these. I thought they were stupendous, and I can't wait to make them again. The flavor bursts in your mouth and you just want to keep eating them. Luckily, they are low in calories and high in good-for-you vitamins and nutrients. Make them yourself and let me know how you like them.
Carrots Vermouth Recipe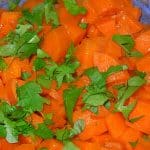 Carrots Vermouth
Ingredients
6

large carrots

peeled, quartered, and diced

4

tablespoons

1/2 stick unsalted butter

1

teaspoon

salt

1

tablespoon

honey

2/3

cup

inexpensive white vermouth

1/4

cup

chopped flat-leaf parsley
Instructions
Put the carrots in a pot with the butter, salt and honey.

Cook for a few minutes.

Add the vermouth.

Cover the pot and stew the carrots until crisp tender, about 8-10 minutes.

Uncover and cook a few minutes more, stirring often until the carrots are glazed.

Transfer to a serving bowl and sprinkle with the parsley.

Serve hot.
https://recipeideashop.com/carrots-vermouth/
Note: Many of the links included throughout Recipe Idea Shop are affiliate links, which means if you follow them and you buy something, we will get a small commission. It doesn't cost you a penny more, and you can still use your Amazon Prime (Shop Amazon — Give the Gift of Amazon Prime) account to buy. This posting includes affiliate links. Don and I love our Amazon Prime account.
Carrots Vermouth Recipe Nutrition Information
Want More Recipes Like This?
If you want more delicious recipes, please sign up for our free cookbook.
Pin & Share!
Please Pin and share our recipes. And tell us what you think in the comments.
You May Also Like These Recipes From Recipe Idea Shop
BEFORE YOU GO, DID YOU GRAB YOUR FREE COOKBOOK?