Scalloped Potatoes with Caramelized Onions. The creamiest, most flavorful version of Scalloped Potatoes.
Scalloped Potatoes with Caramelized Onions
We decided to have Ham and Scalloped Potatoes for Christmas supper this year.  Because commercial milk hurts my joints, I have to be careful to eat only A2 milk (and A2 cheese), which either comes from goats or from cows that have been tested to be A2. I have invested in a local family farm (Misty Morning Farm) so I am able to get delicious A2 milk, straight from the cow. That way, I get A2 milk that doesn't cause my body's inflammation and an allergic response.
So, when I found a recipe for Scalloped Potatoes with Caramelized Onions on Food52 that came from Katheryn's Kitchen, I adapted it to fit my particular needs. The recipe called for Gruyere cheese, but I didn't have any made from A2 milk. I substituted Pecorino Romano. Since Pecorino Romano is a tasty goat cheese substitute for Parmesan cheese (a hard cheese), and Parmesan goes with just about anything, I thought that would work, and it did. What wonderful Scalloped Potatoes! So far, this is my favorite recipe for Scalloped Potatoes and it's one of our Top Recipes.
If you like Caramelized Onions, we have a terrific way to make them without having to stand over the stove.
Do You Have An Instant Pot Yet?
Scalloped Potatoes with Caramelized Onions Recipe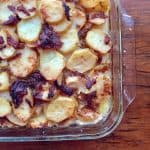 Scalloped Potatoes with Caramelized Onions
Total Time
2
hours
15
minutes
Ingredients
2

cups

heavy cream

4

cloves

garlic

(minced)

3

whole

peppercorns

3/4

teaspoon

sea salt

2

sprigs

fresh thyme or a pinch of dried thyme

2

medium

yellow onions

(thinly sliced)

2

tablespoons

olive oil

3

pounds

potatoes

(peeled and sliced thin [Use Yukon Gold or another starchy variety])

1

cup

shredded Pecorino Romano
Instructions
In a medium saucepan, heat the cream, garlic, peppercorns, salt and thyme to not quite boiling.

Reduce the heat to low.

Cover and simmer for 12-15 minutes, stirring frequently. Then set aside.

In a skillet, heat the oil over medium-high heat. Sauté the onions in the skillet until caramelized (nicely browned).

In an 8 x 10 (greased) baking pan, layer the ingredients (similar to lasagna) as follows: potatoes, onions, cheese, potatoes, onions, cheese, etc., ending with cheese.

Strain the cream mixture to remove any lumps and pour it over the layered potatoes.

Bake at 300F degrees (on a baking sheet to catch drips) for 1.5 to 2 hours until tender.

Serve hot.
https://recipeideashop.com/scalloped-potatoes-with-caramelized-onions/
Recipe Notes
You can make Caramelized Onions in your slow cooker and freeze them to save a step on the recipe!
Note: Many of the links included throughout Recipe Idea Shop are affiliate links, which means if you follow them and you buy something, we will get a small commission. It doesn't cost you a penny more, and you can still use your Amazon Prime (Shop Amazon — Give the Gift of Amazon Prime) account to buy. This posting includes affiliate links. Don and I love our Amazon Prime account.
Scalloped Potatoes with Caramelized Onions Nutrition
Want More Recipes Like This?
If you want more delicious recipes, please sign up for our free cookbook.
Pin & Share!
Please Pin and share our recipes. And tell us what you think in the comments.
You May Also Like These Recipes From Recipe Idea Shop
BEFORE YOU GO, DID YOU GRAB YOUR FREE COOKBOOK?