Caramelized Scalloped Potatoes are the creamiest, most flavorful version of Scalloped Potatoes.

Scalloped Potatoes with Caramelized Onions are my favs.
Caramelized Scalloped Potatoes take a little bit longer to make, but they are worth it. Who knew that adding caramelized onions to scalloped potatoes would be so amazing? Because cow's milk hurts my joints, I have to be careful to eat only nondairy milk or goat's milk and cheese products. So I make this with one of the good dairy substitutes, like coconut, almond or pea milk.
Recipe Development
This recipe is based on a recipe from Katheryn's Kitchen; I adapted it to fit my particular needs. The recipe called for Gruyere cheese. I substituted Pecorino Romano. Since Pecorino Romano is a tasty sheep's cheese substitute for Parmesan cheese (a hard cheese), and Parmesan goes with just about anything, I thought that would work, and it did. What wonderful Scalloped Potatoes! So far, this is my favorite recipe for Scalloped Potatoes and it's one of our Top Recipes.
If you like Caramelized Onions, we have a terrific way to make them without having to stand over the stove. Use your Instant Pot or your slow cooker and make a whole pot of them. Then freeze them and pull them out as needed. I make my caramelized onions outside because when you do it inside, the smell permeates every inch of your house!
What You Need
You will need measuring cups and spoons, knives, a potato peeler, cutting board, casserole dish and a good sauté pan. Do yourself a favor and buy the best tools you can afford.
Scalloped Potatoes with Caramelized Onions Recipe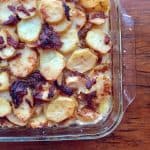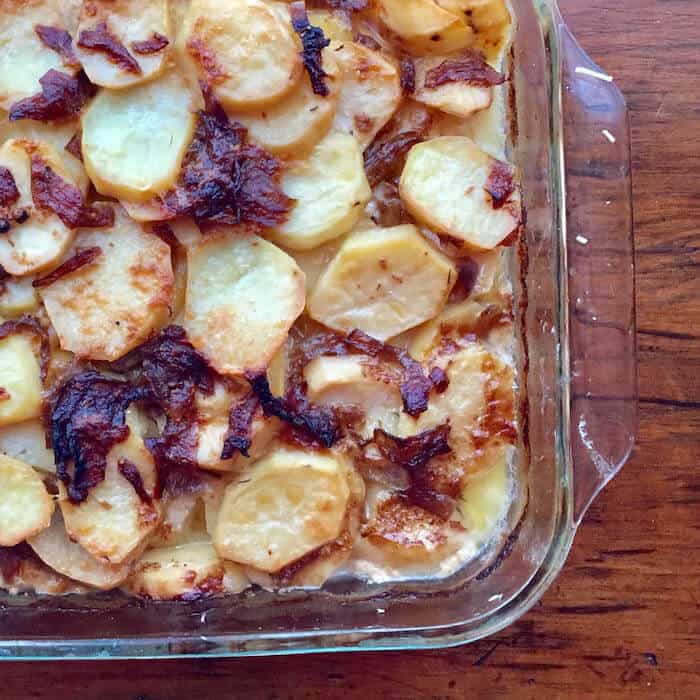 Scalloped Potatoes with Caramelized Onions
A rich, creamy, robust scalloped potatoes recipe.
Total Time
2
hours
15
minutes
Ingredients
2

cups

high fat coconut milk

(if you don't need dairy free, subsitute heavy cream)

4

cloves

garlic

(minced)

3

whole

peppercorns

3/4

teaspoon

sea salt

2

sprigs

fresh thyme or a pinch of dried thyme

2

medium

yellow onions

(thinly sliced)

2

tablespoons

olive oil

3

pounds

potatoes

(peeled and sliced thin [Use Yukon Gold or another starchy variety])

1

cup

shredded Pecorino Romano
Instructions
In a medium saucepan, heat the coconut milk, garlic, peppercorns, salt and thyme to not quite boiling.

Reduce the heat to low.

Cover and simmer for 12-15 minutes, stirring frequently. Then set aside.

In a skillet, heat the oil over medium-high heat. Sauté the onions in the skillet until caramelized (nicely browned).

In an 8 x 10 (greased) baking pan, layer the ingredients (similar to lasagna) as follows: potatoes, onions, cheese, potatoes, onions, cheese, etc., ending with cheese.

Strain the cream mixture to remove any lumps and pour it over the layered potatoes.

Bake at 300°F (on a baking sheet to catch drips) for 1.5 to 2 hours until tender. (See note if you would like to bake this dish a couple days before your event.)

Serve hot.
https://recipeideashop.com/scalloped-potatoes-with-caramelized-onions/
Recipe Notes
Note 1: You can make Caramelized Onions in your slow cooker and freeze them to save a step on the recipe.
Note 2: You can make this 2 days ahead of your event by partially baking it for about 1 hour. Then remove from the oven, cool, and refrigerate. On the day of your special meal, bake it again for about 45–60 minutes until hot and bubbly. The potatoes should be fork tender.
Affiliate Disclosure: This website may contain affiliate marketing links, which means we may get paid commission on sales of those products or services we write about, including Amazon. Editorial content is not influenced by advertisers or affiliate partnerships. This disclosure is provided in accordance with the Federal Trade Commission's 16 CFR § 255.5: Guides Concerning the Use of Endorsements and Testimonials in Advertising.
Recipe Nutrition Information
This recipe is GF, DF, NF (contains coconut), SF, EF, CF, V*
The information shown is an estimate provided by an online nutrition calculator. It should not be considered a substitute for a professional nutritionist's advice.
You May Also Like These Recipes From Recipe Idea Shop
SUBSCRIBE FOR MORE RECIPES YOU LOVE & FREE GIFTS
Trust me, you're gonna love our recipes. Up your recipe repertoire. Add this recipe to your collection. But don't stop there…subscribe to our email newsletter and get a free cookbook and a printable grocery shopping list.
RATE, PIN & SHARE!
Please Rate our recipes, and Pin and Share them on social media. Comments are welcome, too!
*Allergen Key
GF = Gluten free | DF = Dairy free | NF = Nut free | SF = Soy free | EF = Egg free | CF = Corn free | V = Vegetarian | VG = Vegan
Note: If you have serious allergies or sensitivities, to be considered free of these allergens, you need to use products specifically marked "gluten free," etc. There can be cross-contamination in facilities. 
This recipe was originally posted on Recipe Idea Shop Dec. 20, 2019 and updated October 26, 2020.