Sloppy Joes. You love 'em. Kids love 'em. They are very easy to make.
Sloppy Joes
Do you need a delicious, quick supper or dish to bring to a community gathering? Although they can be a little messy (hence the "sloppy" in the title), Sloppy Joes are easy to make and most people like them. They also work well in a crockpot so you can keep them warm if you have people dropping in for a bite to eat at different times. I often use the smaller "slider" buns for parties rather than full-sized hamburger buns to serve.
Use Lean Meat or Vegetarian "Meat"
I make mine with 95% lean ground beef, but you could substitute ground turkey, ground chicken, or vegetarian crumbles, or a combination of these. If I know I will have vegetarians at a party, I make a batch of Sloppy Joes using beef and another batch that's vegetarian using Morningstar Farms Meal Starters Grillers Crumbles (affiliate link) or Boca Veggie Ground Crumbles (affiliate link). The nice thing is, you can use the vegetarian crumbles exactly as you would the ground beef, but be careful...it burns easier.
Kids tend to like Sloppy Joes rather plain, meaning without much onion or green pepper. I have found that adults like them a little spicier. It's easy to get your kids to eat more veggies by hiding some in these sandwiches. Just add carrots and celery, chopped very small, so the kids don't see them.
What You Need
For this recipe, you need knives, a cutting board, a good skillet, a wooden spoon or spatula, measuring spoons, a garlic mincer and a vegetable peeler. If you are taking sloppy joes (also known as BBQ sandwiches in the North) to a potluck or carry-in, a slow cooker is also helpful. But what you really want is fun stuff for an outdoor picnic. Am I right?
Sloppy Joes Recipe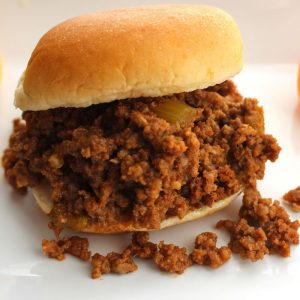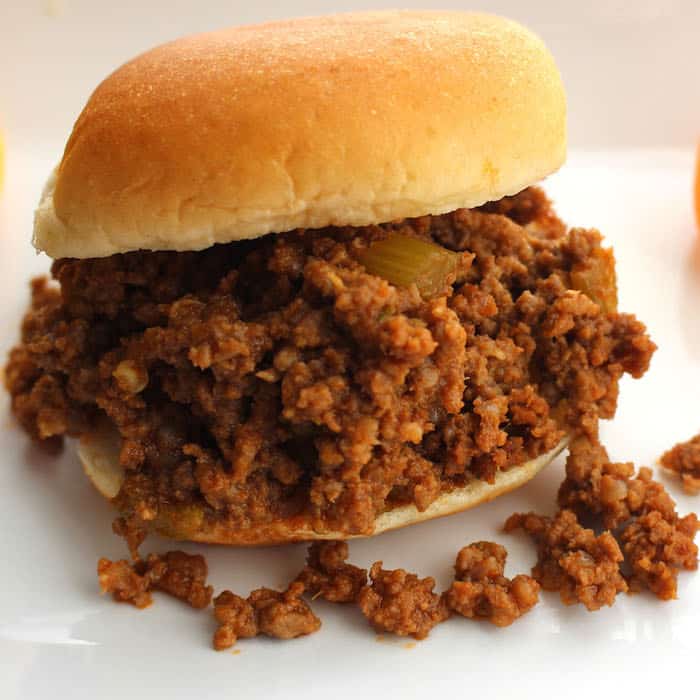 Sloppy Joes
Ingredients
2

pounds

hamburger

½

onion

(medium, chopped fine)

½

green pepper

(optional, chopped)

1

carrot

(peeled and chopped fine)

1

stalk celery

(chopped fine)

2

cloves

garlic

(minced)

1

cup

ketchup

2

tablespoons

yellow mustard

1

tablespoon

chili powder

¼

teaspoon

Cayenne pepper

salt and pepper to taste
Instructions
In a large skillet, brown the hamburger and onions.

Add the carrots, celery and green pepper, if using, and sauté for about 5 minutes until vegetables soften.

Add the garlic and continue to sauté the mixture.

Drain the fat off the mixture.

Return the hamburger mixture to the stove and sprinkle with salt, pepper, chili powder and cayenne.

Mix to combine.

Add the ketchup and mustard. If you like a "wetter" sandwich, add more ketchup and mustard. Mix and heat until hot.
Nutrition
Recipe Nutrition Information
This recipe is GF, DF, NF, SF, EF*
The information shown is an estimate provided by an online nutrition calculator. It should not be considered a substitute for a professional nutritionist's advice.
Nourish Your Body & Soul
I encourage you to care of yourself by eating satisfying, nourishing food that is good for your body and makes you feel healthy. Protect your spirit by living authentically, moving your body, and taking time to replenish and rest. I think you might also like these recipes & posts from Recipe Idea Shop:
Rate, Pin & Share!
Please Rate our recipes and posts, and Pin and Share them on social media. Comments are welcome, too!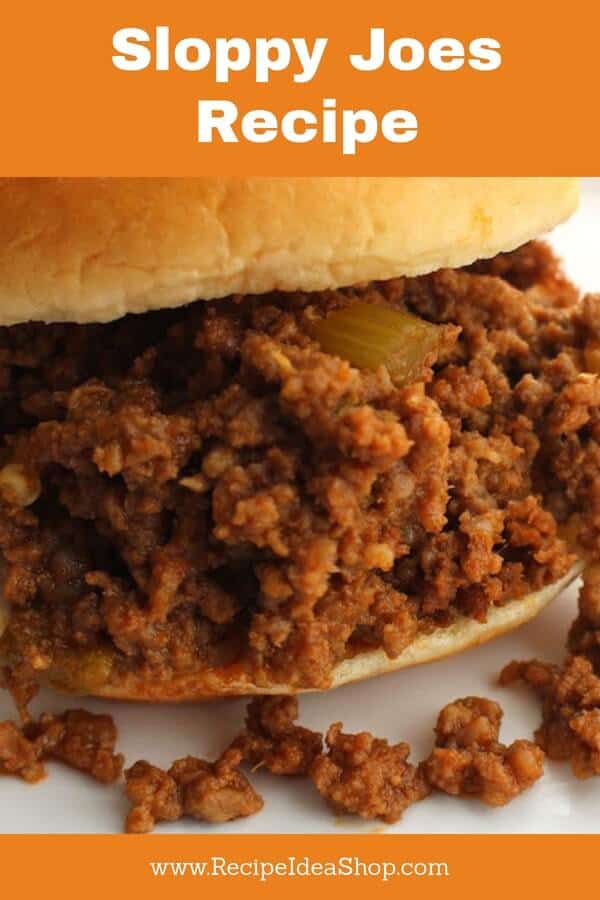 *Allergen Key
GF = Gluten free | DF = Dairy free | NF = Nut free | SF = Soy free | EF = Egg free | CF = Corn free | V = Vegetarian | VG = Vegan
Note: If you have serious allergies or sensitivities, to be considered free of these allergens, you need to use products specifically marked "gluten free," etc. There can be cross-contamination in facilities.
This post was first published on Recipe Idea Shop January 26, 2017 and updated July 1, 2021.