Make a Flaky, Homemade Traditional Pie Crust. No need to buy one. Just 5 ingredients, and you probably have them in your kitchen.
Learn how to make a Traditional Pie Crust.
Don here. I'm the pie maker in the family. It's easy and once you get the hang of it, you won't even need a recipe. I make mine from scratch without the recipe. Making a good pie crust is one recipe I highly recommend you master.
For Fruit Pies, Bake the Crust and Pie All At Once.
This recipe covers making two Traditional Pie Crusts for a fruit pie, such as a Blueberry Pie (pie and crust are baked at the same time), or two pie crusts to use in two open-faced pies. With Thanksgiving right around the corner, I am making a few pies, including two Pumpkin Pies, which use one crust each and you don't prebake the pie crusts.
Bake the Crust First For a Cream Pie.
There is a short variation in the recipe regarding how to make a Traditional Pie Crust for an icebox pie, such as Lemon Meringue Pie, which you do need to prebake.
The picture below shows the Traditional Pie Crust, ready for crimping the edges. For an unbaked pie like Lemon Meringue, prick the crust a few times before baking. Add pie weights or beans to maintain shape.
For Pumpkin Pie, however, you just fill it and bake it with the filling. (Only one crust, and no pricking.)
What You Need
For easy pie crust making a good food processor makes your life simple. You will also need measuring cups and spoons, a rolling pin and a pie plate. Get yourself a pretty pie plate and some fun dessert plates.
Traditional Pie Crust Recipe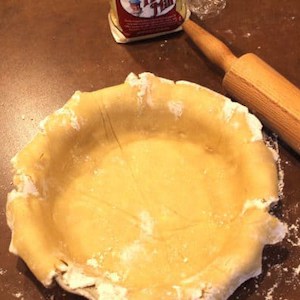 Traditional Pie Crust
Flaky, delicious pie crust!
Ingredients
2 ½

cups

all-purpose flour

1

teaspoon

salt

¾

cup

Crisco (shortening), cut into small pieces

(or ¾ cup cold unsalted butter cut into small pieces)

4

Tablespoons

water

1

teaspoon

sugar
Instructions
Combine the flour, salt and Crisco (or butter) in a food processor and pulse until the mixture resembles coarse crumbs.

With the processor running, slowly add the water until the dough forms into a ball. (You may have to stop and scrape the dough from the sides to be sure it is all blended.)

Roll the dough into a ball and divide it in half.

Then, on a lightly floured counter, press each half into a round, somewhat flattened, disk.

Wrap the dough in plastic separating the two disks with waxed paper and refrigerate for at least one hour.

Heat the oven to 450F degrees.

On a lightly floured surface roll out one pastry disk to a 10-inch round. If you use parchment, butcher paper or freezer paper on the surface and flour that, it will be easier to clean up.

Lightly roll the flattened disk around your rolling pin to move it to the pie pan.

Unroll the flattened crust and carefully fit it into a deep-dish pie pan.

Trim the crust allowing for about a 1-inch overhang.
Baking Instructions: Icebox or Custard Pies (Lemon Meringue, Cream Pies, Etc.)
For an icebox pie, the crust must be baked before filling it.

Before baking the pie shell, prick the pie shell several times, place pie weights in the shell, and bake at 350F degrees for about 15 minutes until it begins to brown.

Remove the pie shell from the oven, take out the pie weights, and cool the crust before filling with cold pie filling.

Refrigerate until serving.
Baking Instructions: Fruit Pies (including Pumpkin, Berry, Apple, Etc.)
For a fruit pie, mound the filling mixture onto the pie shell.

Roll out the other pie crust disk large enough to cover the top pie with some overhang.

Transfer the rolled out crust to the top of the pie.

Trim the top crust, fold the edge under the bottom crust and crimp (pinch) the two together.

Cut 4-5 steam vents in the top crust.

Sprinkle the sugar evenly over the top crust.

Bake at 450F degrees for 10 minutes; then reduce the temperature to 350F degrees and bake for 50 minutes longer. (May vary, depending on the type of pie you are making.)

Let the pie cool before cutting into individual serving-size pieces.
https://recipeideashop.com/traditional-pie-crust/
Notes
Making the dough only takes about 15 minutes, but you have to refrigerate it for at least one hour before rolling it out.
Recipe Nutrition Information (Crust Only)
The information shown is an estimate provided by an online nutrition calculator. It should not be considered a substitute for a professional nutritionist's advice.
RATE, PIN & SHARE!
Please Rate our recipes, and Pin and Share them on social media. Comments are welcome, too!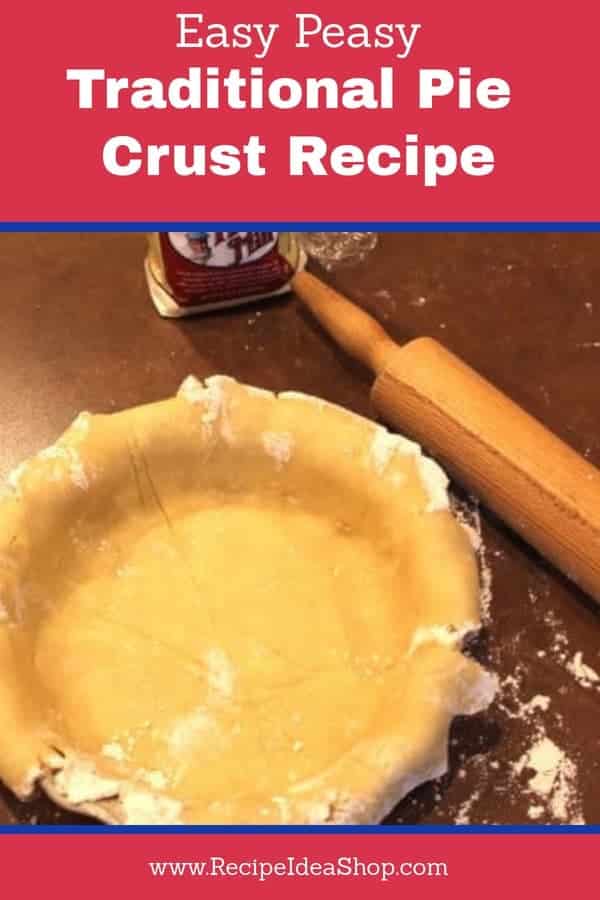 You May Also Like These Recipes From Recipe Idea Shop