Try this Asparagus Tomato Frittata recipe. Delicious. Simple. You got this.
Asparagus Tomato Frittata Exquisite Breakfast
Hi. It's Lois. Don made this lovely Asparagus Tomato Frittata for us, and we loved it. I was the sous chef, slicing and dicing.
You may notice that we like Frittatas. They are the Italian version of an omelet and there's no folding involved. So it's an easier way to have a special breakfast. And so beautiful! The eggs fluff up, and it only takes about 30 minutes, start to finish, to make a frittata.
I especially liked the asparagus in this frittata, but you can use just about any vegetable you like to make one. We had fresh asparagus that needed to be used, so we used that, along with a bit of onion, some red bell pepper, and some grape tomatoes. The asparagus stayed a bit crisp and it was perfect. We garnished it with sliced grape tomatoes.
Don& used our 10-inch cast iron skillet to make this Asparagus Tomato Frittata. It's the perfect size for two servings. Try it. I know you're gonna wanna eat this. But you might want to get some cast iron skillets if you don't already have them. They are terrific!
Asparagus Tomato Frittata Recipe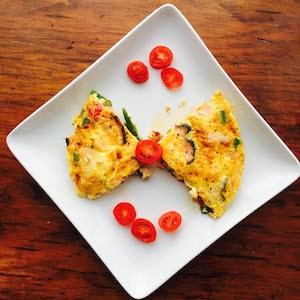 Asparagus Tomato Frittata
Ingredients
2

tablespoons

olive oil

¼

cup

chopped red bell pepper

¼

cup

chopped onion

1

cup

fresh chopped asparagus

12

grape tomatoes

halved

4

eggs

½

cup

milk

¼

teaspoon

nutmeg

⅛

teaspoon

salt

⅛

teaspoon

freshly ground pepper
Instructions
Using a 10-inch cast iron skillet, heat the oil over medium heat until hot.

Sauté onions and bell pepper until soft. Set aside.

In a bowl whisk eggs until blended. Add milk and spices, mix, and pour the egg mixture into the well oiled cast iron skillet.

Spread the sautéd vegetables and half of the tomatoes over the egg mixture..

Cook over medium heat until the egg mixture is nearly set, about 10-15 minutes.

Place the skillet a couple of inches below the broiler element and broil until lightly browned, about 3-5 minutes.

Garnish with the remaining tomatoes.
https://recipeideashop.com/asparagus-tomato-frittata/
Asparagus Tomato Frittata Nutrition
Pin & Share!
Please Pin and share our recipes. And tell us what you think in the comments.
You May Also Like These Recipes From Recipe Idea Shop