Sauteed Bitter Greens with garlic is a super tasty way to eat your heart-healthy kale. In fact, there are many great ways to make simple, but delicious, sauteed greens. You can also do this with dandelion greens, collard greens, broccoli rabe, turnip greens, and more. I've even seen people do it with beet greens!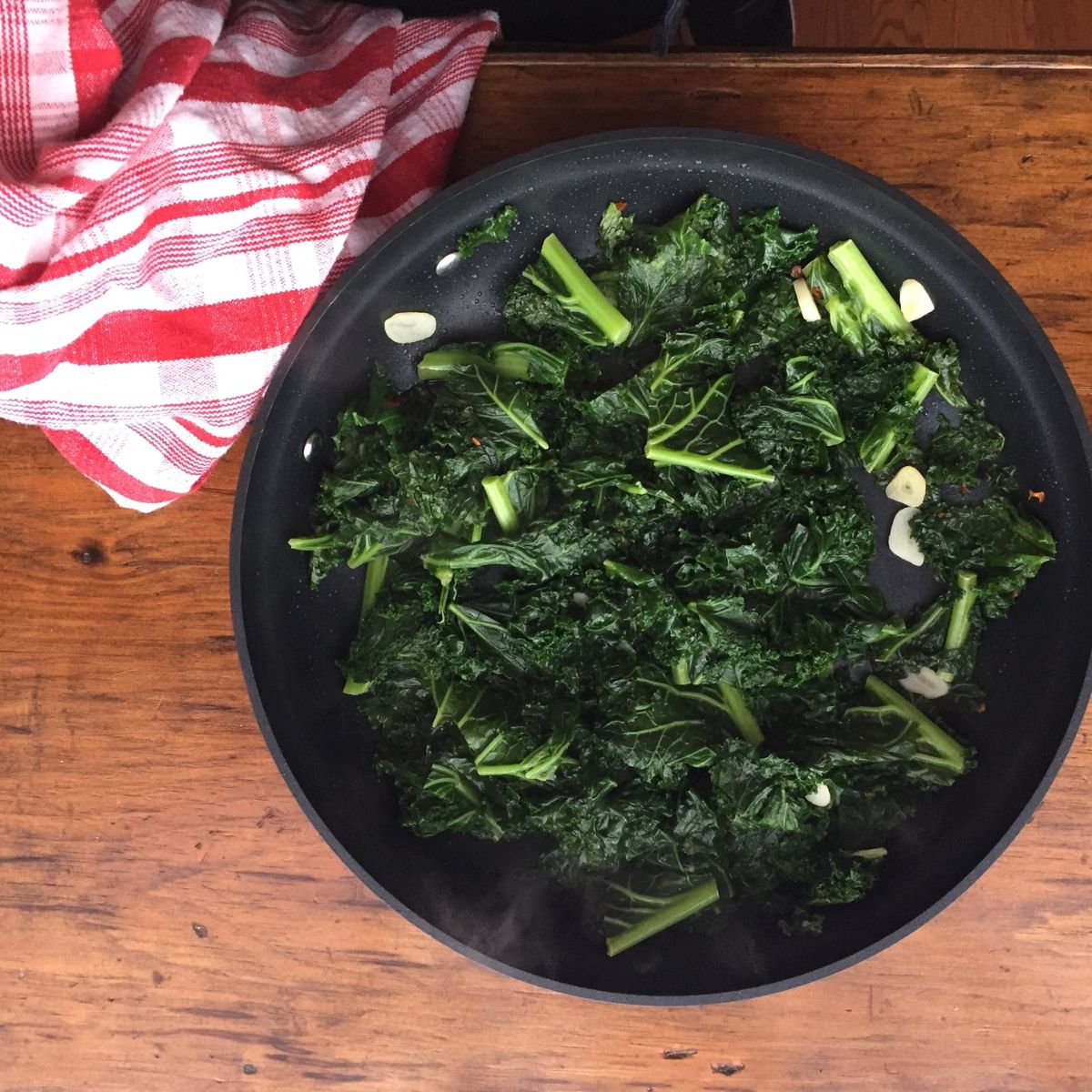 From sauteed mustard greens to sauteed chicory greens and even sauteed bitter melon, there are so many ways to spice up these dishes in the kitchen! My favorite Southern classic is sauteed collard greens with some garlic mashed potatoes. Such a delicious classic!
You can create a nice bitter flavor to pair well with other dishes in your meal. And there are ways to tone down the bitterness if you prefer not as much of it. That said, let's take a look at how to make them.
Sauteed Bitter Greens is a scrumptious side dish
Any time is a good time to enjoy "bitters", and with this great recipe, you'll be able to make them just right every time. Many people enjoy these light dishes in the spring or summer, but you can have greens year-round, and they're good for you too.
Some common bitter greens include:
broccoli rabe
collard
arugula
dandelion
kale
mustard
radicchio
spinach
watercress
Benefits of eating greens
Greens support a healthy gut and digestion - a wonderful reason to eat your daily bitter greens is that they help support a healthy gut microbiome. This means they give "good" bacteria and keep your gut healthy, aiding in digestion.
They have antioxidants - bitter greens have antioxidants that help protect cells from damage and also fight aging, cognitive decline, and chronic disease.
Bitter greens are nutrient-rich - in addition to the antioxidants, they are also rich in other nutrients like vitamins A, C, and K, calcium, potassium, and magnesium.
These greens contain cancer-fighting properties - greens are also believed to help prevent certain types of cancers. Some studies have also shown it can have detoxifying properties.
They have a lot of fiber - another thing you may already know about greens is that they are packed with fiber. This helps with digestion and also in the absorption of nutrients.
This Sauteed Bitter Greens recipe came from Mary Ann Esposito's Ciao Italia Family Classics (GREAT COOKBOOK!). Don made it exactly as she wrote it and it is so good.
My version was equally as good, but I cut down on the oil (she called for ¼ cup, which is a lot). It was fabulous, especially when paired with the Minty Eggplant Rollups and Carrots Vermouth (also from her cookbook). These greens are easy to make. You simply blanch (that is, boil for a short time) the greens, slice some garlic and sauté it, add the spices and wine, then toss in the drained greens for a couple of minutes. Super easy.
Food Pairings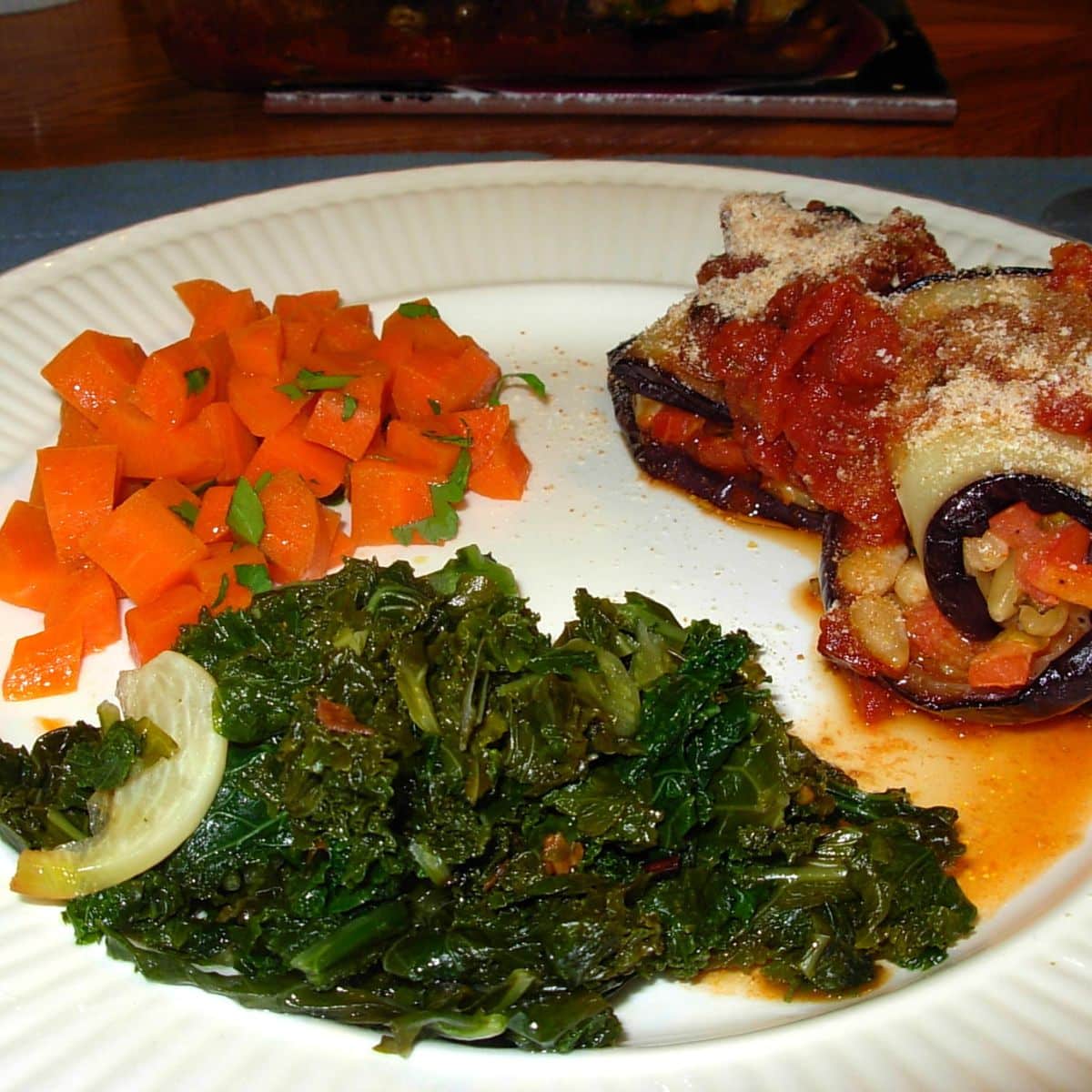 These greens are terrific paired with meat or chicken and potatoes, or as you see them here with eggplant and carrots.
I don't know about you, but I love to eat vegetarian meals regularly. Don and I try to limit our meat consumption to a couple of times a week. It's especially easy to do in the summertime when the veggies are plentiful and we have locally available organic vegetables.
Luckily, we live in the US where we have terrific grocery stores that offer organic vegetables year round (not necessarily local, however). I always feel so much healthier when I only eat veggies.
What You Need
For this recipe, you need:
measuring cups and spoons
a knife, cutting board,
sauté pan with a lid
a pot for boiling the greens.
While you are at it, buy a whole set of great cookware. You'll never be sorry. You also need hot pepper flakes and kale, of course.
Ingredients:
your fresh greens
extra-virgin olive oil
cloves of garlic
hot red pepper flakes
dry white wine
salt
black pepper
Sautéed Bitter Greens FAQ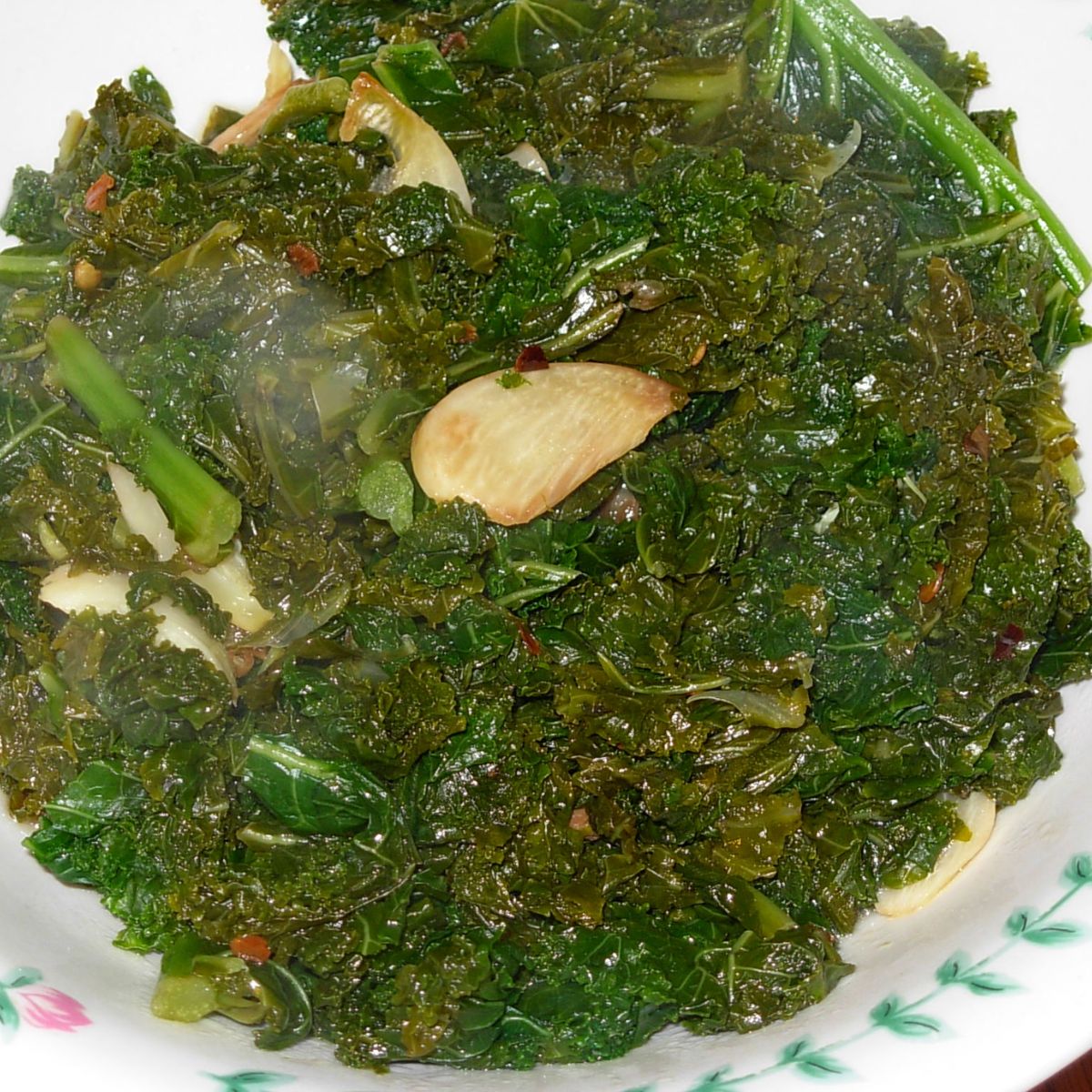 How do you cook bitter greens?
For bitter greens, you can follow our simple recipe above and make tasty greens every time.
How long should you cook leafy greens?
It depends on the type of green. Kale, mustard, turnip, and collard greens usually take from 15-20 minutes. Chard and beet greens take about 8-10 minutes.
How do you take the bitterness out of vegetables?
If the bitterness of bitter greens is too much for your palate, there are things you can do to balance it: squeeze some lemon juice on your greens or add vinegar, honey, soy sauce, or salt.
How do you make leafy greens taste better?
For many, it is an acquired taste. If you've rarely eaten leafy greens, they may not taste as good until you get used to them. However, you can help the flavor with your seasonings, olive oil, or margarine, and with the food pairings you choose. You can also add them to a smoothie or to a stir fry, and you can use them in place of lettuce on a wrap or sandwich.
More Healthy Green Recipes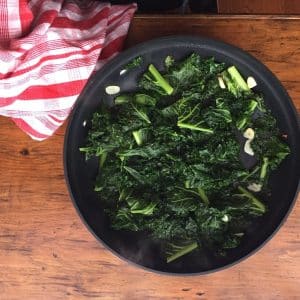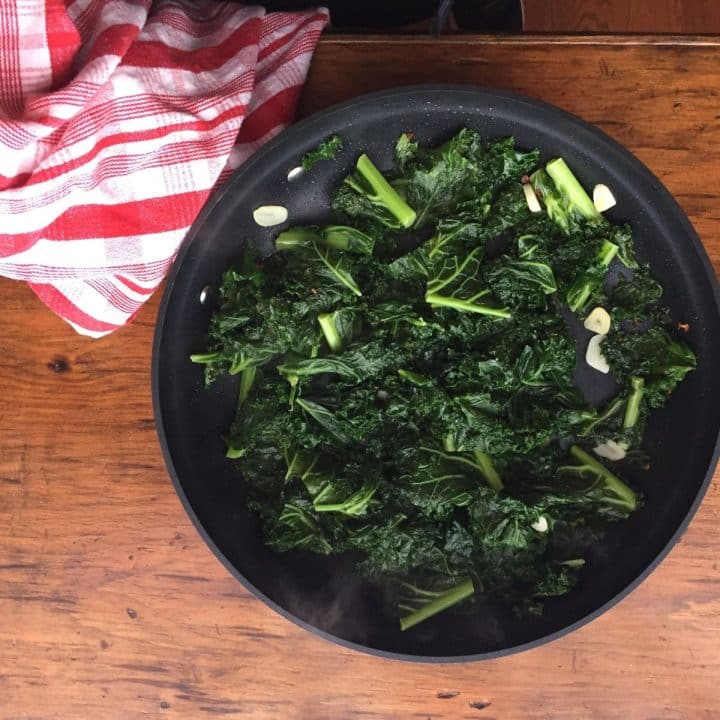 Sautéed Bitter Greens Recipe
Flavorful and a little spicy, these Sauteed Bitter Greens are packed with nutrients.
Ingredients
2

pounds

fresh kale

or broccoli rabe or dandelion greens, well rinsed and drained; we used kale

2

tablespoons

extra-virgin olive oil

2

cloves

garlic

peeled and cut into slivers

⅛

teaspoon

hot red pepper flakes

or more to your liking

¼

cup

dry white wine

¼

teaspoon

Salt

⅛

teaspoon

black pepper
Instructions
Chop the greens coarsely and set aside, cutting out the larger stems.

Bring a large pot of water to boil.

Add the greens and cook for about 3 minutes. They should still be bright green.

Drain the greens in a colander, squeezing out as much water as possible.

Heat the olive oil in a 12-inch sauté pan over medium-high heat.

Stir in the garlic slivers, pressing on them with the back of a spoon to release their flavor. Do not let them burn.

As soon as the garlic slivers look transparent, stir in the red pepper flakes.

Add the greens and wine.

Lower the heat to simmer and cover the pan.

Cook for about 3 or 4 minutes.

Uncover the pan, season with salt and black pepper, and serve hot.
Nutrition
Calories:
156
kcal
Carbohydrates:
11
g
Protein:
7
g
Fat:
10
g
Saturated Fat:
1
g
Polyunsaturated Fat:
2
g
Monounsaturated Fat:
5
g
Sodium:
268
mg
Potassium:
808
mg
Fiber:
9
g
Sugar:
2
g
Vitamin A:
22676
IU
Vitamin C:
212
mg
Calcium:
581
mg
Iron:
4
mg
RATE, PIN & SHARE!
Please Rate our recipes, and Pin and Share them on social media. Comments are welcome, too!