Grilled Spatchcocked Chicken is delicious and easy but isn't a quick meal. It requires several hours of letting the chicken marinate in the refrigerator. The grilling part is pretty quick compared to regular roasted chicken. And the results are mouthwatering.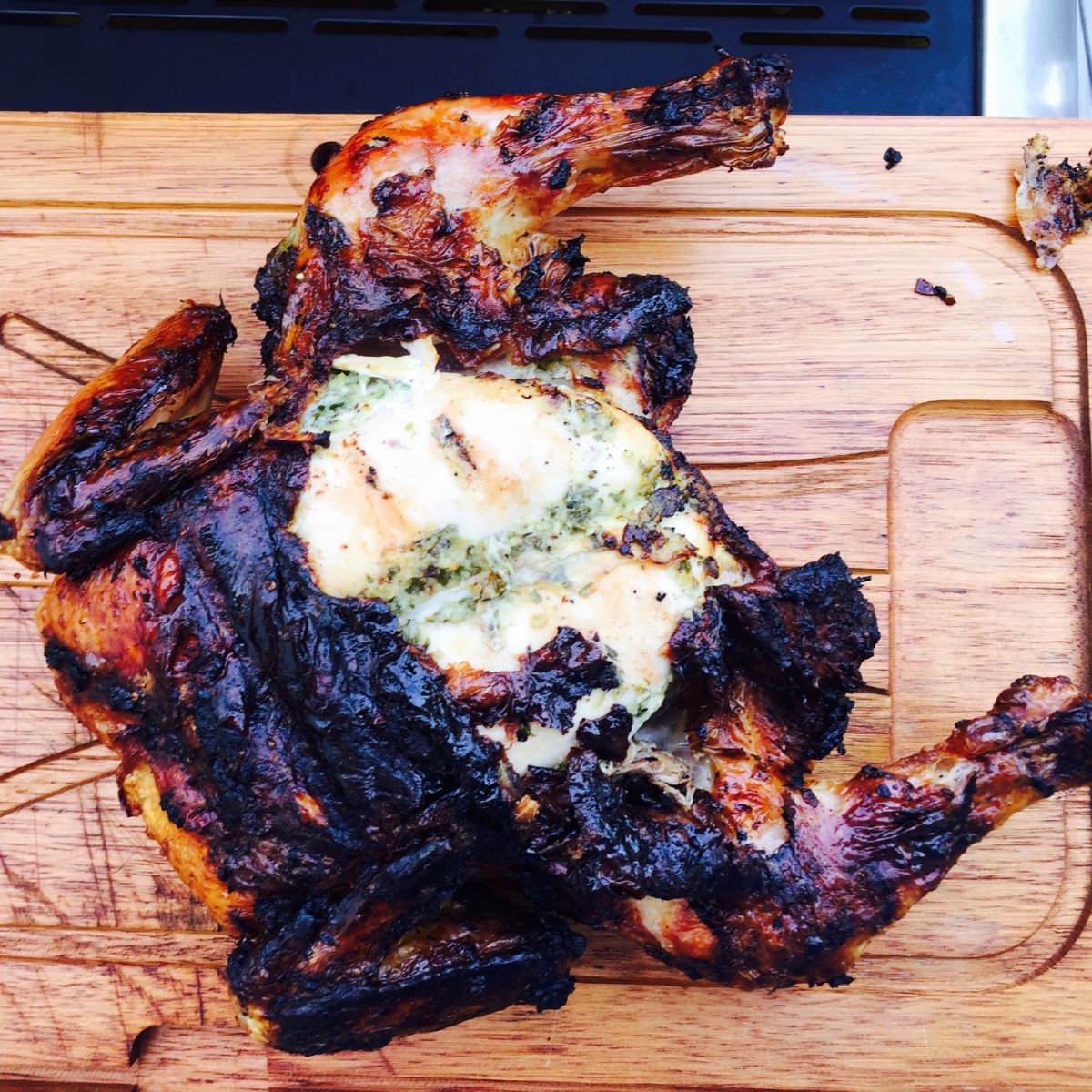 Grilled Spatchcocked Chicken is so tasty
Have you heard of spatchcocking? I hadn't until a couple of years ago when I read about it in a magazine. You know how you think you have never heard of something, and then suddenly, that thing is everywhere? That's what happened to me with spatchcocking.
During the pandemic, we didn't have our usual ham or lamb available and chose to cook chicken instead. I could eat this chicken every day!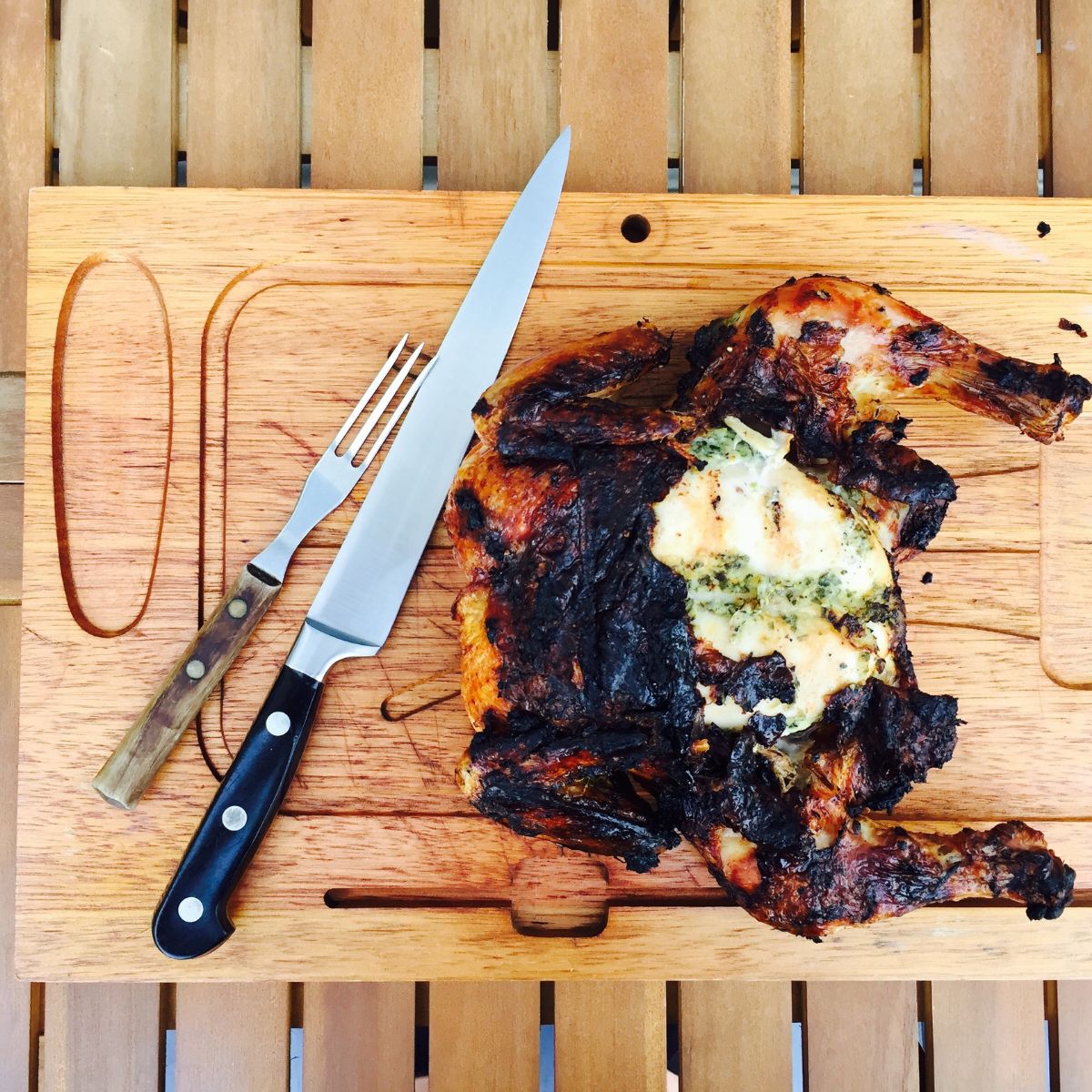 What is Spatchcocking?
I looked up the history of spatchcocking, which has been around since the 18th century. But in 2002, New York Times food "minimalist" Mark Bittman created a video about spatchcocked turkey, and all of a sudden, the term was trending. His video is entertaining. He shows you exactly how to do it and then puts a giant clock around his neck to show you the turkey will be done in 45 minutes. And it looks like it's about a 12-pound turkey.
Here are the simple steps to prepare a spatchcock chicken (also called a flat chicken):
Lay the chicken on a cutting board, with the breast side facing down, and pat it down with a paper towel.
Using a pair of sharp kitchen shears, cut along one side of the backbone and repeat the process on the other side of the backbone to completely remove it.
Once the backbone is removed, open up the chicken like a book by spreading the legs apart, then press down on the sternum to crack it open, flattening the breasts and rib bones.
Your chicken should lay flat on the cutting board, with the legs and wings spread evenly.
Season as desired.
Learn more about spatchcoking a chicken.
Preparing Grilled Spatchcock Chicken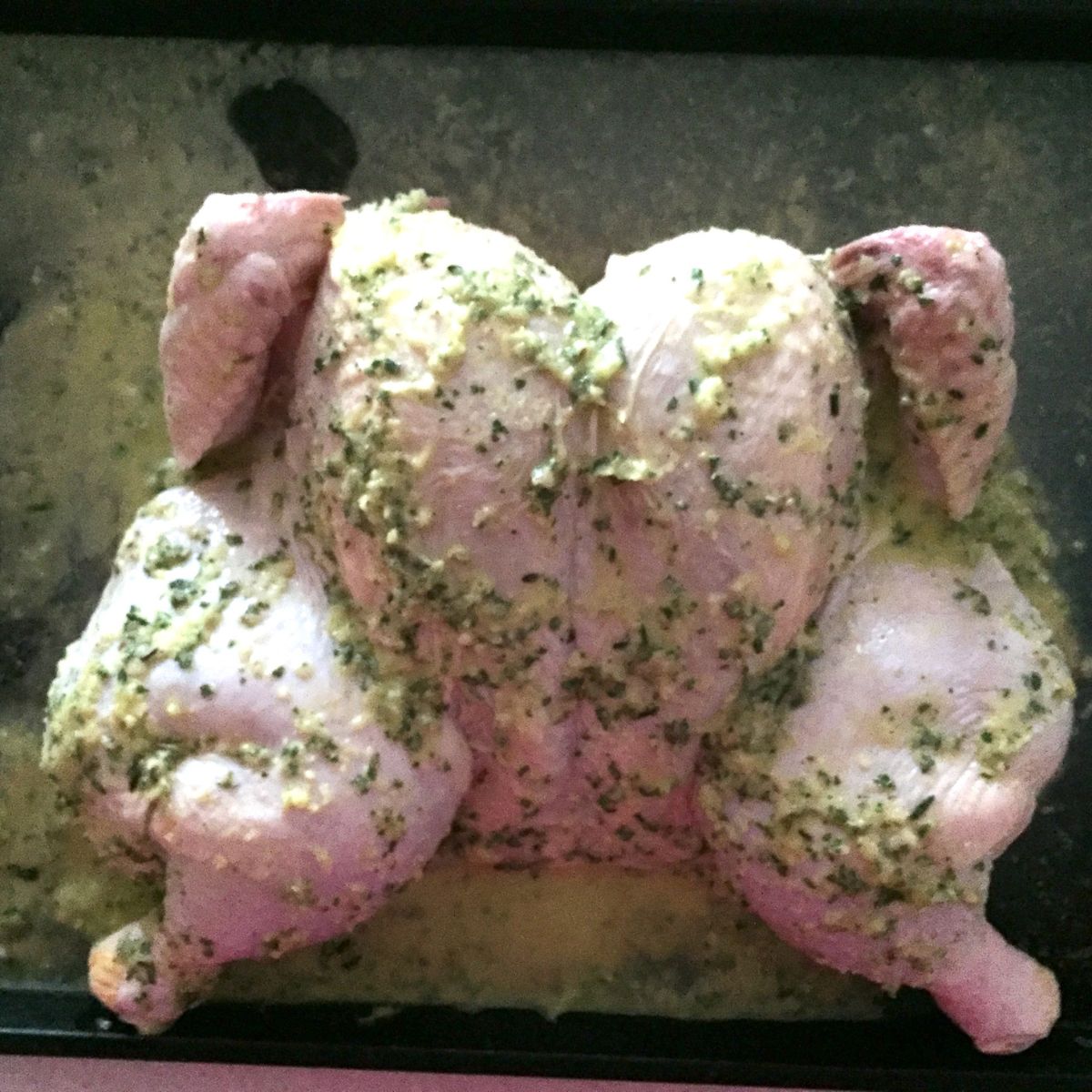 When you make Grilled Spatchcocked Chicken, you cut the backbone out (save it for making homemade chicken broth) and flatten the bird to increase the cooking surface. I adapted Martha Stewart's recipe, and the combination of onion, garlic, herbs, olive oil, and lemon in the rub made it super good. In the one shown below, I used olive oil, garlic, lemon juice, rosemary, thyme, and oregano. Oh my! It's good.
Watch the video above to see how to cut the backbone out.
Mark Bitman, on the other hand, put a little olive oil, salt, pepper, and peeled garlic cloves on it right before roasting (which he did in an oven probably at 375F or 400F degrees, but he didn't say), and his turkey looked terrific. Take a look at my Easy Oven Roasted Spatchcocked Chicken. It's SO easy.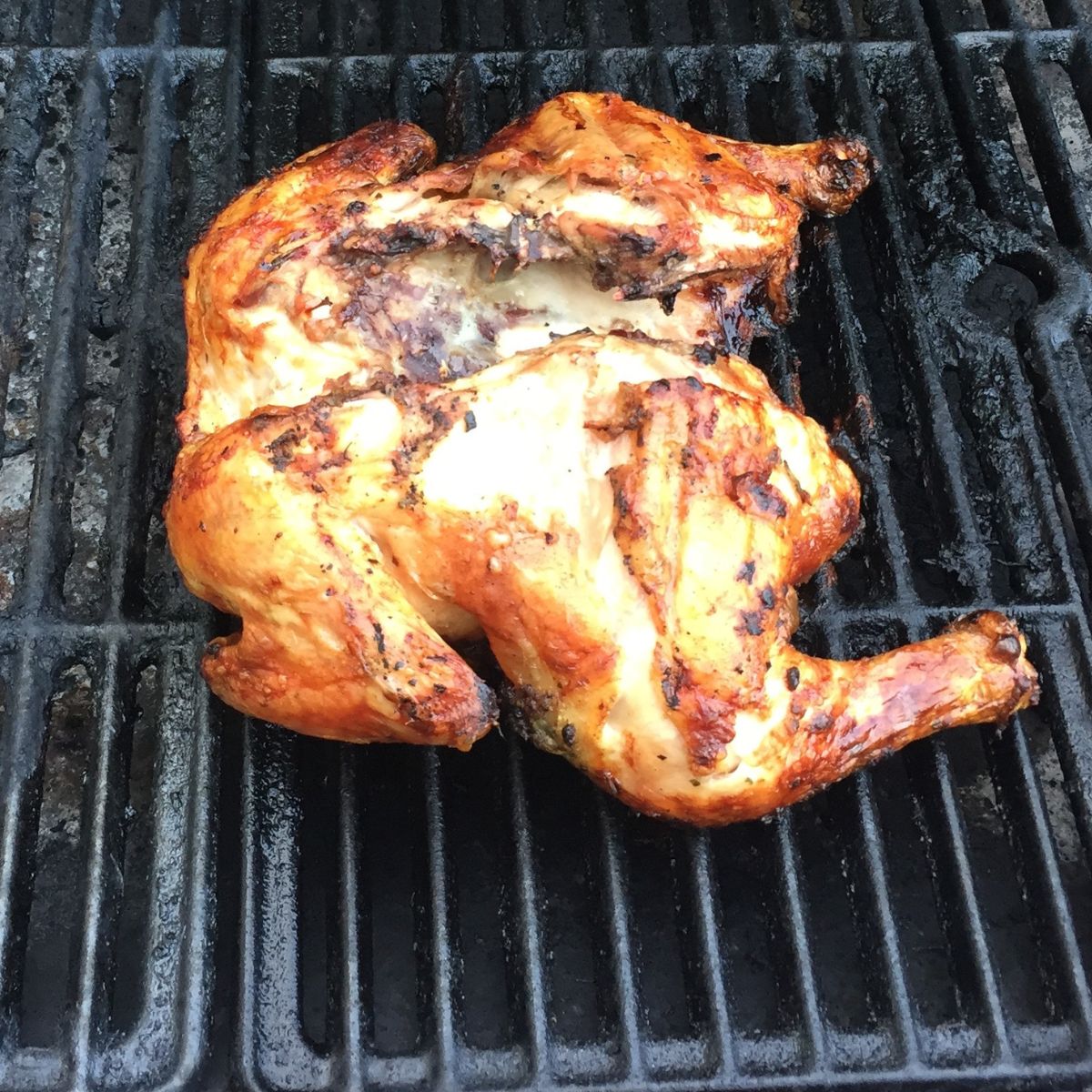 Don and I found the flavor of the chicken to be fabulous. It was juicy and fully cooked in about 35-40 minutes a side over a medium-high heated grill using the indirect cooking method. "Indirect" means that the area where the food is being cooked does not have flames or hot coals directly under it. The heat surrounds it on either side instead.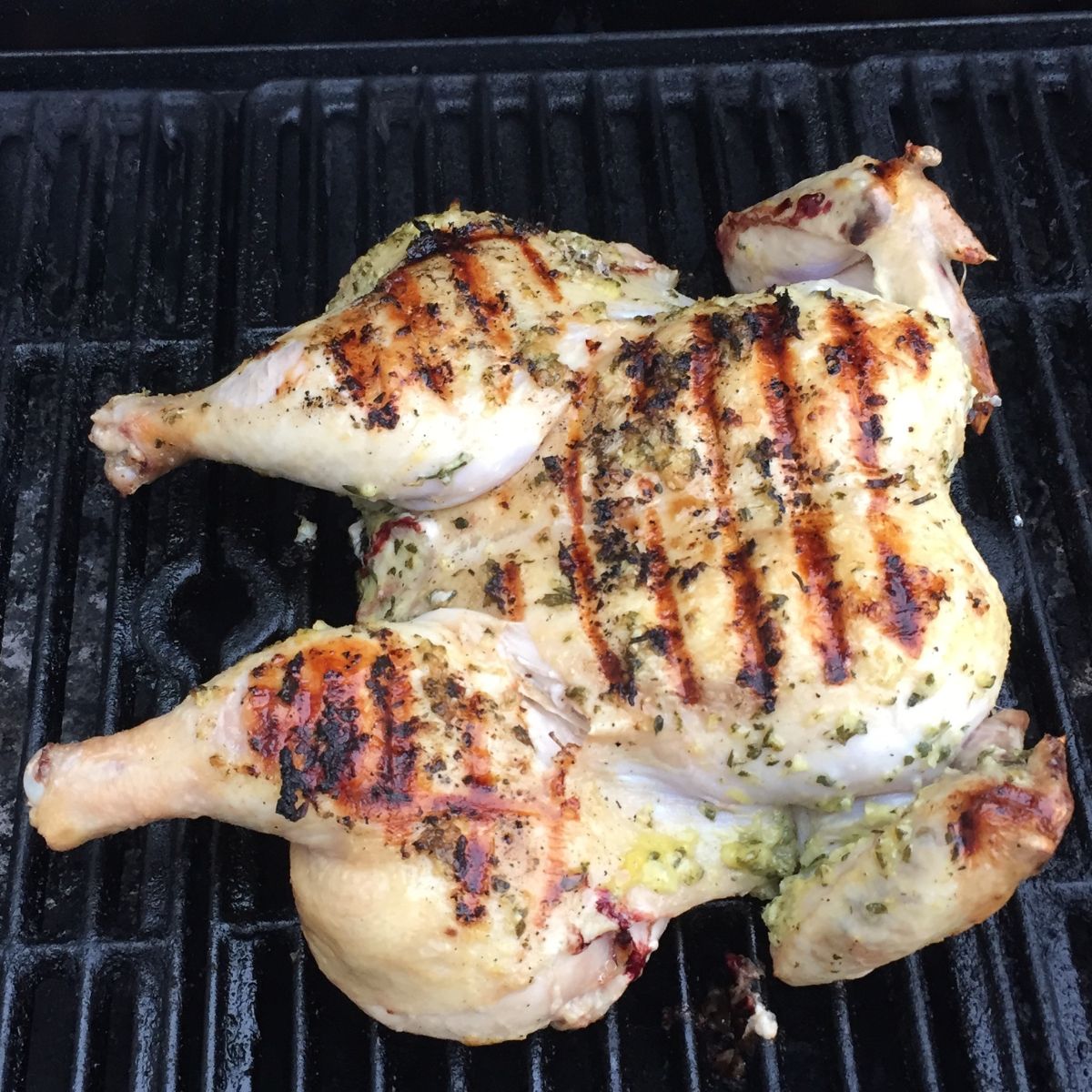 Sometimes Ya Gotta Eat Fat
This Grilled Spatchcocked Chicken was so good I plan to use this method whenever we cook a whole chicken (unless I'm making soup). It's easy, quick, and delicious.
It is, however, very high in fat. I think this is from the chicken skin. To test this theory, I reduced the amount of oil in the recipe and re-did the nutrition label, and the results were about the same. If you are trying to reduce fat, I suggest you don't eat the skin!
When you try Grilled Spatchcocked Chicken (some call it butterfly chicken), please comment on your results and share your photos on social media with the hashtag #recipeideashop.
What to Eat With Grilled Chicken
We ate our chicken with a small roasted beet salad and some Gluten Free French Bread, but you can pair it with many other favorite dishes. Here are just a few examples:
mashed potatoes
Greek salad
corn on the cob
roasted vegetables
Variations For Flavoring Grilled Chicken
Here are some of the best ways to infuse your grilled chicken with delicious flavors:
Marinades: Combine ingredients like olive oil, herbs, garlic, citrus juice, vinegar, soy sauce, honey, and spices to create a flavorful marinade. Let the chicken soak in the marinade for at least 30 minutes or overnight for maximum flavor infusion.
Dry rubs: Dry rubs are a blend of herbs and spices that you rub onto the chicken before grilling. Common ingredients include paprika, cumin, chili powder, garlic powder, and brown sugar. Massage the rub into the chicken and let it sit before grilling.
Brining: Brining involves soaking chicken in a saltwater solution with added herbs, spices, and sometimes sugar and helps to keep the chicken moist while adding subtle flavor. Be sure to rinse and pat the chicken dry before grilling.
Herbs and lemon zest: Fresh herbs like rosemary, thyme, basil, parsley, and citrus zest (grated lemon, lime, or orange peel), can be finely chopped and mixed with olive oil or butter. Brush this mixture onto the chicken during grilling for a fragrant and fresh flavor.
Asian-inspired marinades: Create an Asian-inspired marinade with soy sauce, ginger, garlic, sesame oil, and brown sugar. This combination offers a sweet, savory, and slightly tangy flavor profile.
BBQ sauce: Slathering grilled chicken with barbecue sauce is a classic choice. Whether it's a smoky, sweet, or spicy BBQ sauce, it adds a bold and tangy flavor to the chicken.
Pesto: Brushing chicken with a pesto sauce from fresh basil, garlic, pine nuts, Parmesan cheese, and olive oil provides a vibrant, herbal flavor.
Teriyaki glaze: Teriyaki sauce, a blend of soy sauce, sake or white wine, sugar, and ginger, adds a sweet and savory twist to grilled chicken.
Fruit salsas: Top grilled chicken with fruit salsas like mango, pineapple, or peach salsa. These fresh, fruity flavors complement the smoky grilled taste of the chicken.
Smoking: If you have a smoker, consider using different types of wood chips (e.g., hickory, apple, cherry) to infuse your chicken with a smoky flavor while grilling.
Experiment with these flavoring methods and combine them to create your unique grilled chicken recipes. Don't be afraid to get creative and adjust ingredients to suit your taste preferences.
What You Need
Other than the grill, we didn't use any special tools. I used my kitchen shears to cut the backbone out, but you can use any good sharp knife. I also used measuring cups and spoons, a small paring knife, my chef's knife, a cutting board, and my small food processor.
And, of course, our Char-Broil Gas Grill. What kind do you use?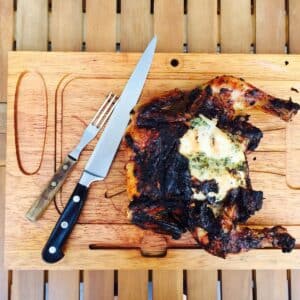 Grilled Spatchcocked Chicken Recipe
This recipe requires refrigerating the chicken for a couple hours before grilling. Make the rub in the morning, apply it to the chicken, and refrigerate for at least 2 hours while you go about your life.
Ingredients
5

pound

whole chicken

1

small onion

peeled and quartered

2

cloves

garlic

peeled

½

cup

fresh herbs

I used thyme, oregano, and rosemary, leaves only

¼

cup

olive oil

Juice of one lemon

about ½ cup

½

teaspoon

salt

¼

teaspoon

pepper
Instructions
To Spatchcock the Chicken
Using a sharp knife or kitchen shears, cut the backbone out of the chicken, slicing down both sides of the backbone and removing it. Freeze the backbone to make broth in the future.

Place the chicken on its back and squash it to open it and flatten it.
To Make and Apply the Rub
Using a small food processor, puree the onion, garlic, salt, pepper, herbs, olive oil, and lemon until smooth.

Spread the puree under the breast skin and over the entire bird. Or simply spread it over the top of the breast.

Refrigerate for several hours (up to 8).
To Cook
Remove the chicken from the refrigerator and wipe off most of the rub (if it hasn't drained to the pan).

Let the chicken rest at room temperature for 30 minutes.

Heat the grill to medium high heat (around 400 degrees)

When the grill is hot, turn the middle burner off and place the chicken in the center, breast side down, and close the top of the grill.

Cook for 15-25 minutes using this indirect heat method until charred and then flip the chicken to its back.

Cook for another 15-25 minutes (more or less, depending on your grill), covered, until the thickest part of the chicken breast reaches an internal temperature of 165F degrees.

Let rest 5 minutes before serving.
Nutrition
Calories:
360
kcal
Carbohydrates:
2
g
Protein:
26
g
Fat:
27
g
Saturated Fat:
7
g
Polyunsaturated Fat:
5
g
Monounsaturated Fat:
13
g
Trans Fat:
0.1
g
Cholesterol:
102
mg
Sodium:
244
mg
Potassium:
302
mg
Fiber:
0.4
g
Sugar:
1
g
Vitamin A:
507
IU
Vitamin C:
8
mg
Calcium:
25
mg
Iron:
2
mg
More Recipes To Try