Basic Chicken Salad is simple and requires no cooking. You can eat it in 10 minutes!
Basic Chicken Salad
Don here. Any way you make it Chicken Salad is a big hit at our table. The basic chicken salad recipe I start with has celery chopped fine for the crunchiness, mayonnaise to hold it all together, Dijon mustard to add some zip, salt and pepper. We usually have canned white chicken breast meat so we use that. But when we have leftover grilled or baked chicken, I'll chop that into small pieces and use it.
Make Basic Chicken Salad, Then Change It Up
Then I add whatever suits me at the time to the basic chicken salad recipe. Sometimes it's a bit fruity with dried fruit pieces or even fresh grapes. Perhaps I'm in a nutty mood and will add pecans or almonds.
Chicken Salad can be served many ways: as a sandwich filler, stuffed into a tomato or bell pepper shell, piled over avocado slices or on a bed of your favorite lettuce or field greens. Or when no one else is home, I just eat it right out of the mixing bowl 😉
TOOLS FOR A WELL-EQUIPPED KITCHEN
Every kitchen should have the very best tools you can afford. At the least, buy yourself a good set of pans, a slow cooker, an Instant Pot, measuring cups and spoons, and the best set of chef's knives you can afford. Also be sure to get a full sized food processor and a mini food processor. These tools are essential for any well-equipped kitchen!
Basic Chicken Salad Recipe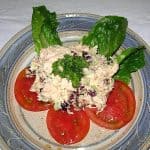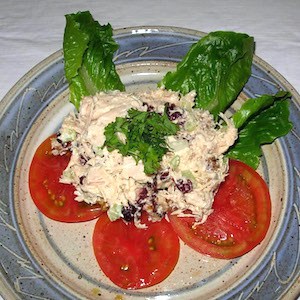 Basic Chicken Salad
Ingredients
Basic Ingredients:
1

12 oz

can of chicken breast or 1-1/2 C chopped cooked chicken

2 to 3

tablespoons

mayonnaise

1

teaspoon

Dijon mustard

¼

cup

finely chopped celery

Salt and Pepper

(to taste)
Optional, add one or more:
1/4

cup

Dried Cranberries

1/4

cup

Dried Mango slices

(cut into small pieces)

1/4

cup

Chopped Pecans, Walnuts, Peanuts or Almonds

2

tablespoons

Sweet pickles

(cut into small pieces or sweet pickle relish)

1/4

cup

Green bell pepper

(chopped)

1/4

teaspoon

herbs such as thyme, basil or rosemary

2

Scallions, white and tender green parts only

(sliced)

For those who like it spicier, add some chopped jalapeno pepper or curry powder
https://recipeideashop.com/basic-chicken-salad/
Instructions
Place the Basic ingredients in a mixing bowl and mix until blended.

Mix until all the ingredients are coated with the mayonnaise.

Add a bit more mayonnaise if it is too dry for your taste.

Add one or more of the optional items.

Serve as a sandwich filler or on a bed of lettuce or greens.
Recipe Notes
For an elegant presentation hollow out a large tomato and stuff it with the chicken salad.
Note: Many of the links included throughout Recipe Idea Shop are affiliate links, which means if you follow them and you buy something, we will get a small commission. It doesn't cost you a penny more, and you can still use your Amazon Prime (Shop Amazon — Give the Gift of Amazon Prime) account to buy. Don and I love our Amazon Prime account. This posting includes affiliate links. 
Basic Chicken Salad Nutrition
Want More Recipes Like This?
If you want more delicious recipes, please sign up for our free cookbook.
Pin & Share!
Please Pin and share our recipes. And tell us what you think in the comments.
You May Also Like These Recipes From Recipe Idea Shop
BEFORE YOU GO, DID YOU GRAB YOUR FREE COOKBOOK?
[mc4wp_form id="5109″]