RECIPE IDEA: Celebrate BLT Sandwich Month
Hi. It's Lois at Recipe Idea Shop, telling you that April is BLT Sandwich Month. BLT, of course, stands for Bacon Lettuce and Tomato Sandwich. It's one of my favorite summertime meals. I'm not sure why April would be designated to celebrate this sandwich, but that's what my calendar says! It seems like July or August would be the month for this sandwich since fresh tomatoes are in abundance then.
But for me, any day is a good day for a BLT Sandwich. Because, as I've said many times before—bacon!



It was a gorgeous spring day on Tuesday and I worked hard in my backyard, creating a new garden. There's a weedy hill back there. We only recently found out the weedy hill is ours. Funny. You'd think we would know where our property line is. I kept thinking, "What an eyesore. I wonder why the neighbors behind us don't clean it up and plant something there?" Then I found out the people who should clean it up are Don and me! Luckily, I had some coneflowers and black-eyed Susans to move so I put them there. And a friend recently gave me two huge buckets full of daffodils, and I planted half of them there.
I bought some dirt this morning and pulled out as much chickweed as I could. Then I planted everything, topped it with new dirt and watered the new plants. I'd say it's about a B- job, my usual when I garden. But that's okay. I like those old-fashioned, overgrown country gardens. It will get that way soon enough.
When I finished, I made myself a delicious BLT Sandwich on gluten free bread. What a treat. If you are like most people, you know how to make a BLT. But just in case you don't, I'll tell you how to do it. Don prefers mayonnaise, but I like Miracle Whip. I'm also indulgent and I spread butter on my bread in addition to the Miracle Whip. It's not a healthy meal. Oh, well. It tastes so good. I'd much rather have wheat bread, though, because gluten free bread easily falls apart and doesn't taste nearly as good as wheat bread. But gluten doesn't agree with me, so I avoid it. (If you'd like to know more about my weird gluten reaction, see "How I Healed Myself With Food.")
I know you're gonna wanna eat this. I do!
BUT FIRST, DID YOU GRAB YOUR FREE COOKBOOK?
[mc4wp_form id="5109″]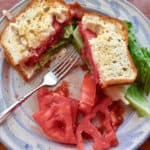 BLT Sandwich
Ingredients
2

slices

of bacon

2

tablespoons

Miracle Whip

or mayonnaise

1

piece

of lettuce

1

slice

of tomato

sliced thick

2

pieces

of gluten free bread

toasted (or 2 pieces of wheat bread)

2

teaspoons

butter

optional
Instructions
Cook the bacon until mostly crisp, either in a frying pan on top of the stove or on a plate (cover the bacon and plate with paper toweling) in the microwave (about 4 minutes for thick-cut bacon).

Drain the grease off the bacon or blot on paper towel.

Toast the bread.

Spread butter and Miracle Whip (or mayonnaise, if preferred) on one side of both slices of bread.

Place the tomato on one slice of bread, then the lettuce and finally, the tomato slice.

Put the other slice of bread, butter side down, on top.

Cut in half and eat this sloppy mess. So good!
https://recipeideashop.com/blt-sandwich-month/
Note: Many of the links included throughout Recipe Idea Shop are affiliate links, which means if you follow them and you buy something, we will get a small commission. It doesn't cost you a penny more, and you can still use your Amazon Prime (Shop Amazon – Give the Gift of Amazon Prime) account to buy. This posting includes affiliate links. 
SaveSave