Corn Tortillas are naturally gluten free and can be made with two or three ingredients: corn flour, water and salt (optional). Super easy and delicious.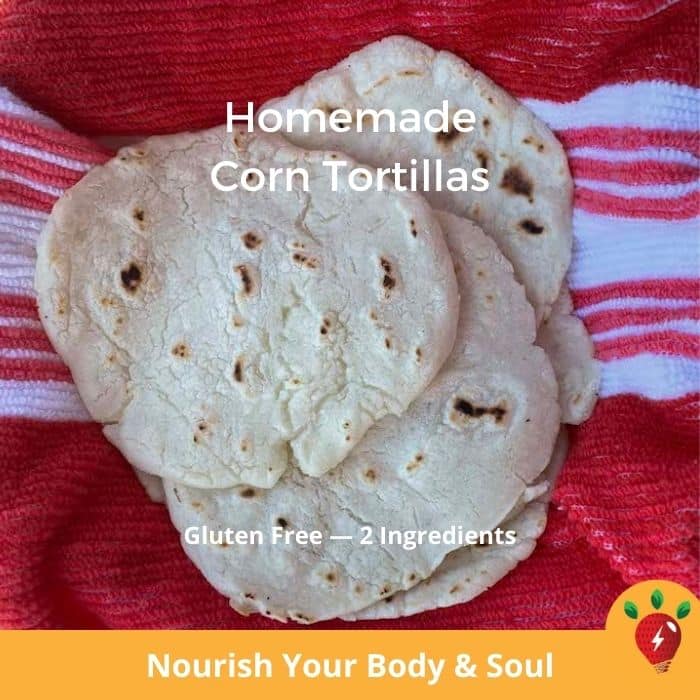 Homemade Corn Tortillas Recipe
Tortillas (especially corn tortillas) are one of the breads that lots of people around the world eat every day. Until I watched our Costa Rican host, Jeanette, make them, I never suspected they were so simple. The proportions are almost one-to-one with corn flour and very hot water.
Just about every culture has a flatbread that they love. There's Chapati, Pita, Tandoori, and Pizza. Most are made with wheat flour, which I can't eat. They are all super good. I wish I could eat them. For pizza, I substitute my Gluten Free Dairy Free White Bread recipe for the crust. It's the best gluten free crust I've had!
This corn tortilla recipe is so easy and tasty, you're gonna wanna kiss me. I did not have a tortilla press and my tortillas turned out a little thicker than they should, but I like them that way. The hardest part is patting the tortilla out thin enough while keeping it round. If you get a good tortilla press, it's a snap. Our friend David showed us that if you flatten it once, then turn it 180 degrees and do it again, you'll get a better, rounder tortilla, and it will be perfect.
What You Need
You will need corn flour and water, a measuring cup, a little plastic wrap or parchment paper and, if you so desire, a tortilla press. And a good nonstick skillet. Always buy the best tools you can afford!
Affiliate Disclosure: This website may contain affiliate marketing links, which means we may get paid commission on sales of those products or services we write about, including Amazon. Editorial content is not influenced by advertisers or affiliate partnerships. This disclosure is provided in accordance with the Federal Trade Commission's 16 CFR § 255.5: Guides Concerning the Use of Endorsements and Testimonials in Advertising.
Food Pairings
Try these tortillas with Gallo Pinto and Picadillo de Chayote for a delicious meal.
Sign Up For Updates To Get Tips, Recipes & Free Gifts
I think you're gonna love our recipes and healthy, happy posts. Sign up for our email updates to get free gifts, recipes, happy thoughts, and tips for identifying and avoiding foods that are sabotaging your health.
Recipe Nutrition Information
This recipe is GF, DF, NF, SF, EF, V, VG*
The information shown is an estimate provided by an online nutrition calculator. It should not be considered a substitute for a professional nutritionist's advice.
Nourish Your Body & Soul
I encourage you to care of yourself by eating satisfying, nourishing food that is good for your body and makes you feel healthy. Protect your spirit by living authentically, moving your body, and taking time to replenish and rest. I think you might also like these recipes & posts from Recipe Idea Shop:
Rate, Pin & Share!
Please Rate our recipes and posts, and Pin and Share them on social media. Comments are welcome, too!
*Allergen Key
GF = Gluten free | DF = Dairy free | NF = Nut free | SF = Soy free | EF = Egg free | CF = Corn free | V = Vegetarian | VG = Vegan
Note: If you have serious allergies or sensitivities, to be considered free of these allergens, you need to use products specifically marked "gluten free," etc. There can be cross-contamination in facilities.
This post was first published on Recipe Idea Shop February 21, 2022.