Crockpot Veggie Stew. Easy. Tasty. Delicatata squash is pure yum in this recipe.
Crockpot Veggie Stew
Hi. It's Lois in the kitchen. Today I'm talking about Crockpot Veggie Stew. It's vegan and gluten free, too. I always love a good vegetable stew.
Delicatata Squash
Until my community sponsored agriculture (CSA) box included a delicatata squash, I had never tried it. It is now one of my favorite squash. Appropriately named, it has a delicate but amazing flavor. Try it. You will see what I mean. This is what it looks like:
The Chemistry
Using the slow cooker makes it easy. The thing to remember about making food in the crockpot is to stir fry the onions and carrots separately and then add them to the pot. The Malliard Reaction changes the chemistry of the onions and carrots as you cook them, making them sweeter and more flavorful.
It would have been helpful to learn about this chemical change in the two chemistry classes I took in high school and college, but alas! All I learned in chemistry was how my teacher got gravy spots on his tie and that a wet dog smells like ozone. Neither item has been very useful in my life, however.
My sister-in-law Ellen told me about the Malliard Reaction a couple of years ago. (Thanks, Ellen!)
TOOLS FOR A WELL-EQUIPPED KITCHEN
Every kitchen should have the very best tools you can afford. At the least, buy yourself a good set of pans, a slow cooker, an Instant Pot, measuring cups and spoons, and the best set of chef's knives you can afford. Also be sure to get a full sized food processor and a mini food processor. These tools are essential for any well-equipped kitchen!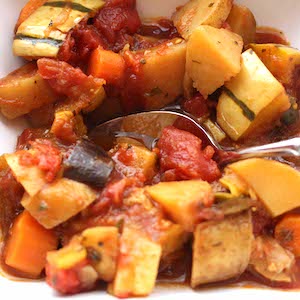 Crockpot Veggie Stew Recipe
Delicately flavored, but lots of depth, to this wonderful vegan squash stew.
Ingredients
1

medium

onion

(chopped)

4

carrots

(peeled and diced)

2

cloves

garlic

(minced)

2

tablespoon

olive oil

5

oz

porcini mushrooms

(dried, reconstituted in 2 cups water)

2

15-ounce cans

diced tomatoes

(including juice)

6

small

white potatoes

(washed and cut in chunks)

1

small

eggplant

(cut in chunks)

1

small

delicata squash

(seeded and cut in chunks)

1

small

yellow squash

(sliced in quarter rounds)

2

tablespoon

olive oil

1

teaspoon

dried basil

¼

teaspoon

pepper
Instructions
In a medium bowl, mix eggplant, delicatata squash, and yellow squash with the olive oil.

Spread these veggies in one layer on a cookie sheet and bake in a 425F degree oven for about 30 minutes, turning over half way through the cooking time.

While the veggies are roasting, heat 2 tablespoons of oil (I use Canola) over medium heat in a skillet until hot.

Add the onions and carrots and stir fry until the onions are transparent and the carrots begin to brown.

Add the garlic and cook for about 1 minute.

Pour the onions, carrots and garlic into a slow cooker.

Add the spices, roasted veggies, porcini mushrooms (and water), diced tomatoes and white potatoes to the crockpot.

Cook on low 4 hours until the potatoes are tender.

Serve warm as a soup or over rice.
Nutrition
Calories:
536
kcal
Carbohydrates:
98
g
Protein:
12
g
Fat:
15
g
Saturated Fat:
2
g
Polyunsaturated Fat:
2
g
Monounsaturated Fat:
10
g
Sodium:
71
mg
Potassium:
2604
mg
Fiber:
17
g
Sugar:
14
g
Vitamin A:
11833
IU
Vitamin C:
79
mg
Calcium:
117
mg
Iron:
4
mg
You May Also Like These Recipes