Easy Chicken Marsala is the best Chicken Marsala recipe. It tastes better than most Chicken Marsala you are served in restaurants and it's simple to make. When you cook at home, you control the quality of the ingredients and you know you are eating something fresh. This Easy Chicken Marsala is so good, your friends will think you are Italian.
Easy Chicken Marsala might make you start speaking Italian.
I found this recipe on She Wears Many Hats. It is scrumptious and super easy. I made ours gluten free and used chicken tenders and it took less than 30 minutes. (Cue the Italian Opera music.) We have made this many times, and it's always terrific.
Don made it recently and he used boneless chicken breasts, cut thin and pounded to tenderize. It was amazing. I love it when a man cooks for me.
Serve With A Good Pasta
I served it over Schäar's gluten free spaghetti noodles, which I found to be rather tasteless, so next time I'll go back to the usual brand I buy, gluten free Bionaturae Organic Penne Rigate (affiliate link). It is made with rice, potato and soy and has the taste and texture of regular pasta.
What You Need
Chicken Marsala is one of my favorite Italian entrees. Now that I've made it at home a few times, I'll be making it on a regular basis (but not too often because it's high in fat, calories and salt). If you need to be gluten free, it would be risky to order it in a restaurant, since the chicken pieces are dredged in flour before cooking. But since it's super easy, you can now make it at home using gluten free flour. I think Bob's Red Mill 1-to-1 Gluten Free Baking Flour (affiliate link) is the best.
For this recipe, I used a knife, my preference is a chef's knife (affiliate link), cutting board, measuring cups and spoons, a small rectangular baking dish, and a skillet. What would you use? Go ahead, check out the recipe for Easy Chicken Marsala. Then make some tonight!
Easy Chicken Marsala Recipe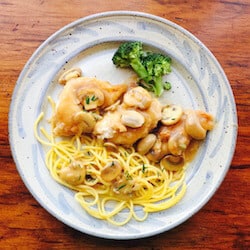 Easy Chicken Marsala
Mushrooms and chicken served in a sweet Marsala wine sauce
Ingredients
8

chicken tenders

¼

teaspoon

salt

¼

teaspoon

pepper

⅓

cup

plus 1 tablespoon gluten free flour

divided

4

tablespoons

olive oil

divided

5

tablespoons

unsalted butter

divided

8

ounces

button mushrooms

sliced

¼

cup

finely diced sweet onion

2

cloves

garlic

minced

½

cup

dry Marsala wine

½

cup

chicken stock

1

tablespoon

chopped parsley or chives to garnish
Instructions
Sprinkle salt and pepper over chicken tenders.

Put one-third cup gluten free flour in a flat dish and dredge the tenders through it, coating on both sides.

Heat 1 tablespoon oil and 1 tablespoon butter in a skillet over medium-high heat.

Add chicken, and sauté until golden brown on both sides (turning once), about 5-6 minutes.

Transfer chicken to a plate and set aside.

Add 2 tablespoons oil and 2 tablespoons butter to the pan, then add sliced mushrooms (make sure they are dry) in a single layer and cook over medium-high heat until golden brown, about 6-8 minutes.

Transfer mushrooms to the plate with the chicken, and again set aside.

Add remaining 1 tablespoon of oil and 1 tablespoon of butter to skillet and when hot, add minced onion, cooking until soft, about 1 minute.

Add the minced garlic to the pan; stir.

Stir in remaining 1 tablespoon flour and cook for about a minute.

Add Marsala and chicken stock; continue to cook, stirring and scraping bottom of pan until slightly thick, about 2-3 minutes. Add remaining butter and stir to combine.

Return chicken and mushrooms to skillet; cook for about 2 minutes until heated.

Serve over pasta and garnish with fresh chopped parsley or chives.
Nutrition
Serving:
6
oz chicken and one-quarter cup sauce
Calories:
938
kcal
Recipe Nutrition Information
This recipe is GF, NF, SF, EF, CF (use sea salt)*
The information shown is an estimate provided by an online nutrition calculator. It should not be considered a substitute for a professional nutritionist's advice.
Nourish Your Body & Soul
I encourage you to care of yourself by eating satisfying, nourishing food that is good for your body and makes you feel healthy. Protect your spirit by living authentically, moving your body, and taking time to replenish and rest. I think you might also like these recipes & posts from Recipe Idea Shop:
Rate, Pin & Share!
Please Rate our recipes and posts, and Pin and Share them on social media. Comments are welcome, too!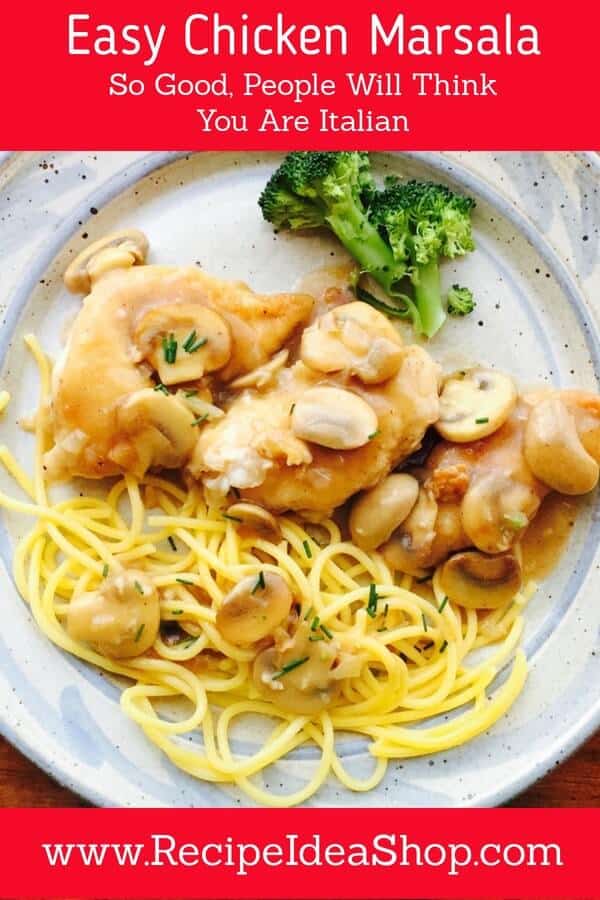 *Allergen Key
GF = Gluten free | DF = Dairy free | NF = Nut free | SF = Soy free | EF = Egg free | CF = Corn free | V = Vegetarian | VG = Vegan
Note: If you have serious allergies or sensitivities, to be considered free of these allergens, you need to use products specifically marked "gluten free," etc. There can be cross-contamination in facilities.
This post was first published on Recipe Idea Shop August 29, 2017 and updated August 20, 2021.