Gluten Free Cherry Tart with a Touch of Cacao. Chocolate and cherry? Yes, please. Simple, beautiful, delicious.
Gluten Free Cherry Tart with a Touch of Cacao
Hi. It's Lois at Recipe Idea Shop, telling you about a scrumptious Gluten Free Cherry Tart because June 17 is National Cherry Tart Day.
The first time I made this, it was bing cherry season and I bought a bag of Bing cherries on the spur of the moment. Don't do that, then you have to figure out what to do with things! Don mentioned that he likes fresh cherries, and there they were, waiting for me to buy.
When I got them home, Don ate about two of them and said they took too much effort to eat because they weren't pitted. I agreed—tasty, but not worth the effort. And of course, I don't have a cherry pitter.
What I Did
I had to decide what to do with these lovely friuts before they went bad. Choosing to make a Gluten Free Cherry Tart or Pie, I removed the stems and cut the cherries off the pits. I looked at a few recipes and decided to use my Gluten Free Shortbread Cookies recipe as the pie crust, topping it with homemade Cherry Pie filling. Pretty easy, but it took awhile since I cooked the filling on top of the stove. Most recipes for cherry pie say to bake it.
Bake Crust
I didn't want the shortbread pie crust to get soggy so I baked the crust separately. Normally, I cut the shortbread while it's still warm because it breaks easily. However, we have successfully made pies using a shortbread crust and the pie filling softens the crust just enough to prevent this.
Individual or One Pie
I made my Gluten Free Cherry Tart recipe as individual servings. It was very tasty, but it was hard to get the crust as thin as I would have liked. Next time, I would do it in a pie plate and follow Don's instructions on his Gluten Free Shortbread Pie Crust recipe. I prefer the GF flour that I used, however; Don uses Sweet Rice Flour, but I like Bob's Red Mill One-to-One Baking Flour as I think the mixture is less grainy.
Add Chocolate
I added a bit of Creme de Cacoa for the chocolate flavor and topped our tarts with a few chocolate chips, and they were scrumptious. The cherry filling could have used just a bit more Creme de Cacoa, but I loved mine. Please comment and tell me how you make your cherry pie or tart. Do you have a favorite recipe? You're gonna love this one.
What You Need
No special tools are required for this recipe. I used a small knife, a heavy bottomed pan, measuring cups and spoons, a wooden spoon, a mixing bowl, an electric mixer, and ramekins or a pie plate.
Cherry Tart Recipe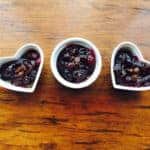 Gluten Free Cherry Tart
Ingredients
Crust Ingredients
1/2

cup

butter

1/4

cup

turbinado sugar

1

cup

gluten free flour

I use Bob's Red Mill One-to-One Baking Flour
Garnish
A few chocolate chips or a dollop of whipped cream
Filling Ingredients
2

cups

fresh sweet cherries

such as Bing cherries, pitted

1/3

cup

brown sugar

1/3

cup

turbinado

or white sugar

1/3

cup

apple juice

2

tablespoons

corn starch

1

tablespoon

Creme de Cacao
Garnish
A few chocolate chips or a dollop of whipped cream
Instructions
Gluten Free Shortbread Crust
Mix the butter and sugar until creamy.

Add the GF flour and mix until crumbly.

Press the shortbread into a pie crust or individual ramekins. Try to make the crust about 1/4 inch thick.

Bake in a 350F degree oven for about 20 minutes until the crust is slightly brown.

Remove from the oven and let the crust cool.
Filling
While the crust is cooking, place the cherries, brown sugar, turbinado sugar and apple juice in a heavy bottomed pot and cook over medium heat until the cherries are softened, about 30 minutes, stirring frequently.

Put the cornstarch in a small bowl and mix with about 1/4 cup of the hot liquid from the pot of cherries. When the cornstarch is thoroughly dissolved, scrape this mixture into the hot cherries and stir. This will thicken the sauce.

Add the Creme de Cacoa (if using) and stir.

Continue cooking the cherries for about 5 minutes more.
Assemble
Pour the cherry filling over the precooked crust.

Let cool. I like it cold, so I refrigerate it, but it doesn't need refrigeration.

To serve, garnish with a few chocolate chips or whipped cream.
https://recipeideashop.com/gluten-free-cherry-tart/
Note: Many of the links included throughout Recipe Idea Shop are affiliate links, which means if you follow them and you buy something, we will get a small commission. It doesn't cost you a penny more, and you can still use your Amazon Prime (Shop Amazon – Give the Gift of Amazon Prime) account to buy. This posting includes affiliate links. 
Cherry Tart Nutrition
SaveSave
SaveSave
SaveSave
WHAT'S NOT TO LOVE?
Trust me, you're gonna love this recipe. But don't stop there…subscribe to our email newsletter and get a free cookbook.
Pin & Share!
Please Pin and share our recipes. And tell us what you think in the comments.
You May Also Like These Recipes From Recipe Idea Shop
BEFORE YOU GO, DID YOU GRAB YOUR FREE COOKBOOK?
[mc4wp_form id="5109″]
SaveSave
SaveSave
SaveSave
SaveSave
SaveSave