Recipe Idea: Gluten Free Chocolate Cake (My Favorite)
Hi. It's Lois at Recipe Idea Shop, telling you about my best gluten free chocolate cake yet! Not only is it gluten free, but it's almost vegan (it contains eggs). If you want to make it vegan, you can substitute ground flaxseed and water for eggs. I like it best baked as cupcakes, which you can frost and freeze for later.
I must admit, I didn't make the Chocolate Frosting vegan. I'll try that next time. I do love my butter.



These Gluten Free Chocolate Cupcakes are so moist and tasty. The texture is perfect. No one will even know they are gluten free. But be sure to tell people they are gluten free (and vegan if you make them without eggs); that way you will have more for yourself! People are so used to thinking that gluten free or gluten free + vegan = yuck. You won't have to fight over these amazing cupcakes if you let everyone know what they really are. 🙂
I based this recipe on My Favorite Chocolate Cake, and that recipe came from one of those spiral bound cookbooks to which everyone contributes a recipe. The recipes were collected by the Disabled American Veterans in Waukesha, Wisconsin. Every recipe I have ever made from this cookbook has been to-die-for good.
It's hard not to eat just one of these scrumptious cupcakes made from my recipe for Gluten Free Chocolate Cake. Trust me, you're gonna wanna eat these cupcakes.
BUT FIRST, DID YOU GRAB YOUR FREE COOKBOOK?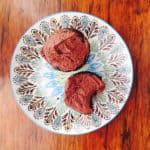 Gluten Free Chocolate Cake
Ingredients
1-1/2

cups

sugar

2

eggs

1/4

teaspoon

salt

1

teaspoon

vanilla

1/2

cup

coconut oil

melted (or canola oil)

1/2

cup

coconut milk

1

cup

Bob's Red Mill Gluten Free All Purpose Flour

1

cup

Bob's Red Mill Gluten Free 1-to-1 Baking Flour

2-1/4

teaspoons

soda

1

teaspoon

baking powder

1/2

cup

cocoa

1

cup

boiling water
Instructions
Mix the sugar, eggs, salt, and vanilla.

Mix in the coconut oil and coconut milk.

Add the flour, cocoa, baking powder, and baking soda and mix well.

Boil the water and add to the mixture.

Mix well and pour into two 12-cupcake pans lined with cupcake liners (or 3 greased round cake pans or one 13" x 9" cake pan).

Bake in a 350F degree oven for 20 minutes for cupcakes or round pans; 25 to 30 minutes for an oblong cake pan or until a toothpick inserted comes out clean. (Err on the side of undercooking instead of cooking too long. Don't overbake or it will be dry.)
Note: Many of the links included throughout Recipe Idea Shop are affiliate links, which means if you follow them and you buy something, we will get a small commission. It doesn't cost you a penny more, and you can still use your Amazon Prime (Shop Amazon – Give the Gift of Amazon Prime) account to buy. This posting includes affiliate links. 
SaveSave