Gluten Free Cinna Bon Bon Pancakes taste like cinnamon rolls.
Gluten Free Cinna Bon Bon Pancakes
Hi. It's Lois at Recipe Idea Shop, giving you a recipe for Gluten Free Cinna Bon Bon Pancakes, inspired by The Recipe Girl's "Cinnamon Roll Pancakes," which I found through The Recipe Critic. If you like cinnamon rolls, you will probably like these. They aren't "ooey gooey" like Cinnabon cinnamon rolls, but they are quite tasty.
The Process
Don and I tried creating the swirled pancakes the way that The Recipe Girl made hers. In fact, we tried it twice and decided it was way too messy and too much trouble to create the pancakes the way the original recipe said to do it. The Recipe Girl made beautiful pancakes! They looked like Cinnabons, nice and swirly with a lovely glaze on top. We thought adding the glaze sounded tasty, but higher in calories, sugar and fat, so we skipped it.
This is what ours looked like (not quite as pretty, eh?) …
Tasty But Messy
Don, being a precise engineer, generally follows instructions to the letter. He's quite creative and is able to make beautiful presentations. But this was a fail. Mine was even worse. The butter/sugar/cinnamon combination melted and dripped all over the grill and by the time the pancakes were done, the swirls were crispy sugar blobs. They tasted good, but they looked unappealing. We decided the process was not worth the effort.
Our Solution
When we mixed the swirl part directly into the pancake, it was stupendous! Everyone loved these Gluten Free Cinna Bon Bon Pancakes. Of course, I used gluten free baking flour instead of regular flour because I can't eat gluten.  They gobbled up the pancakes. In fact, no additional syrup or butter is required (although, of course, most of our troop of grandkids added both when they ate them).
A Technique That Works
The texture was not quite to my liking, so I made them again—twice, in fact. Gluten free flour doesn't rise as easily as regular wheat flour, and it often ends up tasting a bit gummy. I didn't completely solve that problem, but by following the methodology of the Gluten Free Lemon Cake that I learned to make from a pastry chef in Milwaukee, the pancakes turned out even better. They were still just a tad gummy, but Don and I both loved them. I'm sure the grandkids will be happy to eat them.
If you are making the tastiest pancakes, why wouldn't you have the coolest griddle?
Cinna Bon Bon Pancakes Recipe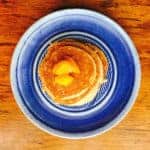 Gluten Free Cinna Bon Bon Pancakes
Ingredients
6

tablespoons

butter

softened

1/4

cup

turbinado sugar

1

egg yolk

you will use the white later

1/2

teaspoon

salt

1

tablespoon

cinnamon

1

tablespoon

baking powder

1

cup

gluten free flour

1

cup

milk

1

egg white

1

tablespoon

confectioner's

powdered sugar
Instructions
Whip the butter and sugar until creamy; add the egg yolk and continue whipping until fully incorporated.

Add and mix the flour, salt, cinnamon, and baking powder to combine. I simply pour these ingredients on top of the butter mixture, mix a little so the baking powder is mixed into the flour, and then stir the whole thing to thoroughly incorporate the butter mixture and the dry ingredients.

Add the milk and stir to combine.

In a separate bowl, whip the eggwhites until frothy. Add the powdered sugar and whip on high until the eggwhites are stiff.

Fold the eggwhite mixture into the pancakes and stir gently to combine.

Ladle the pancakes on to a greased, medium temperature grill (300-325F degrees). I use a 1/4 -cup ladel and this works great for 4-inch pancakes.

Cook until the pancakes start to form bubbles and set (about 5-6 minutes); then flip them over and continue cooking for another 5 minutes or so until both sides are nicely browned.
Note: Many of the links included throughout Recipe Idea Shop are affiliate links, which means if you follow them and you buy something, we will get a small commission. It doesn't cost you a penny more, and you can still use your Amazon Prime Account (Shop Amazon — Give the Gift of Amazon Prime)  to buy. This posting includes affiliate links. 
Cinna Bon Bon Pancakes Nutrition Information
Want More Recipes Like This?
If you want more delicious recipes, please sign up for our free cookbook.
Pin & Share!
Please Pin and share our recipes. And tell us what you think in the comments.
You May Also Like These Recipes From Recipe Idea Shop
BEFORE YOU GO, DID YOU GRAB YOUR FREE COOKBOOK?
[mc4wp_form id="5109″]
SaveSave