Gluten Free Sweet Potato Biscuits. I love, love, love them. Especially when warm, covered in peanut butter.
Gluten Free Sweet Potato Biscuits
Hi. It's Lois at Recipe Idea Shop, telling you about Gluten Free Sweet Potato Biscuits. (Wheat) Sweet Potato Biscuits have long been a favorite at Shiloh Quaker Camp and Opequon Quaker Camp. The two camps use two different recipes. The kids just LOVE them, no matter how they are made.
But when the camp cooks make regular Sweet Potato Biscuits, they don't make a comparable option for those of us who have to be gluten free. So I figured out how to make them. And they are GOOD.
Changing to Gluten Free
It's harder to get the right texture with gluten free baking. But with the help of Bob's Red Mill 1-to-1 Baking Flour (and their biscuit recipe), I figured it out. I had tried the camp's recipe, simply substituting gluten free flour. No luck. Next, I tried using yeast instead of baking powder. Again, a FAIL.
Then my husband noticed that Bob's Red Mill has a buttermilk biscuit recipe on the package. I tried it, with a variety of substitutions. Yay! Tasty Gluten Free Sweet Potato Biscuits. I also successfully froze them. Super Yay!
Tools You Really Need
You need some sort of cookie sheet and a cooling rack. I love my jelly roll pan because it can be used multiple ways in the kitchen. I suggest you get this type of cookie sheet instead of one without sides.
Gluten Free Sweet Potato Biscuits Recipe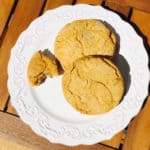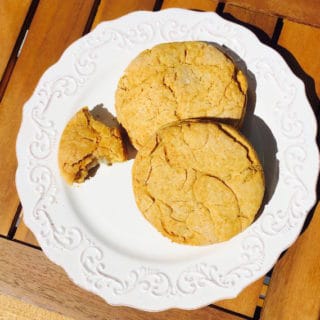 Gluten Free Sweet Potato Biscuits
Ingredients
4-1/2

cups

Bob's Red Mill Gluten Free 1-to-1 Baking Flour

5

teaspoons

Rumsfeld Baking Powder

1

teaspoon

baking soda

1/2

cup

brown sugar

1

tablespoon

cinnamon

1/8

teaspoon

ground nutmeg

1

teaspoon

salt

1

cup

butter

cold and cut into tiny pieces

2

eggs

1/2

cup

milk

1 1/2

cups

fresh cooked sweet potatoes (very soft)

(or 1 15-oz can yams, drained, but reduce the sugar)

3

tablespoons

water, if necessary

(add a little at a time)
Instructions
Heat oven to 350F degrees.

Mix the flour, baking powder, baking soda, sugar, cinnamon, nutmeg, and salt until well blended.

Mix the butter into the dry ingredients until it resembles small pebbles.

In a separate bowl, mix the eggs, milk and sweet potatoes until smooth and fully blended.

Put the wet mixture into the dry and mix it until combined. It will be somewhat wet. If it it too try and crumbly, add a tablespoon of water at a time until it sticks together but is not sticky.

Cut two large pieces of wax paper (or plastic wrap). Put a little of the GF flour on one.

Turn the dough out of the bowl onto the wax paper. Sprinkle a little GF flour to the top of the dough.

Put the other piece of wax paper over the dough.

Roll dough to 2 inches thick.

Remove the top piece of wax paper, and fold the dough over itself, top to bottom and then side to side.

Cover dough with wax paper again and roll to 1-inch thick. Cut into 3-inch biscuits (1-inch thick) using a biscuit or cookie cutter dipped in GF flour, and place them on an ungreased baking sheet about 1/2-inch apart.

Brush tops of the biscuits with melted butter.

Bake at 350F degrees for about 25 minutes until the biscuits are nicely golden brown.

Cool slightly on a wire rack and serve hot.
https://recipeideashop.com/gluten-free-sweet-potato-biscuits/
Note: Many of the links included throughout Recipe Idea Shop are affiliate links, which means if you follow them and you buy something, we will get a small commission. It doesn't cost you a penny more, and you can still use your Amazon Prime (Shop Amazon – Give the Gift of Amazon Prime) account to buy. This posting includes affiliate links. 
Gluten Free Sweet Potato Biscuits Nutrition
The information shown is an estimate provided by an online nutrition calculator. It should not be considered a substitute for a professional nutritionist's advice.
WHAT'S NOT TO LOVE?
Trust me, you're gonna love this recipe. Up your recipe repertoire. Add this recipe to your collection. But don't stop there…subscribe to our email newsletter and get a free cookbook.
Pin & Share!
Please Pin and share our recipes. And tell us what you think in the comments.
You May Also Like These Recipes From Recipe Idea Shop
BEFORE YOU GO, DID YOU GRAB YOUR FREE COOKBOOK?