Recipe Idea: Grilled Lamb Chops
Note: Many of the links included throughout Recipe Idea Shop are affiliate links, which means if you follow them and you buy something, we will get a small commission. It doesn't cost you a penny more, and you can still use your Amazon Prime (Shop Amazon – Give the Gift of Amazon Prime) account to buy. This posting includes affiliate links. 
Hi. It's Lois at Recipe Idea Shop, telling you about Grilled Lamb Chops. Don and I love lamb, especially chops. How about you? Do you love them?
We do try to buy local when we can, but no matter what time of year, locally grown lamb is always more expensive than Australian lamb. In our area of the Shenandoah Valley there are not many sheep farmers. We have loads of turkey farmers—and a sign proclaiming Rockingham County (Virginia) is the turkey capital of the world—but not many lambs. When lamb is available, I stock up and put some in the freezer. I'm thankful I did that a few months ago.
One good thing about Virginia is we have a bit milder weather with less snow, so we can usually grill out most days. Don is the grill master. Although I can do it, I prefer to let him handle grilling outside. The meat tastes so good when grilled on our Char-Broil Grill (which Don loves, by the way), but if I make meat, I use my personal favorite girl, the George Foreman Indoor Grill, a skillet on top of the stove, or the oven. With the George Foreman Indoor Grill, it takes about half the time to grill a chop (or any meat) as it does to make it outside. That's because it cooks both sides at the same time.
Grilled Lamb Chops will be delicious with a little mint jelly, some steamed asparagus and Oven Browned Potatoes. Sounds like a fabulous New Year's Eve supper, aina?
Read on for recipe and nutrition…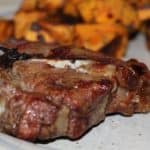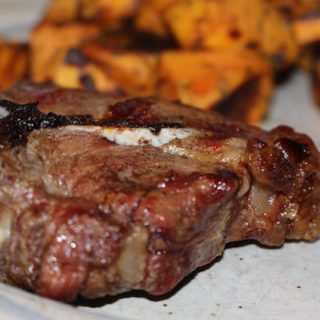 Grilled Lamb Chops
Ingredients
4

thick cut lamb chops

salt and pepper to taste
Instructions
Heat the outdoor grill to hot.

Put a little salt and pepper on each chop.

Place the lamb chops directly on the grill wire.

Cook with the grill top closed for 4-6 minutes per side until they reach the desired doneness you prefer or use a meat thermometer to make sure the internal temperature is 145 °F (medium rare), 160 °F (medium), or 170 °F (well done)