Holiday dinnerware sets are the perfect way to give your holiday table a festive, coordinated look. They can vary from rustic ceramic creations with intricate designs and vibrant colors to more modern styles using glass and chrome.
Whether you're designing a traditional or sophisticated atmosphere, you can find something that suits your style, while making cleanup easier by limiting dishes. Holiday dinnerware doesn't have to break the bank, either.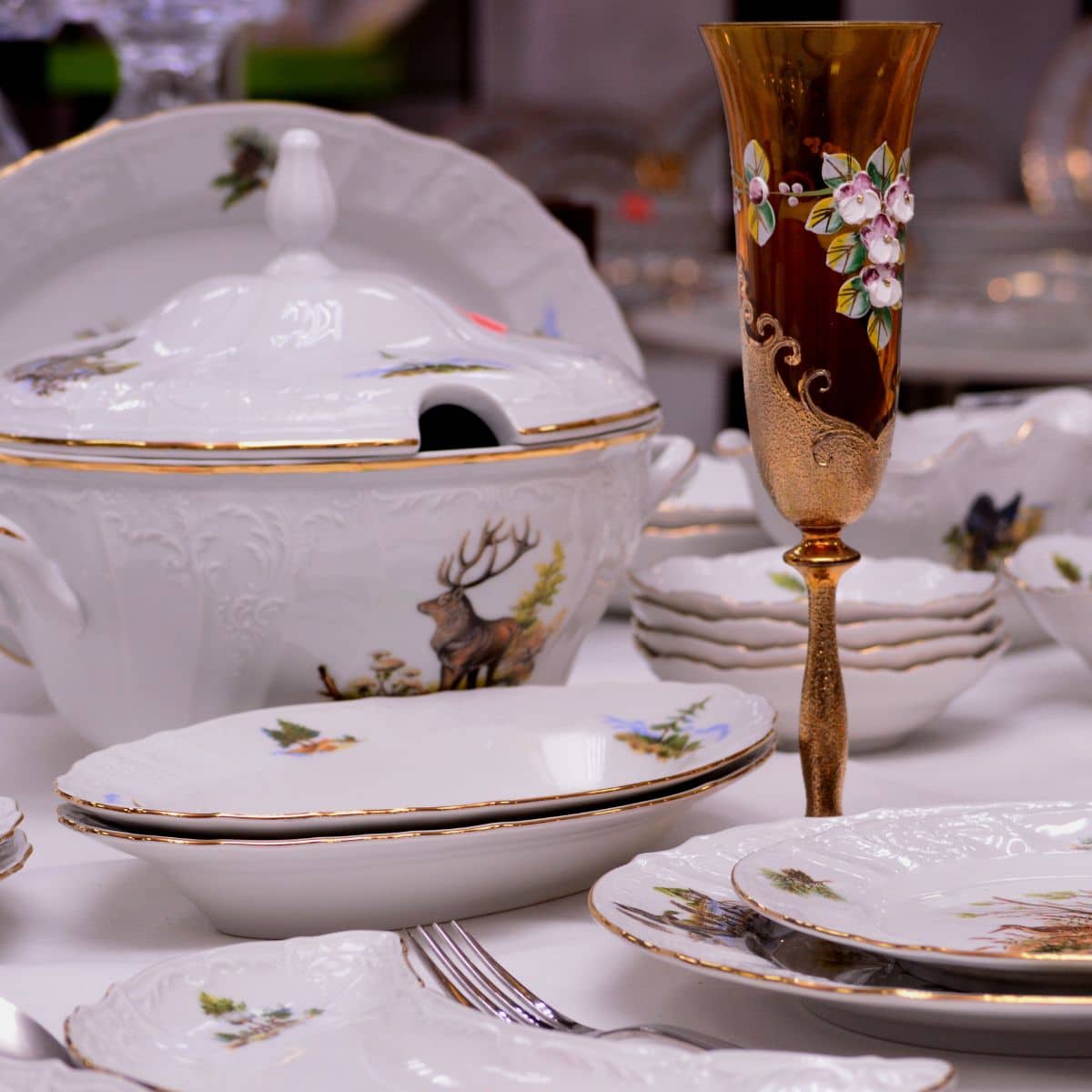 Many sets come in refrigerator-to-oven safe material that is durable and easy to care for, so you can enjoy them for many years to come. Most modern sets are microwave-safe and dishwasher-safe, too. Check out my unbreakable dinnerware sets list if your celebrations include children.
Still not sure if holiday plates are right for you? Let's take a look.
Embrace Holiday Dinnerware
Many people don't see the point in purchasing holiday dinnerware; after all, you only use it once a year. The same goes with China in general for most families. However, "fancy" dishes really can make an impression and make it a memorable event, or even a family tradition. Christmas dishes, Valentine's Dinnerware, and other holiday dinnerware make everything special.
You can always store your dishes with your holiday decorations rather than keeping them in your cupboards all year. I have a toolbox-type chest in which I store my China and glassware to protect it in storage. Wrap it in bubble wrap and it is good to go to the storage room.
Holiday memories
One of my greatest memories of my childhood is visiting my grandparents' house on Thanksgiving Day. Most of the family gathered every year and we had a lot of fun together. Sometimes dinner was served in China, but the turkey salt and pepper shakers were always present. Now, I use the turkey salt and pepper shakers at my house every Thanksgiving and Christmas. They are a family heirloom that I am happy to have.
I don't usually serve dinner for the holidays at my house because we always gather at my parent's home, so presently I don't have or need holiday dinnerware, but I do display my Christmas tea set around Christmas.
Collecting holiday dinnerware
One of these days my sister and I will start serving holiday dinners and I intend to accumulate holiday dinnerware before then. I look at it as an investment and also that they can be family heirlooms I pass on to my children, too. You can get sets for many different holidays, not just the winter ones.
Furthermore, I'm thinking about getting some casual snowman dinnerware to use during the winter. It doesn't snow much where I currently live, so I think it will add a touch of wintertime to our surroundings.
I absolutely love Christmas dinnerware with holly, candy canes, or big red bows in the pattern. Choosing one will be a difficult task for me because I love them all.
For Thanksgiving dinnerware, I think solid fall colors would be perfect (check out my orange dinnerware page), mixed with a centerpiece and placemats; however, the Thanksgiving patterns are nice too. My dilemma is that the dinnerware has to go with my turkey salt and pepper shakers!
Spring patterns are perfect for Easter dinnerware.
If you want your holiday celebrations to be memorable, holiday dishes can help to create a special time for your friends and family. They also make great heirlooms that you can pass on to your kids or grandkids.
Holiday Dinnerware Sets
Holiday dinnerware sets are something special. They set the festive mood as well as make guests feel welcome. For a hostess, there is nothing like breaking out a Christmas dinnerware set to serve friends and family on a special occasion. It makes entertaining a lot more fun.
There are many dinnerware sets to choose from. They range from casual dinnerware sets to fine China. Odd but true, there are even disposable dinnerware sets available in Christmas patterns to create the ambiance, but keep the holiday stress-free. That amazes me.
Christmas Dinnerware Sets
When it comes to holiday dinnerware, you can't overlook the many Christmas dinnerware sets available. Here is a plethora of choices for you to choose from.
Holiday sets from Pfaltzgraff
There are many beautiful holiday sets from Pfaltzgraff. Learn more about Pfaltzgraff dinnerware.
You can see what's current from their website, but some that I love are the Christmas Day Set of 8 dinner plates, the Winterberry set of four stemless wine glasses and the full Winterberry dinner set. It has:
dinner plates
salad plates
gravy boat
salt and pepper shaker
serving dishes
butter dish
covered casserole dish
sugar bowl and creamer
serving platter
baking dish
vegetable bowl
pasta bowl/ serving bowl
tiered server (perfect for treats)
and more
Holiday sets from Amazon
It's true that Amazon really does have everything! Here are some great holiday sets you can find on Amazon that can be shipped right to your door with ease.
Lenox 893565 Balsam Lane 12-Piece Dinnerware Set
Lenox is a trusted name in dinnerware and this super cute set is perfect for the entire winter season, but also for the holidays. It's affordable and durable, and it will fit well with different family styles.
Gibson Home Seasonal Gold Dinnerware Set, Service for 4 (16pcs), White/Gold
Gibson brings a classic, regal look with this gold foil dinnerware set. You can get this set for four, which contains 16 pieces for an affordable price. Gibson is another trusted name in dinnerware and these will look like a million bucks on your holiday dinner table.
Pfaltzgraff Trellis Snowflakes 12 Piece Dinnerware Set, Service For 4, Red
When you want to make a bold statement for the holidays, you can't go wrong with this set. This beautiful rich red will stand out on a white or green tablecloth. They are beautiful and durable and perfect for the holidays, but you can also use them at other times of the year. Since they don't have Christmas or winter-specific decorations on them, they are also more versatile.
Gibson Noble Poinsettia 12-Piece Dinnerware Set
Here's another set from Gibson that just screams elegance and the holiday season. This 12-piece dinnerware set features a stunning poinsettia print on each piece.
Spode Christmas Tree 12-Piece Dinnerware Set, Service for 4
Here's the classic Spode Christmas tree design. You can't go wrong with this set, and don't forget to leave a plate of cookies out for Santa!
Learn more about Spode dinnerware.
Lenox 6122055 Winter Greetings 12-Piece Dinnerware Set
This Winter Greetings set from Lenox has beautiful birds on it but it's the cardinal that really makes the design pop. When you want something that says winter but isn't over the top "Christmasy", this is a perfect choice.
Pfaltzgraff Winterberry 16-Piece Dinnerware Set, Service for 4
And here's that Winterberry set from Pfaltzgraff that I mentioned earlier. I love it so much and it's good for the winter season, but you could use these all year if you wanted to.
Lenox 6122048 Holiday 12-Piece -Plate & -Mug Set
This holiday set from Lenox just feels a bit fancier than some of the sets on this list. It features gold trim that makes it really pop and shine, and holly garland going around the edges of the plates and printed on the cups. It has a classical, timeless feel to it that is also cozy.
Nikko Ceramics Christmastime 4-Piece Dinnerware Place Setting
One thing I love about this set from Nikko is that it's shaped differently. The octagonal shape of the plates and bowls is unique and the Christmas tree design is super cute and cozy. Your family will love eating off of these dishes for the holidays.
What Is Your Style?
These holiday dinnerware sets can set a style for your Christmas entertaining. Christmas dishes are central to a holiday gathering, as we all know, most likely food will be involved in the festivities.
Christmas dinnerware not only sets the mood for celebrating Christmas with family and friends, it can also become a family heirloom. So, when you choose your favorite pattern, be sure to keep quality and durability in mind. In most cases, you will want your holiday dinnerware to last a lifetime.
The Spode Christmas Tree Dinnerware pattern is a very popular collectible dinnerware pattern that has been around since 1938. It is easy to find replacement pieces if pieces of the dinnerware get chipped or broken, and the various versions of the dinnerware, from vintage to modern, can easily be mixed and matched to create a useful Christmas dinnerware set.
Whether you choose a casual dinnerware set or a set of fine China, I'm sure that you will love using the dinnerware to serve holiday dinners and Christmas get-togethers.
Personally, I have a problem choosing between the awesome patterns that are available. To me, it makes total sense to have a casual set for everyday use and a formal set for Christmas dinner. The dinnerware can add to your holiday décor by simply placing it in a China cabinet or displaying it on a hearth.
Sets That Are Out of Production
If you are stuck on a specific holiday set that is out of production, you might still be able to find it where collectibles and replacement dinnerware sets are sold. One of my favorite places to find holiday dinnerware is Etsy. Some popular holiday sets that are now out of production include:
Red Vanilla Tuxedo Rouge (looks like candy canes)
Christmas Snowman set from ACK
Gibson Christmas Elegance Gathering 12-piece set
Johnson Brothers Old Britain Castles 12-piece set
Noritake Holly and Berry dinnerware set
Gibson Dinnerware Holiday Classic 20-piece set
Rachel Ray Holiday Hoot Dinnerware set
Paula Deen Amaryllis 16-piece set
You can look for current production holiday sets at Amazon, Wayfair, Walmart, Target, Macy's, Bloomingdale's, and direct from manufacturers.
What whimsical collection will you bring home for the holidays this year?