When I think of horse dinnerware, I have a western dinnerware or cowboy dinnerware vision because I was raised around ranches and rodeos. What do you think of when you think about horses on plates or other dishes? If it's not something you grew up with or are used to, you may not realize the many great options for horse-related themes in dinnerware and kitchenware. In fact, you may not even be aware of all the different ways horses can appear in our lives.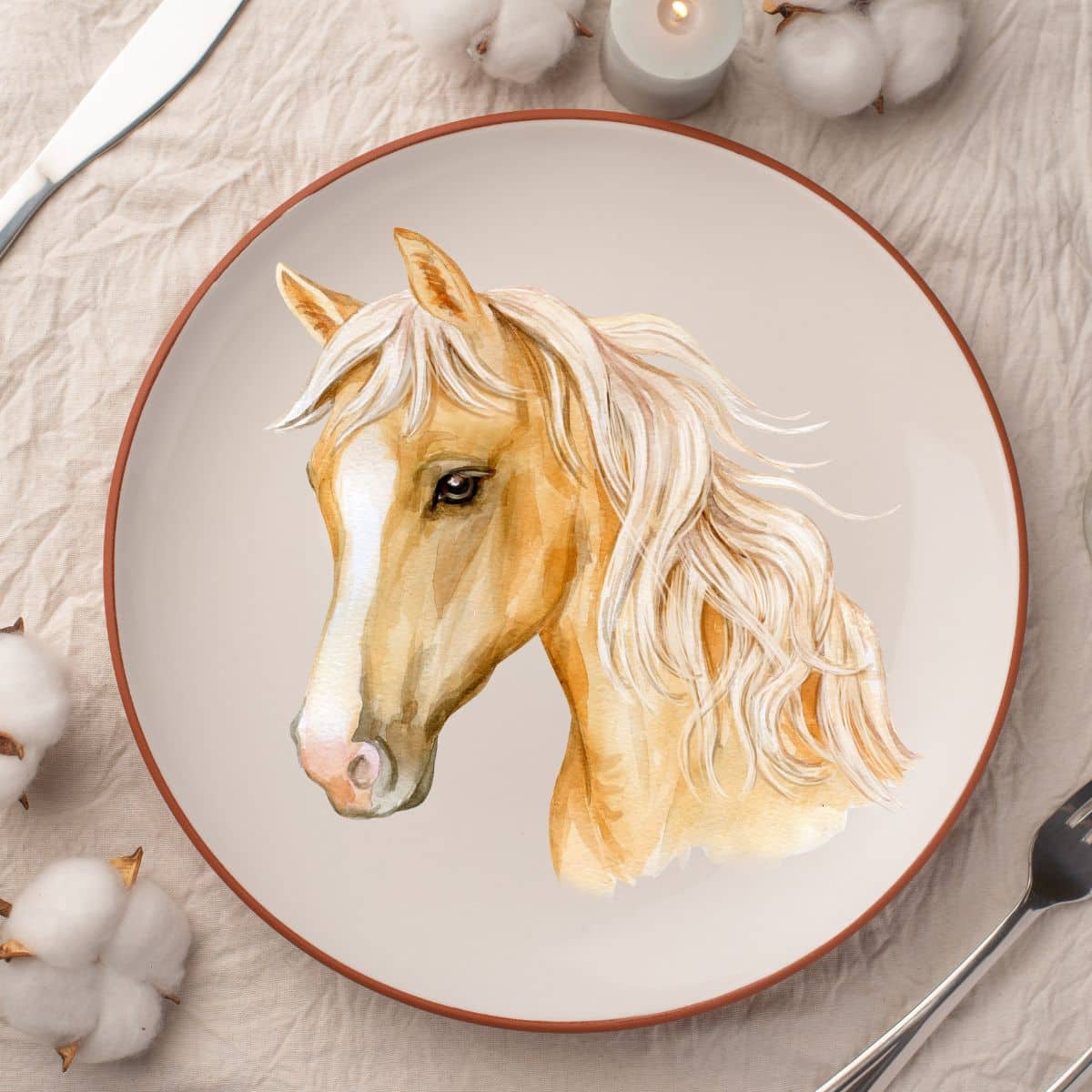 There are wild horses, and there's horseback riding, but there's more to it than that. There are many equestrian sports and horses have even been used in the military, by the police force, and of course for hunting. A lot of people don't know that horses also serve therapeutic purposes. From wild horses to other horse themed designs, there is something for everyone to enjoy.
At any rate, horses are beautiful animals and worth welcoming to the dining area. Horse dinnerware is a favorite from casual dinnerware sets to dinnerware for children. Let's look at some of them.
Horse Dinnerware Sets and Plates
Here are some nice horse-themed dinnerware sets and plates that I've found on Amazon. I feel like I can find some unique things there that I don't see in local stores, so it's always fun to check it out. And you can get it shipped right to your door, so it's convenient too. I still like looking in local stores when I'm out and about, too.
1. Certified International Homestead Christmas 16 Pc. Dinnerware Set
I love the Certified International brand on Amazon because they have such nice dishes with great patterns. This one is a winter holiday themed set with beautiful horses at a stable barn.
2. Certified International Christmas on The Farm 8.5" Salad/Dessert Plates
This set goes well with the one above and features four dessert/salad plates with a different horse on each one. You can buy this set on its own, or get it in addition to the set above.
3. Rod's Wild Western Horses Ceramic Mug Plate Set of 4
These great ceramic mugs featuring wild horses running will go great with a horse or Western-themed décor. They're made sturdy and they also have a rustic feel to them with the shades of tan and brown.
4. Everything Kitchens 28-Piece Dinnerware-Set
This cute set isn't exclusively horses but some pieces do have horses and the others have other farm animals like cows and goats. It's a super cute set, great for animal lovers or a farmhouse décor.
Spode Woodland Horse Patterns
Spode created some horse patterns in their Woodland Collection. As far as I can tell, the horse patterns have been retired; however, you can still find them through retail outlets, replacement companies, and on online auctions.
The horse patterns consist of an American Quarter Horse, an Arabian, a Paint, and a Thoroughbred... all gorgeous horses.
5. Spode Woodland Dinner Plate, Thoroughbred Horse, 10.5"
6. Spode Woodland Dinner Plate, Arabian Horse, 10.5"
The borders on the Woodland Collection coordinate so the horse pieces can easily be matched with the Spode Delamere Woodland Border place settings and serving accessories for a well-set table.
Discontinued Horse Dinnerware Sets
Here are some nice horse dinnerware sets that are sadly discontinued. However, that doesn't mean you're out of luck of you want them. You can look at Replacements.com and on eBay for these pieces. Sometimes you might even find full sets on Etsy, as I've seen them before.
7. Wedgwood Equestria Dinnerware Pattern
The WEDGWOOD Equestria 5 piece place setting is very nice for formal dining. The pattern has accessories, including accent plates, cups and saucers, and serving pieces. I like it because it features horse gear and horses without giving up the elegance that we have come to know from Wedgwood dinnerware.
8. Pasture Pals Horse Dinnerware Set
This Pasture Pals dinnerware design is just adorable. It is a stoneware set that features horses grazing in the pasture.
More Themed Dinnerware You'll Love
Horse Kitchen Accessories
Your horse-themed designs can also carry over into other kitchen accessories such as curtains, horse kitchen dish towels, wall clocks or wall hangings, and more.
Design Imports DII Running Horse Jacquard Cotton Dish Towels (2)
These brown cotton dish towels with horse designs are perfect for the kitchen where you prepare meals you can serve up on your horse plates and dishes!
Old Mountain Horse Trivet
This trivet is a work of art and would look great in nearly any place you decide to display it. It makes me think of ironwork stables or on a farm or ranch.
Comfy Hour Resin Craft Horse Stable Napkin Holder Brown, Western Retro
This beautiful horse napkin holder would look great at the center of the table when you use your horse dinnerware for your meals.
Cute Horse Extra Long Oven Mitt with Cotton Lining, Heat Resistant Pot Holders Set
These simple but cute over mitts are a great way to add some horses to your kitchen and they're practical, too.
Horse Bathroom Accessories
If you have a guest bath that's close to your kitchen and dining room, you might even want to continue the theme there as well. As a horse lover, you can use bathroom accessories and horse bathroom décor to bring that theme all together throughout this space of your home. Here are some items that I really loved.
Horse Bathroom set Tissue Box, Soapdish, Toothbrush holder, Covered jar, Silver brushed nickel
I love this silver brushed nickel set for the bathroom. It has a rustic, Western feel to it. You get a soap dish, toothbrush holder, tissue box and a covered jar all in one set. Perfect for a guest bathroom, too.
Horse Toilet Paper Holder Stand, Freestanding Toilet Paper Tissue Storage
This stunning toilet paper holder will brighten your entire bathroom. It can easily become the focal piece of the room. It would also go great with Western décor or farmhouse designs.
Jayden Madge 4PCS/Set Horse Couple Fabric Shower Curtain
This is such a cute horse barn shower curtain scene! I've never seen one like this before. It has matching bath mats and toilet mats, too. And I like the full set but it's that curtain window scene that really does it for me!
Other Themed Dinner Sets
Which items from this list do you like the most?