Decorating with rooster dinnerware is just fun. Just like the rooster crowing at dawn, this type of décor brings life to the kitchen.
There are all kinds of ways to use this type of dinnerware for decorating. You can display the dinnerware in a hutch, on a sideboard, or in a China cabinet to make it the central part of your theme. You can make this part of a kitchen makeover, or just add to a theme you already have.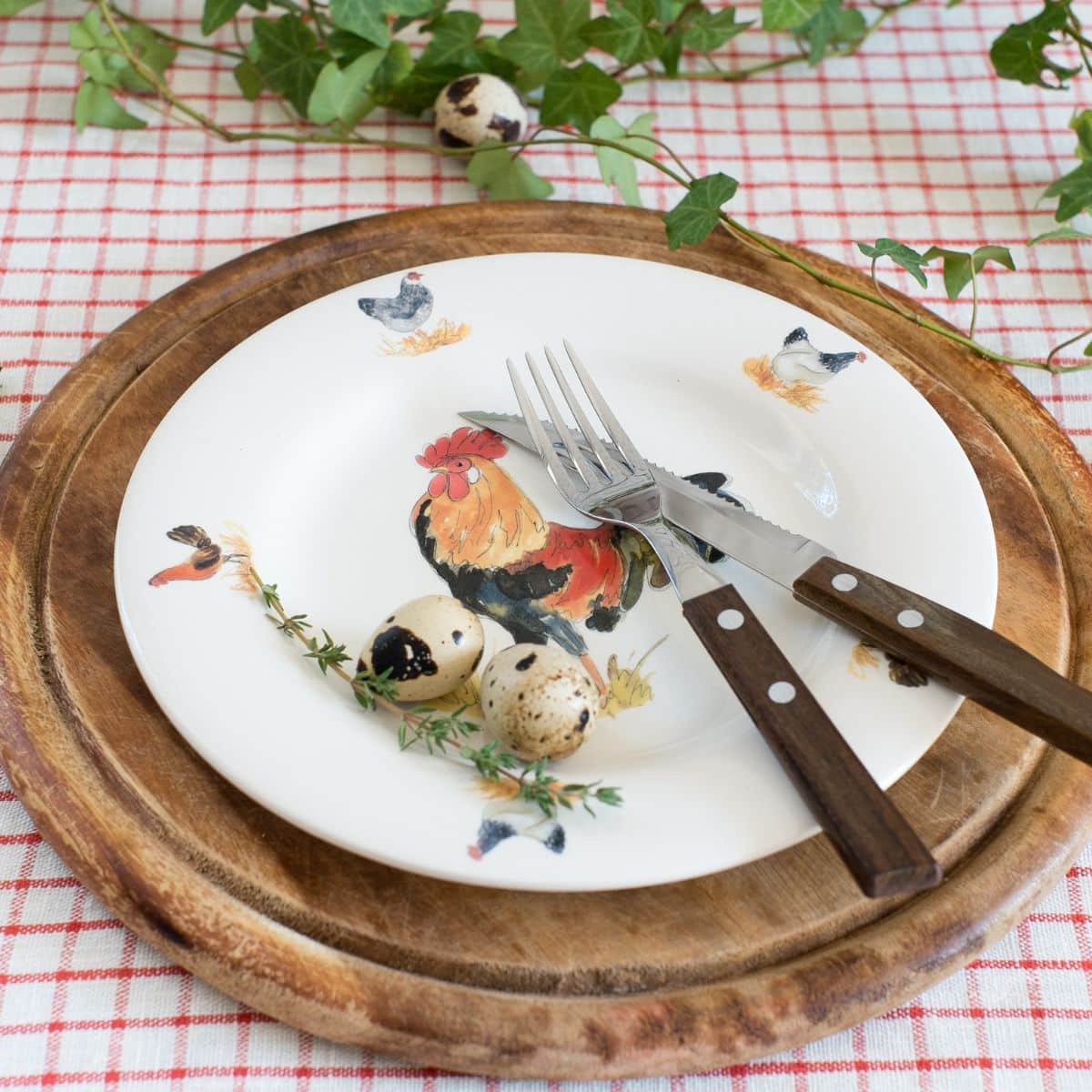 A modern idea is to remove the doors off of your upper kitchen cabinets, paint the inside of the cabinets in a colorful shade with the outer cabinets painted white, line the shelves with a lace-edged liner, and display the dishes there. I find this very attractive.
Rooster décor is also popular to use as an accent. Displaying dinner plates or decorative plates in a plate wall-hanger is a great idea for adding this type of touch. Let's look at the types of plates and other dinnerware you may have to choose from.
Farmhouse Décor
When we talk about roosters, I think about farmhouse décor. This is an on-trend home décor style that imbues a home with rustic charm. Creating a farmhouse-style home provides the perfect cozy and inviting atmosphere to relax and enjoy some quality family time.
From distressed wood furniture pieces to natural fabrics and blooms of wildflowers, there are plenty of ways to give your home the perfect farmhouse vibe. No matter if you love shiplap walls or distressed metal signs, farmhouse décor can make any home look stylish yet classic. With its unique blend of homey comfort, chic vibes, and lively shades, it's easy to see why so many homeowners are embracing this stylish home trend.
Farmhouse décor has made a huge comeback in recent years, and rooster dinnerware is one of the most popular pieces for a kitchen or dining room done in this style.
From a rustic rooster pitcher to charming rooster-covered plates, rooster dinnerware can add a touch of charm and old-fashioned homestead appeal to any room. Whether you choose classic white roosters or bright colors with intricate designs, rooster dinnerware is a great way to add an air of warmth and rural character to your home décor. With rooster themed dinnerware, you can create an inviting and cozy atmosphere in any space.
Rooster Dinnerware Choices
There are many dinnerware manufacturers that make dinnerware adorned with roosters. Most of the dinnerware sets are somewhat casual, as this goes with the farmhouse style. Some of the modern ones will be microwave-safe and even dishwasher-safe, but be careful with the vintage patterns, because many of them may not be and you'll need to wash them by hand.
Pfaltzgraff rooster dinnerware
Pfaltzgraff Dinnerware is nice, and they make several patterns of rooster dinnerware. The Pfaltzgraff Daybreak pattern was a favorite of mine. It was retired in 2010, but you can still get some pieces of it and of course, you can find it on replacements sites and from time to time on eBay.
I love the pastel colors that are used in the Napoli Rooster pattern. The colors of the rooster are vibrant, but the background gives it a comforting appeal.
The Pfaltzgraff Everyday Garden Rooster pattern is cute. It has a country charm. The pattern goes along well with Americana décor.
For a whimsical, bright, and cheery look, you might enjoy the Pfaltzgraff Everyday Early Bird dinnerware pattern. It features primary colors and in my eyes, would look great in a color-block decorating style kitchen.
Another Pfaltzgraff favorite is the Tuscan Rooster pattern. I believe that this pattern is retired, but if you can pull a dinnerware set together, I'm sure you would enjoy the warm hues featured on this hand-painted dinnerware.
You can find many of the above Pfaltzgraff retired rooster dinnerware on Etsy.
Pfaltzgraff Homespun Rooster 16-Piece Dinnerware Set, Service for 4
The Homespun Rooster has a set that's service for four and is available on Amazon at the time of this posting and it's really nice.
Pfaltzgraff Farmhouse Dinnerware Set (16 Piece)
I love that this 16-piece set is white and classic-looking, but has the rooster emblem on each piece.
Corelle rooster dinnerware
If you need tough, hard-to-break dishes, you might like the Corelle Impressions Country Morning pattern. It is a long-lasting dinnerware set in addition to being attractive. This pattern has been retired, but it is still available in some outlets.
Gibson rooster dinnerware
Another nice pattern is the Gibson Royal Rooster (get it from Etsy). I love the scalloped edges and the pedestal featured on the coffee cups. These features add a touch of class to the dinnerware set. And you know you'll always get quality when you choose Gibson. They are always made to last.
Certified International dinnerware
Another brand you can find a lot of on Amazon is Certified International. They have many rooster designs available. This charming dinnerware is great for everyday use, or for special occasions. They have sets with dinner plates, salad plates, bowls, small bowls for cereal or soup, mugs, serving platters, and more.
Certified International Rooster Meadow 16 Piece Dinnerware Set, Service for 4, Multicolored
This whole set is so pretty and I love that the design has a paint-like style to it. I can see using these at the dinner table and also just displaying them in the dining room because they are so pretty to look at.
Certified International Indigo Rooster 16 pc Dinnerware Set
Here is a similar set from Certified International. These have the same shape and size and also have roosters on them, but the design is different. The deep blue is really nice, and I also love how they have different roosters depicted.
Certified International Morning Bloom 16 Piece Dinnerware Set, Service for 4, Multicolored
And here we have another set with roosters, but a completely different, unique design. I also like that the bowls and cups have little "feet" on them, giving this set a cute look that stands out from the others.
Certified International Gilded Rooster Dinnerware, One Size, Multicolor
And finally, another set that is unique and beautiful to look at! This set comes with four of each - dinner plates, salad plates, bowls, and mugs - and the plates are square. The darker colors give a nice rustic feel that would go great with a similar décor theme.
Other rooster dinnerware options
UPware 16-Piece Melamine Dinnerware Set, Includes Dinner Plates, Salad Plates, Dessert Plates, Bowls, Service for 4. (Country Rooster)
This design gives me a vintage vibe that I really like. If you're looking for something that feels vintage, but with modern pricing, this is a good choice.
Kalen Sunflower and Rooster Painting Decorative Plate Round Seamless Design for Home Décor Porcelain Plates with Display Stand 10 inches
These are not for eating on but I had to include them since we're talking about décor. These decorative plates look so great on a stand, as seen in the picture, and they will go beautifully with your rooster kitchen décor. Furthermore, they are just beautiful as accent pieces all on their own.
For individual dishes to use to complement your décor, you might try searching for rooster dinnerware on eBay. There are tons of vintage or antique dinnerware in this online auction. Rooster patterns are plentiful, so they'll never be a shortage of things to choose from.
And of course, check Etsy for discontinued dinnerware with rooster patterns.
Love Themed Dinnerware?
Here are more themed dinnerware sets: