Moose dinnerware is a hit for those who admire this majestic creature. This is the largest living species in the deer family. Moose are known for being solidarity animals. The antlers on a bull moose are quite original as they are kind of leaf-shaped which makes the animal look even more enormous. Moose décor is a favorite amongst wildlife enthusiasts as well. If you have wildlife décor, rustic décor, or similar things in your kitchen or dining room, then moose plates may be perfect for you.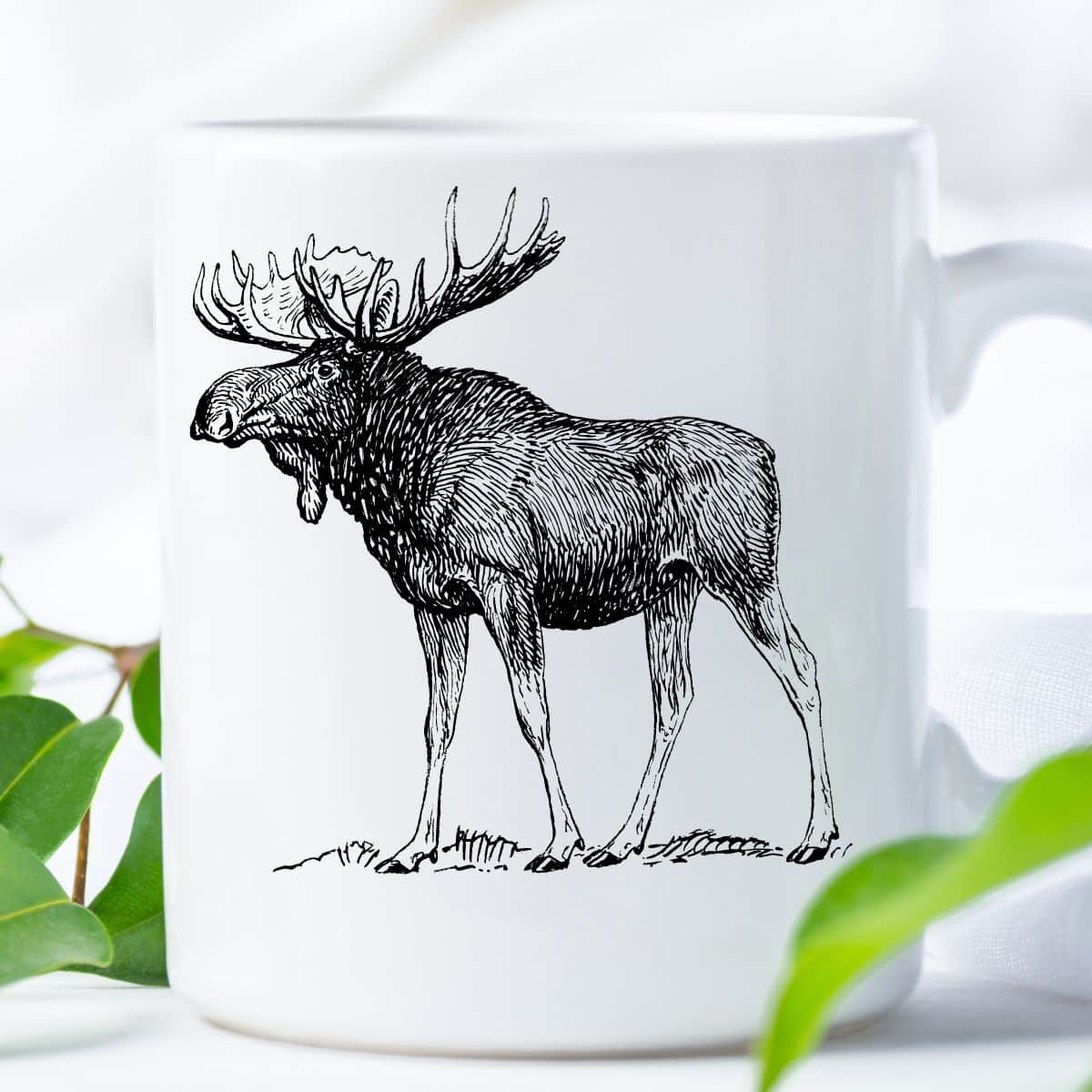 I have found several different moose patterns of dinnerware. Some are realistic with a picture of a moose featured in its habitat while others are kind of cartoonish or sketchy, just using the shape or a drawing of a moose. Both are popular and are often used as cabin dinnerware as a rustic dinnerware choice.
Moose Dinnerware Sets
Moose dinnerware sets make dinner time even better. Whether it's an everyday night dinner with the family or dinner with friends, dinnerware sets featuring moose designs will bring warmth and character to your dinner table. These dinnerware sets typically feature a combination of intricate moose designs and beautiful colors, giving them a modern yet rustic feel. Not only do they look chic and stylish, but they are also very durable, making sure you'll be able to enjoy dinner with the moose dinnerware set for many meals to come!
1. Certified International Fluidity Lodge 16 Piece Dinnerware Set, Service for 4, Multi-Colored
This is my absolute favorite set. It's from Certified International and it's available on Amazon - you can have it shipped right to your door. I really love the moose design on each piece, the colors, and the woodsy feel to it all. It's a full 16-piece set, so that means dinner for four.
2. Mossy Oak Animal Print 16 Piece Dinnerware Set, Black and Beige
This great set from Mossy Oak has a moose on the large dinner plates and also other wildlife on the other pieces. It has a great rustic feel to it, making it great for country living, a log cabin, or even a hunting cabin.
3. Mara Stoneware Mug - Moose - 16 oz
These beautiful stoneware mugs will also go great with your moose dinnerware sets, or just to enjoy some hot coffee in the morning or a cup of cocoa at night. I love the moose art and the big pine trees in the designs.
Spode Woodland Moose
The Spode Woodland Moose pattern is GORGEOUS! A favorite of all of the moose dinnerware that I have found.
4. Spode Woodland Dinner Plate, Majestic Moose
This dinnerware is amazing. All of the Spode Woodland dinnerware sets feature pictures of wildlife in natural settings. In my opinion, the historic British floral border makes a wonderful impression as it surrounds the featured wildlife. The majestic moose in the middle is picturesque and I love the forest scene in the background.
5. 10 Inch Serving Bowl-Moose, Brown
Beautiful brown serving bowl with a moose design.
Other Rustic Dinnerware To Pair With the Moose Dishes
Those looking to add rustic charm to the dinner table should consider rustic dinnerware choices. Rustic dinnerware blends rustic elements with modern sensibilities, creating a warm, inviting atmosphere that's ideal for special occasions or casual dinners alike.
From soup bowls and mugs made of earthy-tone ceramics to rustic wood plates, there are many rustic dinnerware options available in a variety of colors and styles. By combining rustic elements with modern materials, rustic dinnerware evokes an inviting country feel while keeping dishes handsomely understated. Whether casually entertaining or hosting a formal affair, rustic dinnerware sets the scene for the perfect dining experience.
Gibson Elite Soho Lounge 16 Piece Reactive Glaze Dinnerware Set, Soft Square, Teal Green
This rustic set would look great with the moose mugs above, too. The dark colors go well with moose dinnerware or other rustic themes. And I like the gold-colored rim and how it blends with the teal green.
Pfaltzgraff Trellis White 16-Piece Dinnerware Set, Service for 4, Distressed White
This set has a weathered look to it, like an old shiplap wall. It's a full 16-piece dinnerware set with dinner plates, salad plates, mugs, and bowls. This is a beautiful set that also has a casual feel to it, and can be your family's everyday dinnerware set for many years to come.
Moose Kitchen Decor
To go with your moose dinnerware, you can also choose dinnerware kitchen décor. The right kitchen towels or salt and pepper shakers can really pull the entire theme together. Here are some that I like.
Timberland Moose & Bear Ceramic Utensil Crock
Hold all of your kitchen utensils in place with this beautiful moose and bear-themed holder.
3 Cabin Lodge Themed Decorative Cotton Kitchen Towels with Bear, Moose, and Antler Print
These towels match your moose plates or dinnerware and go well in a lodge or vacation cabin.
More Themed Dinnerware
What's your favorite moose dinnerware or décor? Would you ever use this theme in your own home?