Instant Pot Hard Boiled Eggs have a simple 5/5/5 process, 15 minutes and done. Super easy. And they peel like a dream.
Instant Pot Hard Boiled Eggs are beautiful every time.
This recipe is so easy, you will never want to make hard boiled eggs any other way. What's the trick? Five minutes/five minutes/five minutes. But you DO need the metal or silicone insert to keep them safe. Thank you to our daughter Abbi for sharing her secret.
What's the Secret?
No secret, really. It's a simple formula. Put the eggs in the pot on top of the insert. Pour in a cup of water. Cook on high pressure for 5 minutes. Let the steam release naturally for 5 minutes, then quick release the steam. Remove the eggs to an ice water bath and let sit for 5 minutes. Peel and eat.
FYI, I looked up several recipes for making hard boiled eggs in an Instant Pot, and most said cook them for 6 minutes. But when I tried it for 6 minutes, the whites were a bit rubbery and there was a green ring around the yolk. A green ring won't hurt you; it's perfectly fine to eat. But I suggest you only cook them for 5 minutes.
White Vs. Brown Eggs, any difference?
In a word, no. At least not in the Instant Pot. When I boil them in the traditional way, I often find it harder to peel brown eggs because they generally have a thicker shell and membrane. But with the Instant Pot, it's a breeze.
What You Need for This Recipe
You will, of course, need an Instant Pot and the insert that comes with it or a special silicone accessory, along with a measuring cup, and a medium bowl. If you don't have an Instant Pot, trust me, you need one.
Instant Pot Hard Boiled Eggs Recipe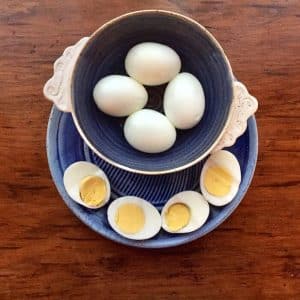 Instant Pot Hard Boiled Eggs
Make perfect HB eggs in your Instant Pot, ready to eat in 15 minutes.
Instructions
Put the egg cooker insert or the metal lift-out insert into your Instant Pot.

Gently set the eggs on the insert.

Pour the water into the pot.

Close the lid, and set the pressure to high.

Set the timer to 5 minutes. Your pot should automatically switch to "on" and when it is up to temperature, it will show the time (5:00).

When the time is up, the Instant Pot will beep. Wait 5 minutes and then release the remaining steam with the gauge. Be careful not to burn yourself. I cover mine with a towel and turn the gauge.

When the steam is completely gone, open the lid and remove the eggs, placing them in a bowl of water that has ice in it. This is called a "water bath."

Let the eggs chill in the water for 5 minutes. Peel the shells off. Rinse to remove any small pieces of shell.
https://recipeideashop.com/instant-pot-hard-boiled-eggs/
Recipe Nutrition Information
The information shown is an estimate provided by an online nutrition calculator. It should not be considered a substitute for a professional nutritionist's advice.
RATE, PIN & SHARE!
Please Rate our recipes, and Pin and Share them on social media. Comments are welcome, too!
You May Also Like These Recipes From Recipe Idea Shop
Last Updated on July 28, 2022 by Adriana