Recipe Idea:
Mima's Gluten Free Coffee Cake
Note: Many of the links included throughout Recipe Idea Shop are affiliate links, which means if you follow them and you buy something, we will get a small commission. It doesn't cost you a penny more, and you can still use your Amazon Prime (Shop Amazon " Give the Gift of Amazon Prime) account to buy. This posting includes affiliate links.
Hi. It's Lois in the kitchen at Recipe Idea Shop. It seems more and more people are discovering they are allergic to gluten. My first husband had a severe case of celiac sprue when he was a kid. His parents thought he grew out of it when he became a teenager, but in his 40s he learned that he was still allergic to gluten (and therefore, wheat, oats, barley, etc.). It's tough when your favorite meal is a hamburger on a bun! I no longer cook for my first husband, but since others around me are allergic to gluten, I've been working on learning to modify standard recipes to be gluten-free.
This recipe, the standard version, of course, is my current hubby's favorite coffee cake. We have it every Christmas morning. He calls it Garmer's Coffee Cake. This is delicious just as is, especially warm, but we tried it with Don's Homemade Chocolate Sauce on top and that was really good. Then again, I think chocolate makes just about anything better!
This coffee cake freezes well. When it is cool, take in whole from the pan. Wrap it in foil. Then wrap in plastic and put into a heavy freezer bag. Remove the freezer bag and plastic wrap and place it in a 350F degree oven for about 20 minutes if it is frozen (or about half that time if it has thawed). It also ships well so you can bake one and send it to family and friends.
Read on for recipe and nutrition...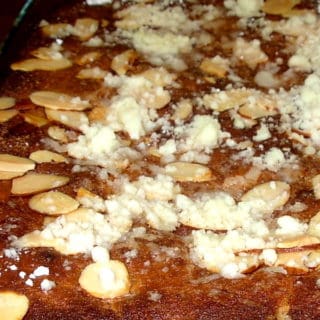 Mima's Gluten Free Coffee Cake
Ingredients
1

package of yeast

¼

cup

warm milk

1 ¾

cup

milk

room temperature

¼

teaspoon

salt

1

cup

natural sugar

turbinado

½

teaspooon nutmeg

1

stick butter

room temperature

½

cup

powdered sugar

¾

cup

slivered almonds
Instructions
Warm ¼ cup milk so it is warm, but not hot (or it will kill the yeast).

Add the yeast to it and mix with a wooden spoon; wait until it is bubbly (5 minutes or so). [If it doesn't bubble a bit, your yeast might be old or your milk might be too hot. Add another package of yeast and see if it bubbles. If not, go buy some new yeast.]

Add the remaining milk and 1 cup of flour at a time until all 4 cups have been thoroughly incorporated.

Beat after adding each cup.

Add the salt.

Beat well to combine.

This mixture should be very sticky, not quite like bread, but thicker than brownie mix. (Adjust the liquids and flour until you get this texture.)

Set mixture aside and let rise until doubled in size.

Add natural sugar, nutmeg and ½ stick of soft butter.

Beat well. (I do all of this by hand.)

Use a little of the remaining butter to butter the pan.

Put the mixture in the pan, cut the remaining ½ stick of butter into small pieces and dot the top. Sprinkle on the powdered sugar, cinnamon and balance of the nutmeg.

Let rise again until doubled in bulk.

Top with almonds if you wish (I think it is much better with the almonds!).

Bake at 350F degrees for about 30 minutes, or until a toothpick inserted comes out clean.

When cool, cut into squares and serve with a steaming cup of coffee, tea or cocoa.