Patacones Mini Tostadas is a fun recipe to make and serve. Cute little tostadas with beans, guacamole, salsa, and cheese (optional) that each person can construct right at the table.

Patacones Mini Tostadas
Don and I learned how to make these delicious little gems, Patacones Mini Tostadas, at a cooking class in Costa Rica. Made with green plantains, they can be a main dish, side dish, or appetizer. Most of the recipe can be made ahead of time, but it's easy to do it all (including all the toppings) in less than an hour. You will need a patacones press or tortilla press, though.
What Do Plantains Look Like?
Patacones are made with "platanos verde" (green plantains). They look like big green bananas, but they taste nothing like bananas. The Cuban restaurant in Harrisonburg, Cuban Burger, serves patacones and also serves "platano maduro" (sweet fried plantains). Most people think of the sweet dessert instead of the version made from green plantains. But I love these patacones!
Since I eat gluten free, I like the patacones. They can be substituted for tortillas in many recipes.
WHAT YOU NEED
For this recipe, you need an electric skillet or large frying pan, a knife, a cutting board, and a tortilla press. You also need some refried beans, guacamole, and salsa.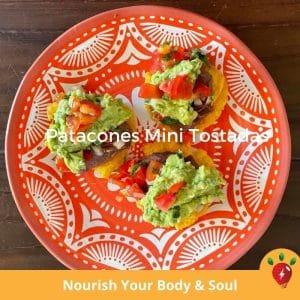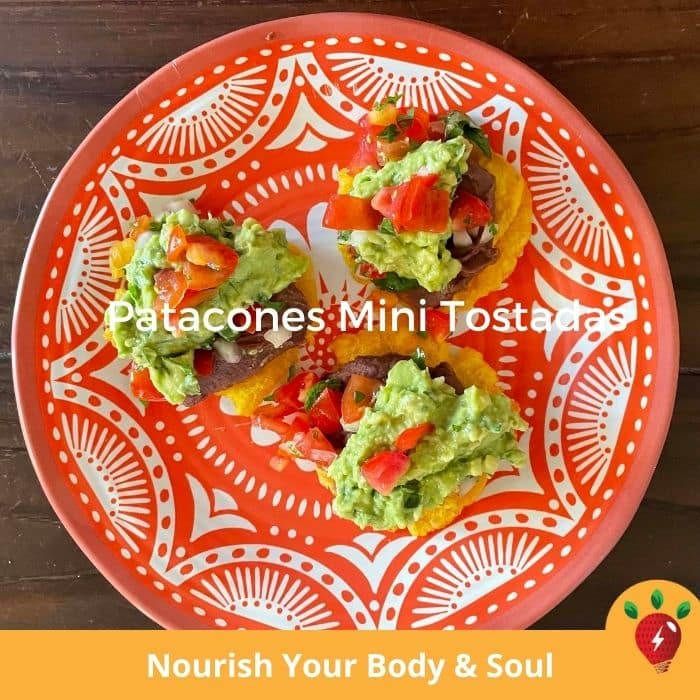 Patacones Mini Tostadas
Patacones are "tortillas" made from green plantains—the perfect delivery system for mini tostadas.
Ingredients
2

green plantains

1

cup

canola oil

or enough oil to cover your skillet with ½" of oil

1

teaspoon

salt

or salt to taste

2

cups

vegan refried beans

or regular refried beans if you aren't vegan

2

cups

guacamole

1

cup

fresh salsa

1

cup

shredded cheese

optional
Instructions
Slice the plantain skin to remove the fruit inside. Be careful not to slice the fruit.

Cut the plantains into oblong slices, about 1 inch long.

Heat the oil in a skillet until hot.

Place the plantain slices in the hot oil and cook for about 5 minutes until soft.

Remove the plantains and press them flat in a plantain or tortilla press. Be sure to cover the press with plastic wrap or parchment paper to prevent sticking.

Return the squashed plantains to the hot oil and cook until they are crispy and somewhat brown.

Drain the newly made patacones on paper towels, sprinkle with salt, and top with your favorite toppings.
Step by Step Pictures
Select green plantains and peel them.
Affiliate Disclosure: This website may contain affiliate marketing links, which means we may get paid commission on sales of those products or services we write about, including Amazon. Editorial content is not influenced by advertisers or affiliate partnerships. This disclosure is provided in accordance with the Federal Trade Commission's 16 CFR § 255.5: Guides Concerning the Use of Endorsements and Testimonials in Advertising.
Recipe Nutrition Information
This recipe is GF, DF, NF, SF, EF, V, VG*
The information shown is an estimate provided by an online nutrition calculator. It should not be considered a substitute for a professional nutritionist's advice.
Nourish Your Body & Soul
I encourage you to care of yourself by eating satisfying, nourishing food that is good for your body and makes you feel healthy. Protect your spirit by living authentically, moving your body, and taking time to replenish and rest. I think you might also like these recipes & posts from Recipe Idea Shop:
Rate, Pin & Share!
Please Rate our recipes and posts, and Pin and Share them on social media. Comments are welcome, too!
*Allergen Key
GF = Gluten free | DF = Dairy free | NF = Nut free | SF = Soy free | EF = Egg free | CF = Corn free | V = Vegetarian | VG = Vegan
Note: If you have serious allergies or sensitivities, to be considered free of these allergens, you need to use products specifically marked "gluten-free," etc. There can be cross-contamination in facilities.
This post was first published on Recipe Idea Shop on February 7, 2022.