Pea and Cucumber Salad, picnic or party food! Peas, cucumbers, tomatoes, a few onions and an amazing vinaigrette. So pretty, too.
Pea and Cucumber Salad, Light and Refreshing!
Hi. It's Lois in the kitchen, telling you about a Pea and Cucumber Salad recipe. This is one of my favorite spring (or anytime) salads. It is very light and flavorful and originally came from the book Reversing Diabetes: Reduce or Even Eliminate Your Dependence on Insulin or Oral Drugs by Julian Whitaker, M.D. This book is not just a cookbook; it contains lots of terrific ideas about how to modify traditional recipes to reduce the fat and help you maintain a healthy blood sugar level. As a Type 2 diabetic, I have found it to be very helpful, and the recipes are really good.
I made some of this salad and served it to my great niece, Alina, who was 8, and her brother (age 2). They loved it and ate every bit of it. And Alina asked for more the next day! The salad dressing is so light and flavorful. It calls for one of my favorite spices, tarragon. Try it and let me know what you think by commenting on the recipe.
This Pea and Cucumber Salad is beautiful, with its red and green vegetables. It makes a good dish to take to a potluck or serve for an everyday meal. No mayonnaise and no fat in it! I need to make this more often. The tarragon and vinegar vinaigrette is really tasty.
It's also a good salad to serve in cups at a party. It is simple and contains no common allergens (wheat/gluten, eggs, nuts, soy, or dairy).
This salad is good with just about anything, but try it with Easy Oven Roasted Spatchcocked Chicken and a baked sweet potato. Sounds like supper!
As one of my friends once said, "You can never have too many [serving] bowls!" How about this beauty?
Pea and Cucumber Salad Recipe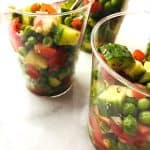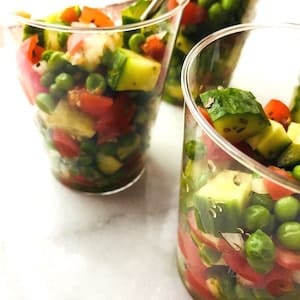 Pea and Cucumber Salad
Beautiful, healthful and SO delicious!
Ingredients
Salad
1/2

cucumber

(sliced thin and quartered

2

green onions

(chopped or 2 slices red onions, chopped)

1

cup

peas

(cooked and cooled)

1

medium tomato

(cut in small pieces)
Vinaigrette
2

tablespoons

white vinegar

1

tablespoon

olive oil

1/2

teaspoon

oregano

1/4

teaspoon

tarragon

1/4

teaspoon

salt

Pepper to taste
Instructions
Mix the salad ingredients (the first 4 ) together.

Whisk the remaining ingredients (vinaigrette) in a separate bowl and pour the dressing over the vegetables.

Mix together gently and serve on a bed of lettuce. Simple and beautiful.
https://recipeideashop.com/pea-and-cucumber-salad/
Note: Many of the links included throughout Recipe Idea Shop are affiliate links, which means if you follow them and you buy something, we will get a small commission. It doesn't cost you a penny more, and you can still use your Amazon Prime (Shop Amazon — Give the Gift of Amazon Prime) account to buy. This posting includes affiliate links. Don and I love our Amazon Prime account.
Pea and Cucumber Salad Nutrition
Want More Recipes Like This?
If you want more delicious recipes, please sign up for our free cookbook.
Pin & Share!
Please Pin and share our recipes. And tell us what you think in the comments.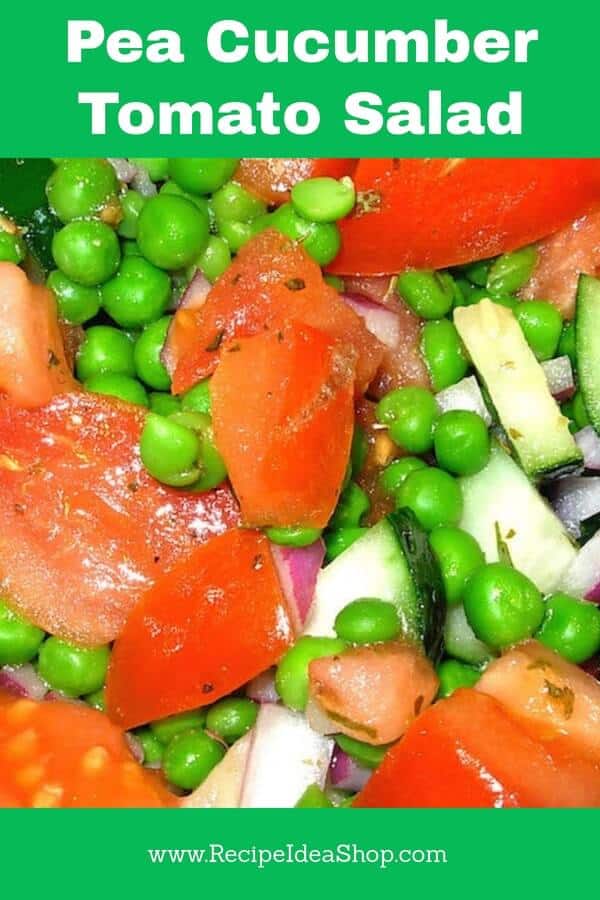 You May Also Like These Recipes From Recipe Idea Shop
BEFORE YOU GO, DID YOU GRAB YOUR FREE COOKBOOK?
[mc4wp_form id="5109″]