Who knew Cooked Cucumber would be so delicious? Julia Child, of course. Her herb-baked cucumbers got me excited enough to develop my own recipe. Everything's better with butter and herbs, right? So, maybe you've been asking yourself can you cook cucumber? How about making them as a vegetable sauté? I'm here to tell you yes, you can cook cucumbers! And also to show you how to do it.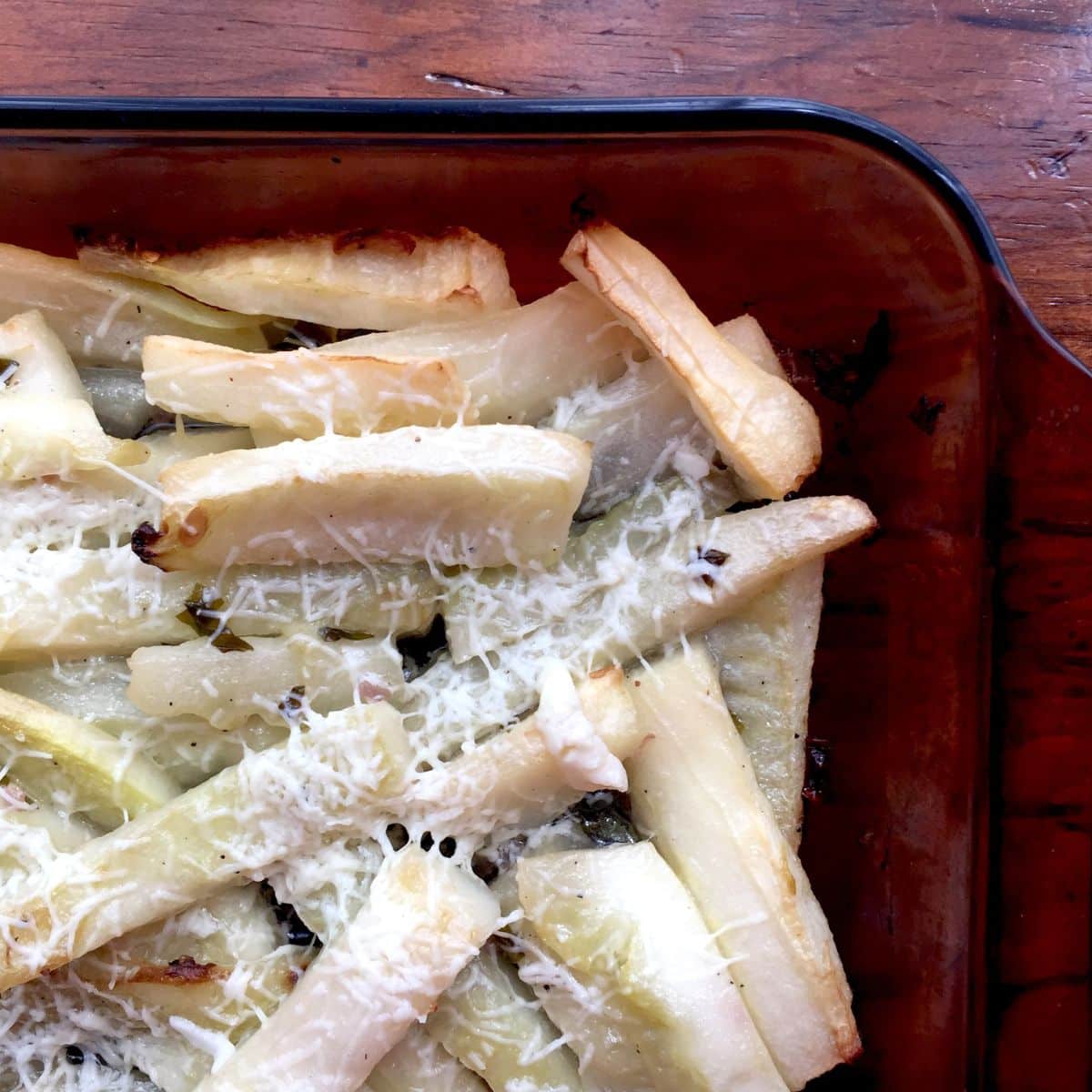 Cooked Cucumber Is Tangy, Sweet And So Good
Cucumbers are a healthy vegetable, low in calories and low in fat, made mostly of water, that is often used in pickling. You also see raw cucumber sliced and added to salads (here are 38 Easy Cucumber Salad Recipes). But there are many other ways you can enjoy this delicious veggie. You can make stir-fry cucumbers, for example, adding in some seasoning and putting some cheese on top, if you like.
I never thought I'd need a recipe for Cooked Cucumber, but then, I don't usually plant a garden. Last year, I threw a few cucumber and squash plants in the garden area at Valley Friends Meetinghouse and then I neglected them. There were just a couple of tiny cucumbers and then this happened. Look at that! Cucumbers for days.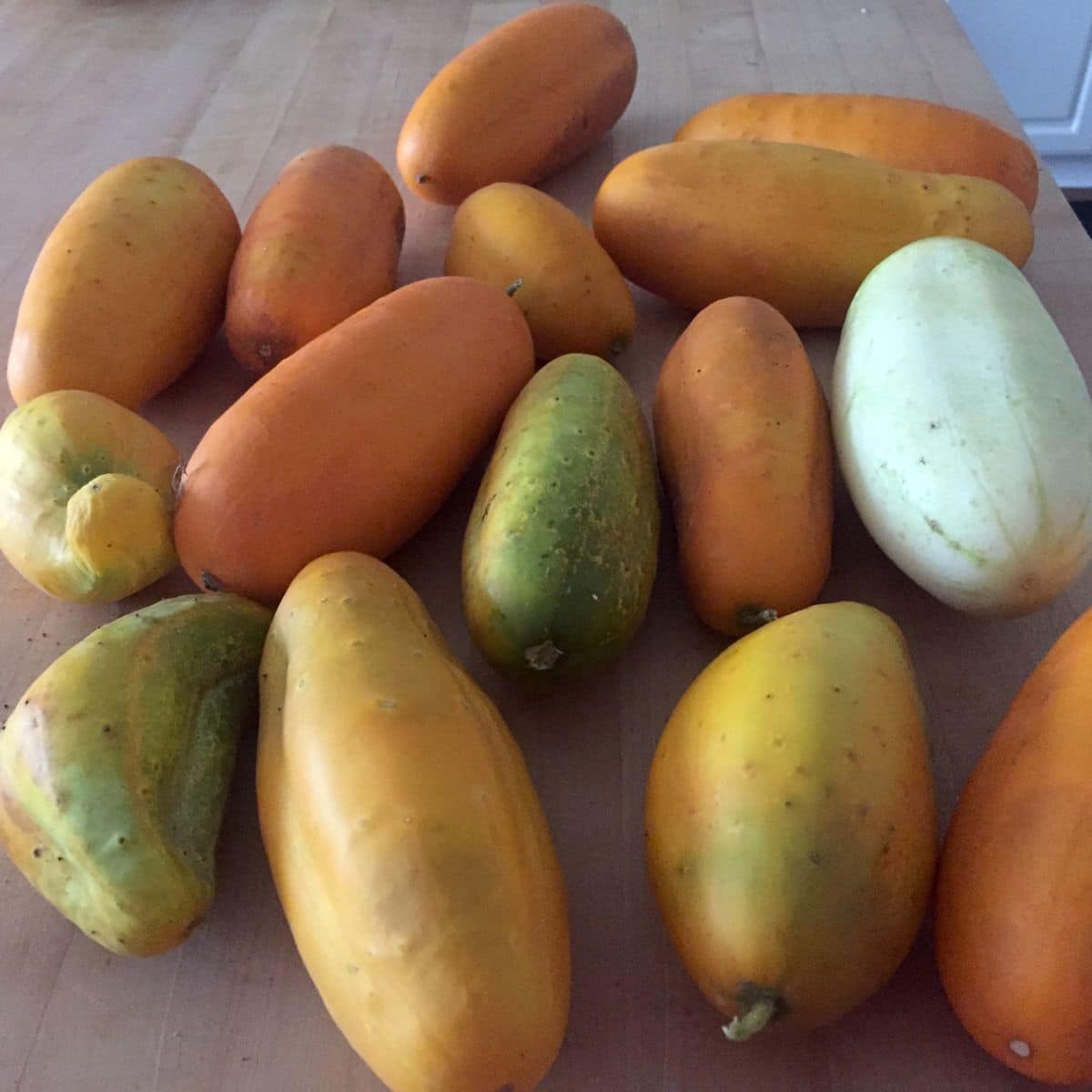 Those of you who have grown cucumbers before probably know that if you have neglected them or they stayed hidden when you were picking the others, you may end up with a cucumber that has grown huge like this. Once they become overgrown, they turn yellow and also can be tough. But these can actually be great cucumbers to use for cooked cucumber. There is even a Korean recipe called Nogak that uses these overgrown cucumbers.
Have you ever seen huge yellow cucumbers? Yeah. Me neither. These are "bush cucumbers" which are supposed to be small and green. OOOOPS!
When they get to this stage, you can still eat them, but the peel is tough and bitter and the seeds are inedible. The flesh is still delicious, though. So you can use them any way you would normally eat a cucumber, sliced raw, pickled, in a good Cucumber Dill Salad, or any other way.
There are too many of them for Don and me to eat quickly. We made some Grandma's No Cook Refrigerator Pickles, a batch of Refrigerator Dill Pickles, and a couple of salads.
Then I thought: "I bet we could cook them much like squash," and I looked for recipes by Julia Child (who else?) in Mastering the Art of French Cooking. Her tip to marinate them in a vinegar brine was perfect. She used wine vinegar, and I tried it that way. It was good, but I thought it needed a little more pizzazz. So the next time I made them I used apple cider vinegar and it's super good.
The apple cider vinegar gives it a little sweetness in addition to the tang. Here's how to cook with cucumber.
What You Need For Making Cooked Cucumbers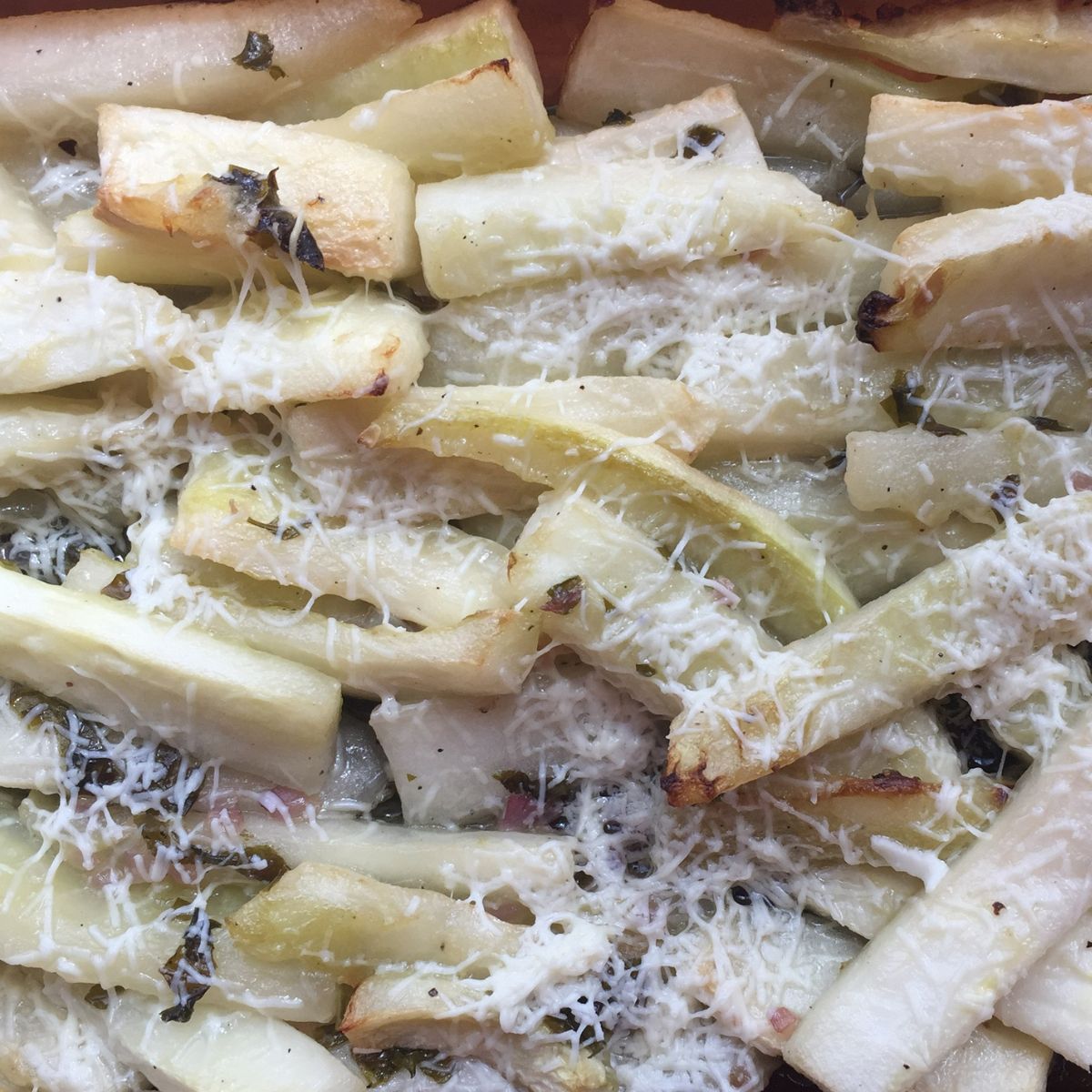 You will need:
a vegetable peeler
knife
cutting board
wire whisk
large mixing bowl
measuring cups and spoons
sauté pan
baking dish
Ingredients:
your cucumbers
salt
sugar
butter or margarine
fresh basil
pepper
Romano or parmesan cheese
Cooked Cucumber FAQ
Cooking with cucumbers is easy once you learn how. Here are some common questions that people ask.
Are cooked cucumbers even good?
As we have shown above in our recipe, yes, cucumbers can be cooked and they taste delicious!
Can cucumber go in the oven?
Yes, you can bake cucumber in the oven, if you choose to.
Do cucumbers lose nutrients when cooked?
All vegetables use some nutrients when cooked. Boiling cucumbers will cause them to lose the most nutrients but any water-based methods of cooking like boiling, steaming, and blanching can result in some nutrient loss.
Can you steam cucumber?
Yes, you can steam cucumber the same as you can any other vegetable. This is a good method of cooking to keep it crisper and retain more of the nutrients.
More Cucumber Recipes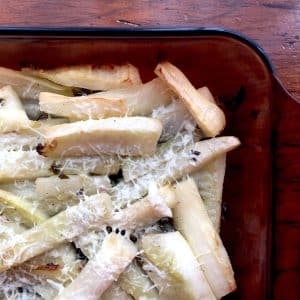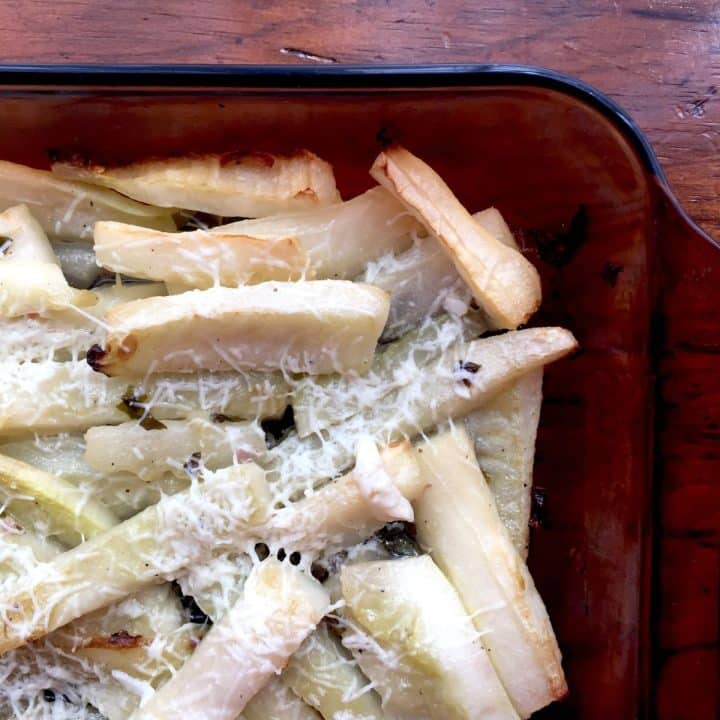 Cooked Cucumbers
These baked cucumbers are tangy and sweet, herby and buttery. Yum!
Ingredients
2

tablespoons

apple cider vinegar

1½

teaspoons

salt

¼

teaspoon

sugar

4

large cucumbers

or 2 super large. Ha.Ha.

4

tablespoons

butter

¼

cup

diced onion

1

tablespoon

fresh basil

chopped

⅛

teaspoon

pepper

¼

cup

shredded Pecorino Romano Cheese

(or parmesan)
Instructions
Whisk the apple cider vinegar, salt, and sugar together until the sugar and salt have dissolved. (If you are using turbinado sugar, I suggest you heat this mixture for about 30 seconds to help the sugar dissolve.)

Peel the cucumbers and cut them lengthwise into strips. Using a spoon, scoop out the seeds.

Place the cucumbers in the vinegar brine, give them a stir so they are well coated, and set this aside for about 30 minutes.

Heat the oven to 375F degrees.

In a small sauté pan, melt the butter and sauté the onions for a few minutes until they are transparent.

Add the chopped basil and pepper and stir to combine.

Pour the butter and onion mixture into a 7" x 9" casserole dish and use this mixture to coat the bottom and sides of the dish.

Drain the cucumbers and pat them dry with a paper or cloth towel.

Place the cucumbers in the butter mixture and stir to coat the cucumbers with the butter.

Bake the cucumbers in a 375F degree oven for about one hour, stirring them once or twice during that time.

About 5-10 minutes before the cucumbers are ready to remove from the oven, sprinkle the top with the Pecorino Romano cheese.

The cucumbers will still be a little crisp and only a tiny bit browned when they are done.

Serve hot.
Notes
Note: Marinating the cucumbers in a vinegar/salt brine helps to remove some of the moisture from the cucumbers. It also removes any bitterness that may occur if your cucumbers are over ripe as mine were.
Nutrition
Calories:
38
kcal
Carbohydrates:
4
g
Protein:
2
g
Fat:
1
g
Saturated Fat:
1
g
Polyunsaturated Fat:
0.04
g
Monounsaturated Fat:
0.3
g
Cholesterol:
4
mg
Sodium:
485
mg
Potassium:
228
mg
Fiber:
1
g
Sugar:
3
g
Vitamin A:
147
IU
Vitamin C:
5
mg
Calcium:
65
mg
Iron:
0.4
mg
Recipe Nutrition Information
This recipe is GF, NF, SF, EF, CF (use sea salt), V*
The information shown is an estimate provided by an online nutrition calculator. It should not be considered a substitute for a professional nutritionist's advice.
Rate, Pin & Share!
Please Rate our recipes and posts, and Pin and Share them on social media. Comments are welcome, too!