What If You Could Get 10 Easy Peasy Meals For Free?
You can!
But only for a limited time.
Offer expires at the end of the month.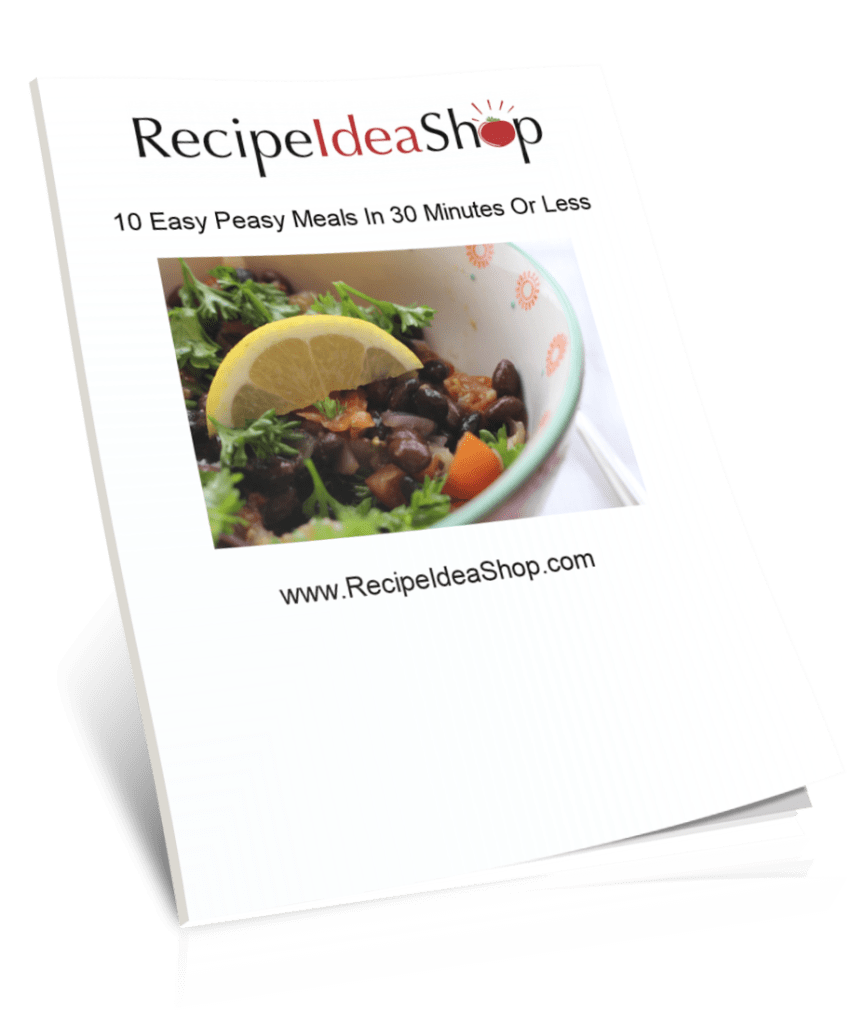 10 Easy Peasy Meals You Can Make in 30 Minutes or Less
For the first time, we are giving away the recipes & menus for our cookbook 10 Easy Peasy 30-Minute Meals—Absolutely FREE!
Get it Now!
To Get Your FREE Copy of 10 Easy Peasy Meals in 30 Minutes or Less…

Just Take A Look At All The Menus & Recipes You Get—All For Free!
Meal 1
Chicken Kabobs
Spicy Mustard Sauce
Hot, Sweet & Sour Sauce
Cucumber Salsa (add some corn chips)
Sliced Pineapple
Meal 2
Marinated Flank Steak
Lemon Rice
Steamed Broccoli
Mandarin Oranges
Meal 3
Croatian Grilled Chicken
Brown Rice
Steamed Green Beans
Meal 4
Middle Eastern Black Bean Ful
Green Salad
Sliced Apple
Meal 5
Salmon Patties
Creamed Peas
Brown Rice
Fresh Fruit
Meal 6
Slow Cooker Mediterranean Vegetable Stew with Chickpeas
Wide Noodles or Gluten-Free Pasta (optional)
Spinach and Orange Salad
Fruit
Meal 7
Baked Moroccan Fish with Cumin
Amy's Egyptian rice
Steamed Asparagus
Sliced Melon
Meal 8
Hamburger, Potato Carrot Hotdish
Fruit Salad
Meal 9
Gluten Free Oatmeal Pancakes
Sliced, Sautéed Chicken Sausage
Sliced Bananas
Meal 10
Grilled Pork Chop
Sweet Potato Fries
Coleslaw
Fresh Orange Slices
Don't Miss Your Chance To Get These Recipes!

What Others Are Saying…
"Make dinner time much more pleasant (and healthy)!" ~ Jo DeMars
"Love recipes and trying new foods? Check out this AMAZING site, chock full of cool cooking ideas. And each recipe comes complete with nutritional info! Plus, you get FREE stuff!" ~ Anne Tjaden
"Need a little change-up in your home-cooked meals? This FREE giveaway is for you. Plus, you can ask Lois your cooking questions—the dumb ones as well as the sophisticated ones—and she will answer! The recipes on Recipe Idea Shop are accompanied by a full nutritional information box, many are gluten-free, and most are simple enough that even I, with my embarrassingly modest kitchen skills, can cook them." ~ Kathleen Stinehart