This Authentic Middle Eastern Hummus Recipe will spoil you forever. You will never buy hummus again. It's SO good. It takes just 10 minutes and 5 simple ingredients.
Authentic Middle Eastern Hummus
I love this Authentic Middle Eastern Hummus recipe. I think you will, too. It's likely you have all the ingredients in your pantry. The cool thing is that this hummus recipe only calls for 5 ingredients. And they are all foods that I stock in my kitchen all the time: canned chickpeas (also known as garbanzo beans), fresh garlic, lemon juice (fresh or bottled), olive oil, and salt. I was blown away at how good this hummus is. And, seriously, it took me 10 minutes.
Wondering what to eat with Hummus?
It's terrific as a dip or a spread. It's vegan, gluten free, dairy free, nut free, and corn free, so just about anyone can eat it. No worries about allergies. I serve it with a variety of vegetables, such as carrots and celery sticks, broccoli, cauliflower, sliced red, green and yellow peppers, sliced cucumbers and cherry tomatoes. Or make some Chapati (similar to pita) and eat it with this delicious flatbread. I also eat it on Gluten Free White Bread (the best GF bread recipe ever!) as a sandwich (links to recipes below). The hummus is low in fat, low in carbs, low in salt, and high in Vitamin B6 and protein. Woot! Woot!
I usually let people just dip their own veggies, but sometimes I fill celery sticks like Ants on a Log so people can just pick them up and eat them. My vegetarian grandson eats Authentic Middle Eastern Hummus as one of his regular meals.
What You Need
You need a food processor or blender-like a Vitamix (affiliate link), which my daughter LOVES, to get the dip super creamy and blended. I have a mini food processor like the one below that is just perfect for this Authentic Middle Eastern Hummus recipe. Unless you are making a huge amount of hummus, you should use a smaller food processor instead of a large one, but the full-size food processor (affiliate link) will do if you don't have the smaller one.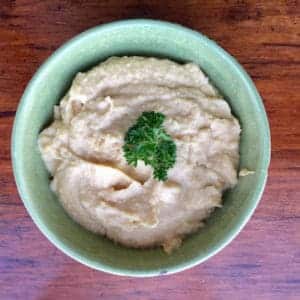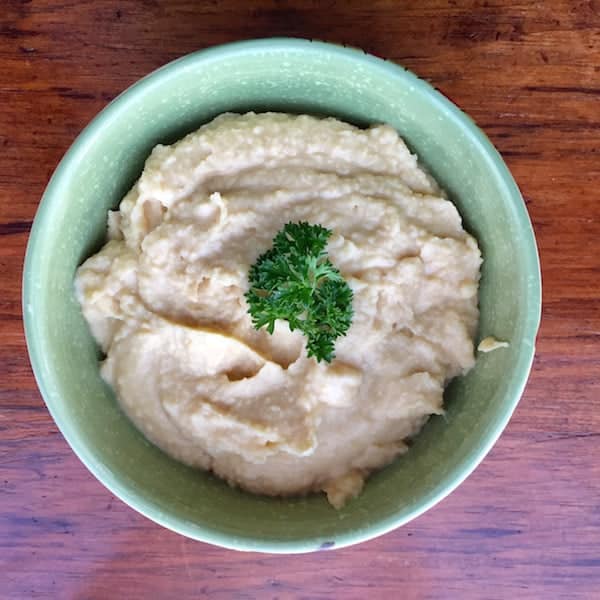 Authentic Middle Eastern Hummus Recipe
This is the best EVER Authentic Hummus recipe. And it only takes 10 minutes. You will never buy hummus again.
Ingredients
1

can chickpeas

15 ounces

2

cloves

garlic

peeled and minced, about 1 teaspoon

3

tablespoons

lemon juice

2

tablespoons

olive oil

½

teaspoon

sea salt
Instructions
Drain the liquid from the chickpeas. It's easiest to dump them into a sieve/strainer. Be sure to save the juice to use as egg white replacer!

Place the drained chickpeas, peeled garlic cloves, lemon juice, olive oil, and salt in your mini food processor.

Blend on high until smooth. Garnish with parsley, if desired.
Nutrition
Calories:
33
kcal
Carbohydrates:
1
g
Protein:
0.1
g
Fat:
4
g
Saturated Fat:
0.5
g
Polyunsaturated Fat:
0.4
g
Monounsaturated Fat:
3
g
Sodium:
146
mg
Potassium:
9
mg
Fiber:
0.04
g
Sugar:
0.1
g
Vitamin A:
0.4
IU
Vitamin C:
2
mg
Calcium:
2
mg
Iron:
0.04
mg
More Recipes To Try