Middle Eastern Black Bean Ful. Add rice and some sauteed greens and you will have an amazing, satisfying meal that people will rave about for a long, long time. Easy and absolutely packed with flavor.
Middle Eastern Black Bean Ful, Excellent & Ready To Eat In 25 Minutes.
Middle Eastern Black Bean Ful is another terrific vegan recipe based on a Moosewood Collective recipe. It comes from their Moosewood Restaurant Low-Fat Favorites cookbook, and it is simply called "Ful." I absolutely love this recipe.
What is Ful?
Ful is a traditional Egyptian/Middle Eastern/North African dish comprised generally of Fava Beans, fresh tomatoes, onions, garlic, lemon and spices. I substituted Black Beans because I like them and I didn't have any Fava Beans. And the result was terrific. The flavors just burst in your mouth. And it only takes 25 minutes to make it.
What to Serve With Ful
Moosewood Restaurant Low-Fat Favorites suggests ideas for pairing this Ful as a side dish with other foods, but I find that this bean dish is excellent on its own. Add some Sautéed Greens, a piece of fruit and a bit of Amazing Gluten Free French Bread or some rice, and you have a fabulous supper. Filling, delicious, low fat, vegetarian and easy. What more can you want?
What You Need
I love Moosewood cookbooks. The recipes are always amazing. No matter what cookbook you use. Lately I have been buying the jarred minced garlic. It's such a time saver. Every kitchen should have the very best tools you can afford. For this recipe, you need a knife, cutting board, measuring cups and spoons, and good set of pots and pans.
Middle Eastern Black Bean Ful Recipe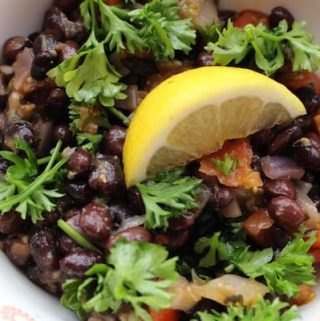 Middle Eastern Black Bean Ful
Bursting with flavor, this black bean dish can be served as a main dish or to accompany your entree. Excellent hot or at room temperature. Great for a potluck supper.
Ingredients
1

tablespoon

olive oil

2

cups

chopped onions

10

garlic cloves

minced

½

teaspoon

salt

1

teaspoon

dried mint

2

teaspoons

cumin

2

medium tomatoes

chopped

3

cans black beans

drained and rinsed (15 ½ ounces each)

2

tablespoons

fresh lemon juice

10

tablespoons

chopped fresh curly parsley

Lemon wedges to garnish
Instructions
Over medium temperature, heat the oil in a Dutch oven for about 1 minute.

Reduce the heat to low.

Add the onions, garlic and salt.

Cover and cook until the onions are transparent, stirring occasionally.

Add the mint and cumin, and continue cooking for another couple minutes.

Stir in the tomatoes and heat for about 4-5 minutes, stirring periodically.

Add the beans. Stir.

Heat through, about 5 minutes.

Remove from heat.

Stir in the lemon and parsley and serve with lemon wedges.
Sign Up For Updates To Get Tips, Recipes & Free Gifts
I think you're gonna love our recipes and healthy, happy posts. Sign up for our email updates to get free gifts, recipes, happy thoughts, and tips for identifying and avoiding foods that are sabotaging your health.
Affiliate Disclosure: This website may contain affiliate marketing links, which means we may get paid commission on sales of those products or services we write about, including Amazon. Editorial content is not influenced by advertisers or affiliate partnerships. This disclosure is provided in accordance with the Federal Trade Commission's 16 CFR § 255.5: Guides Concerning the Use of Endorsements and Testimonials in Advertising.
Recipe Nutrition Information
This recipe is GF, DF, NF, SF, EF, CF (use sea salt), V, VG*
The information shown is an estimate provided by an online nutrition calculator. It should not be considered a substitute for a professional nutritionist's advice.
Nourish Your Body & Soul
I encourage you to care of yourself by eating satisfying, nourishing food that is good for your body and makes you feel healthy. Protect your spirit by living authentically, moving your body, and taking time to replenish and rest. I think you might also like these recipes & posts from Recipe Idea Shop:
Rate, Pin & Share!
Please Rate our recipes and posts, and Pin and Share them on social media. Comments are welcome, too!
*Allergen Key
GF = Gluten free | DF = Dairy free | NF = Nut free | SF = Soy free | EF = Egg free | CF = Corn free | V = Vegetarian | VG = Vegan
Note: If you have serious allergies or sensitivities, to be considered free of these allergens, you need to use products specifically marked "gluten free," etc. There can be cross-contamination in facilities.
This post was first published on Recipe Idea Shop February 23, 2016 and updated April 5, 2022.