When you think of root vegetable recipes, do you only consider vegetarian stews and roasted vegetables? I tend to do that. But really, root vegetables are plants you can eat that grow primarily underground, such as tubers, bulbs, and rhizomes. They not only include carrots but onions, garlic, ginger, and turmeric, too!
With that definition, LOTS of our recipes contain root vegetables. I'm highlighting 15 root vegetable recipes for you today. Some can be roasted on your grill, some in the oven, and some in your slow cooker. There are plenty more on our website. Search for whatever root vegetable you enjoy and try other recipes.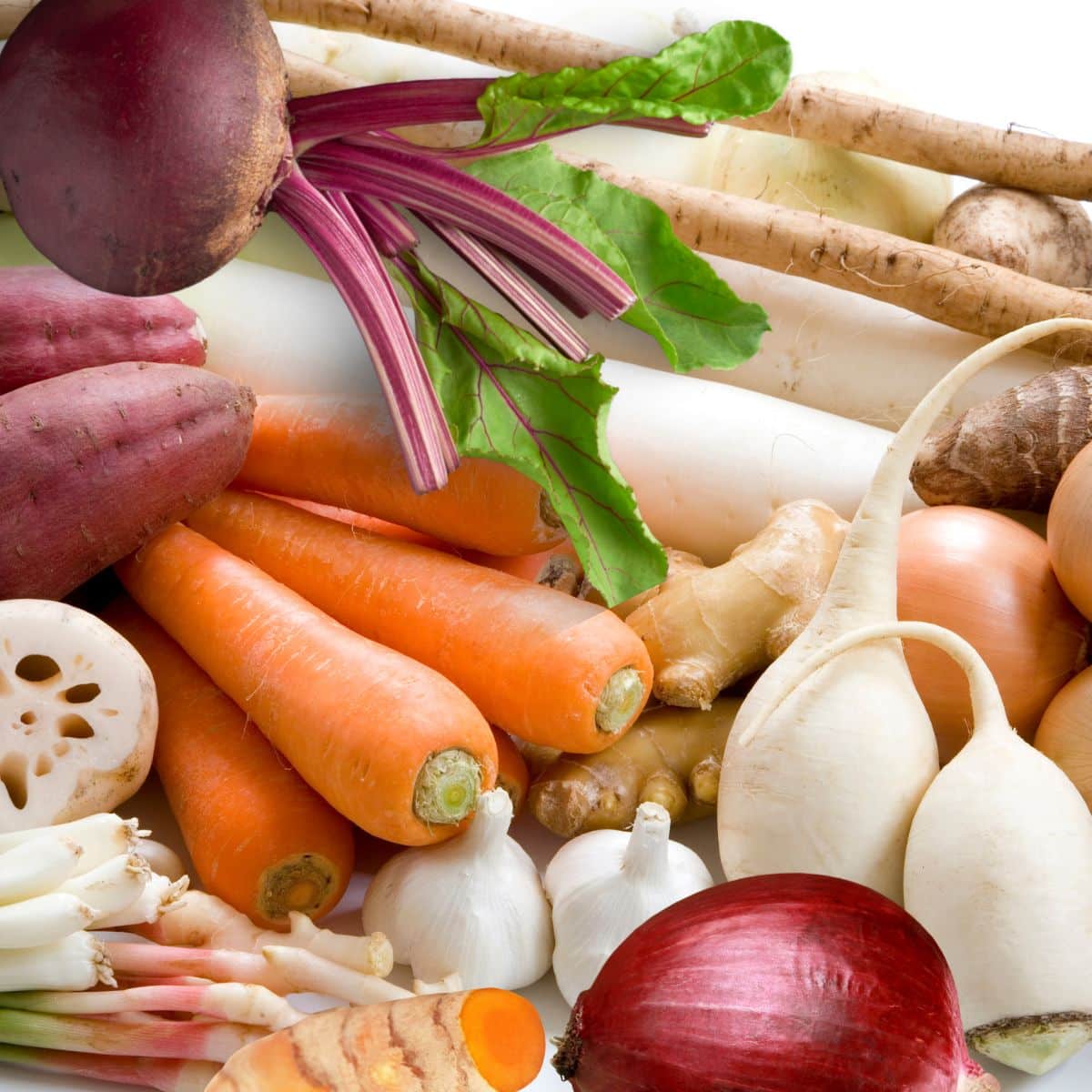 Why Are Root Vegetables Good For You?
The rich soil in which root vegetables grow provides the right environment for them to absorb loads of nutrients to share with you when you eat them. You benefit by eating these vegetables raw, cooked, or even powdered (for instance, some that we consider spices, such as garlic powder, ginger, turmeric, and arrowroot).
Carrots, sweet potatoes, yams, purple potatoes, white potatoes, yellow potatoes - in fact, all kinds of potatoes - turnips, radishes, daikon radishes, kohlrabi, onions, leeks, garlic, parsnips, beets, ginger, horseradish, jicama, celery root, arrowroot, rutabagas, yuca, and Jerusalem artichokes are all members of the root vegetable category. And turmeric. Don't forget that! What an inflammation fighter.
Many root vegetables are deeply colored, orange, red, purple, creamy white, or slightly green. These colors signify excellent nutrition for your body. For instance, carrots offer vitamins A, K, B6, D, and C, potassium, calcium, and fiber. The beta carotene found in red and orange vegetables is an antioxidant, which helps prevent cancer and keep you healthy.
Roasted Root Vegetable Recipes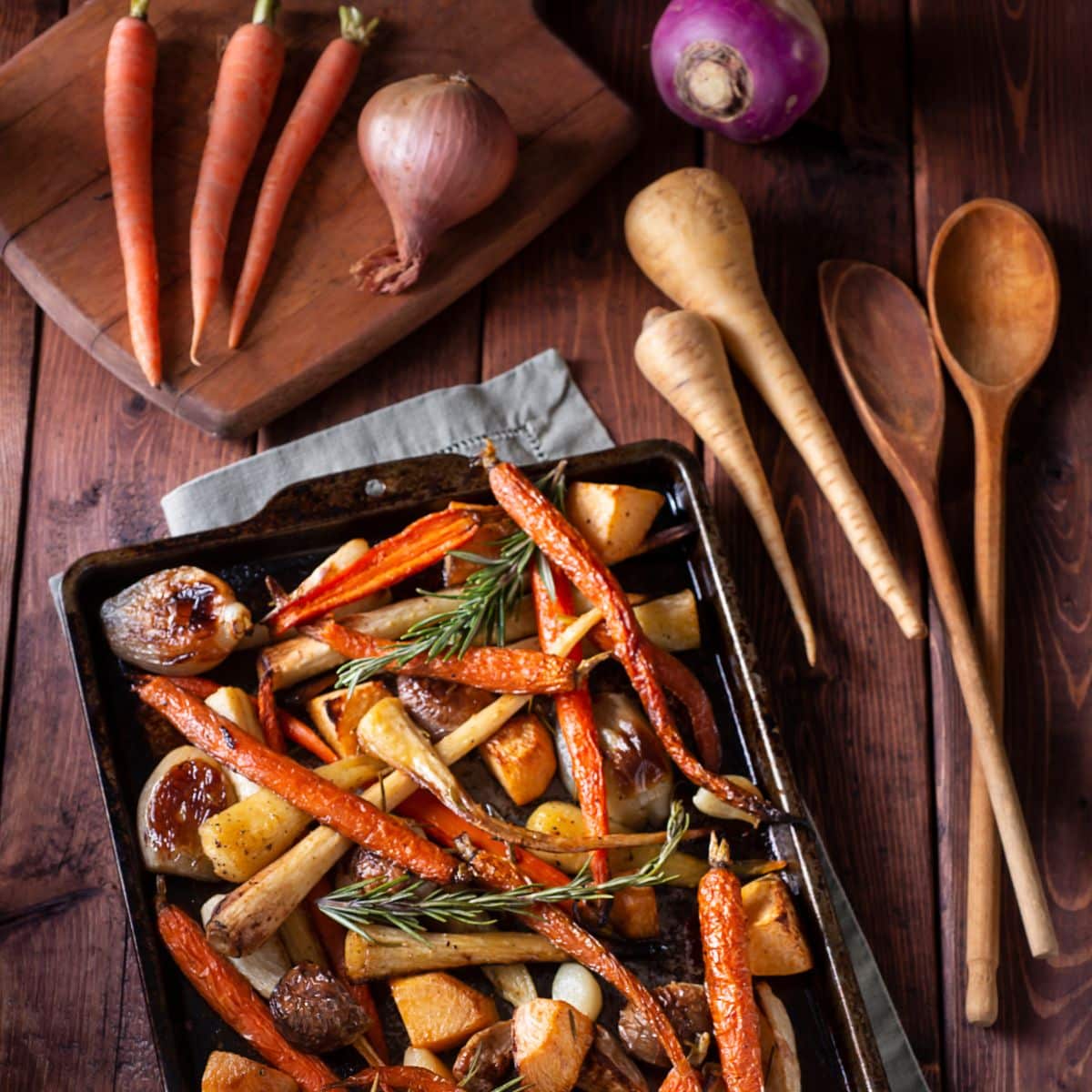 Roasting vegetables boosts the flavor and savoriness to a point of bliss. You are going to love these techniques and recipes for various roasted vegetables. Oven-roasted root vegetable recipes are especially enjoyable in the fall and winter when the weather is cold and the oven warms the house.
1. Roasted vegetables
Roasted Vegetables deliver intense flavor. They are so simple to make anyone can do it. Perfect for a cold winter's evening. Use whatever vegetables you like, but cut them so they are all a similar size and density. That will help them get done at the same time.
Onions, garlic, carrots, turnips, and potatoes are all root vegetables that work well in this recipe.
2. Roasted beets
Making Roasted Beets takes just 5 minutes to prepare. No peeling. It's simple. And so tasty. Really, it's a matter of washing and trimming the beets. Then put them in a little oil in a "medium" oven (350F degrees).
3. Feta cheese and roasted beets salad
Roasted Beet Salad with Feta. Simple. Robust. Full of goodness. Now that you have the roasted beets from our previous recipe, dice them up and put them together with salad fixings. Make a dressing of cilantro, lime, olive oil, and black pepper, and serve it over fresh spinach. Toss a little Feta cheese on top. Oh yum!
4. Sweet potatoes and onions salad
Sweet Potato Onion Pecan Salad topped with Molasses Honey Vinaigrette is a simple, beautiful salad that will delight your senses. Roast the sweet potato medallions in the oven first. Then top with toasted pecans, onions, and a sweet vinaigrette. Can be served warm or cold.
5. Root veggies with maple
Smoky Maple Root Veggies will put a smile on your face. Roasting vegetables makes them more scrumptious. Adding maple syrup makes them amazing.
Rutabaga, parsnips, turnips, onions, sweet potatoes, carrots, and smoked paprika provide a depth of flavor you won't believe possible. They are simple to make and take 15-20 minutes to prepare. Then you pop them in the oven for 40 minutes. Everyone who eats them says, "Mmmmmmm!"
6. Lemony roasted garlic and broccoli
Roasted Lemon Garlic Broccoli is a recipe you will want to make again and again. It's easy, packed with vitamins and protein, and so, so tasty. The only root vegetable in the recipe is garlic, but don't let that stop you. This broccoli is so good, maybe even former President Bush would eat it.
Grilled Root Vegetable Recipes
Grilling vegetables is very similar to roasting them, except you use a grill instead of an oven. The temperature is set to hot. You generally toss them in a bit of oil and cook them for a relatively short time over the hot fire.
7. Grilled potatoes
This Grilled Purple Potatoes with olive oil, salt, and pepper recipe is super easy. They look lovely on the plate and are similar to but a bit creamier than other potatoes. Add some color to your plate with these scrumptious potatoes.
8. Sweet potato medallions
Grilled Sweet Potato Medallions are simple and delicious. Better than fries! Top with cinnamon and they are almost like dessert.
9. Scalloped potatoes on the grill
Grilled Scalloped Potatoes make summer and fall living easy. There's only one trick. And it's easy, too. When you start putting the ingredients in the heavy-duty foil "boat," put the shiny side up, and give it a good coating of butter. Although those two tips might be considered "tricks," our trick is to place the sliced onion next, in a single layer. It will get beautifully caramelized as it cooks and adds SO much flavor. Potatoes are next, pour in the milk, and top with salt and pepper. You're gonna love these potatoes.
Slow Cooker Root Vegetable Recipes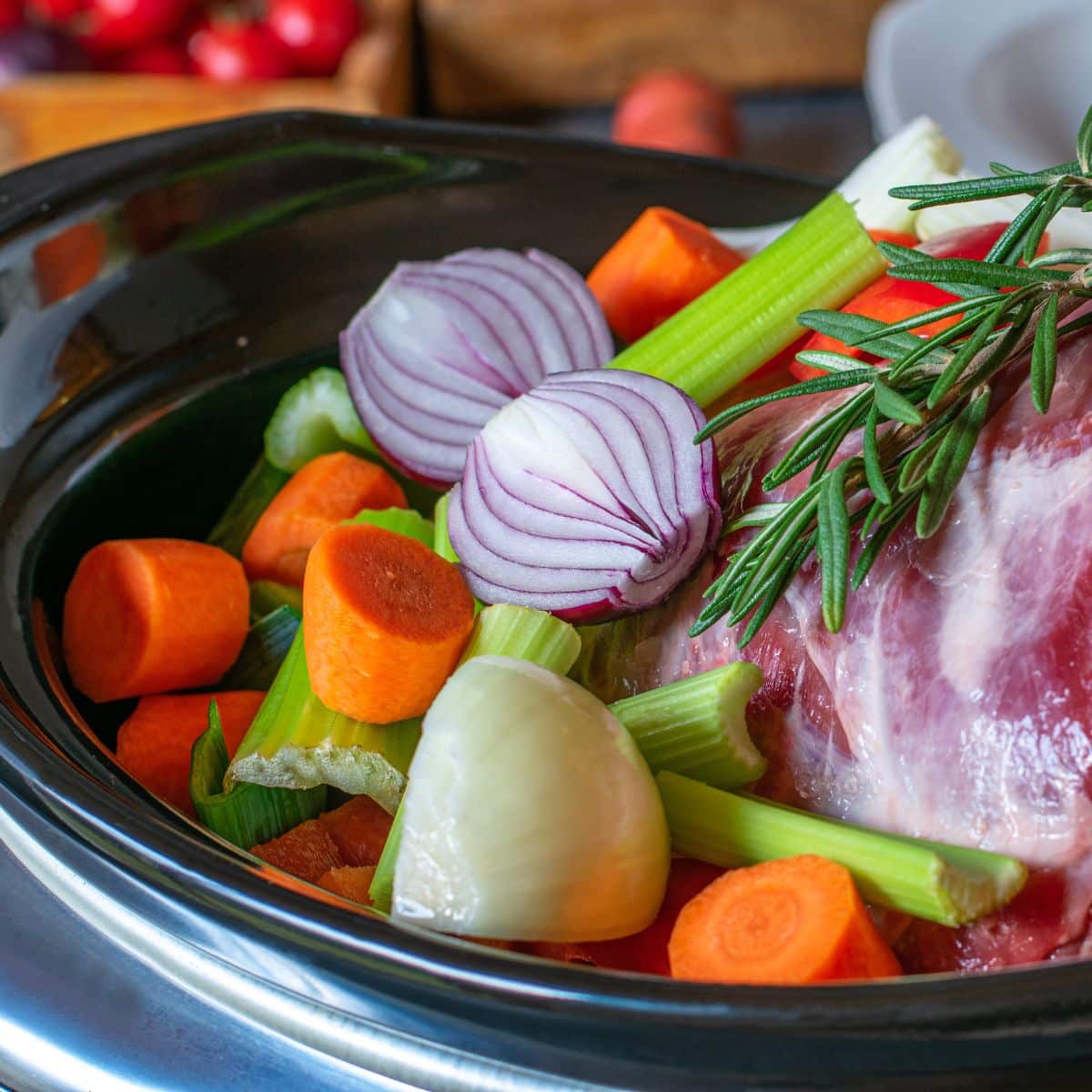 What's easier than a slow cooker? Slow cooker root vegetable recipes are the bomb. Stir fry the carrots before putting them into the crockpot for added flavor! Turn the pot on and eat before you have to take the kids to all their activities at the end of the day.
10. Veggie stew in the crockpot
Crockpot Veggie Stew. Easy. Tasty. Delicata squash is pure yum in this recipe. Mixed with root vegetables, carrots, onions, garlic, and potatoes, you can put it together in the morning and eat it when you get home.
11. Dill-flavored veggie stew
Vegetable Dill Stew, made in your slow cooker, is a robust, vegan dish I can eat again and again. Mushrooms, potatoes, onions, fennel...how could it not be amazing?
12. French vegetable stew
A mild flavor of anise (which comes from the fennel) tickles your palate in this French Vegetable Stew (vegan). Refreshing and amazing. The French know how to put flavors together. Leeks, potatoes, and garlic add to the deliciousness.
Meat and Root Vegetable Recipes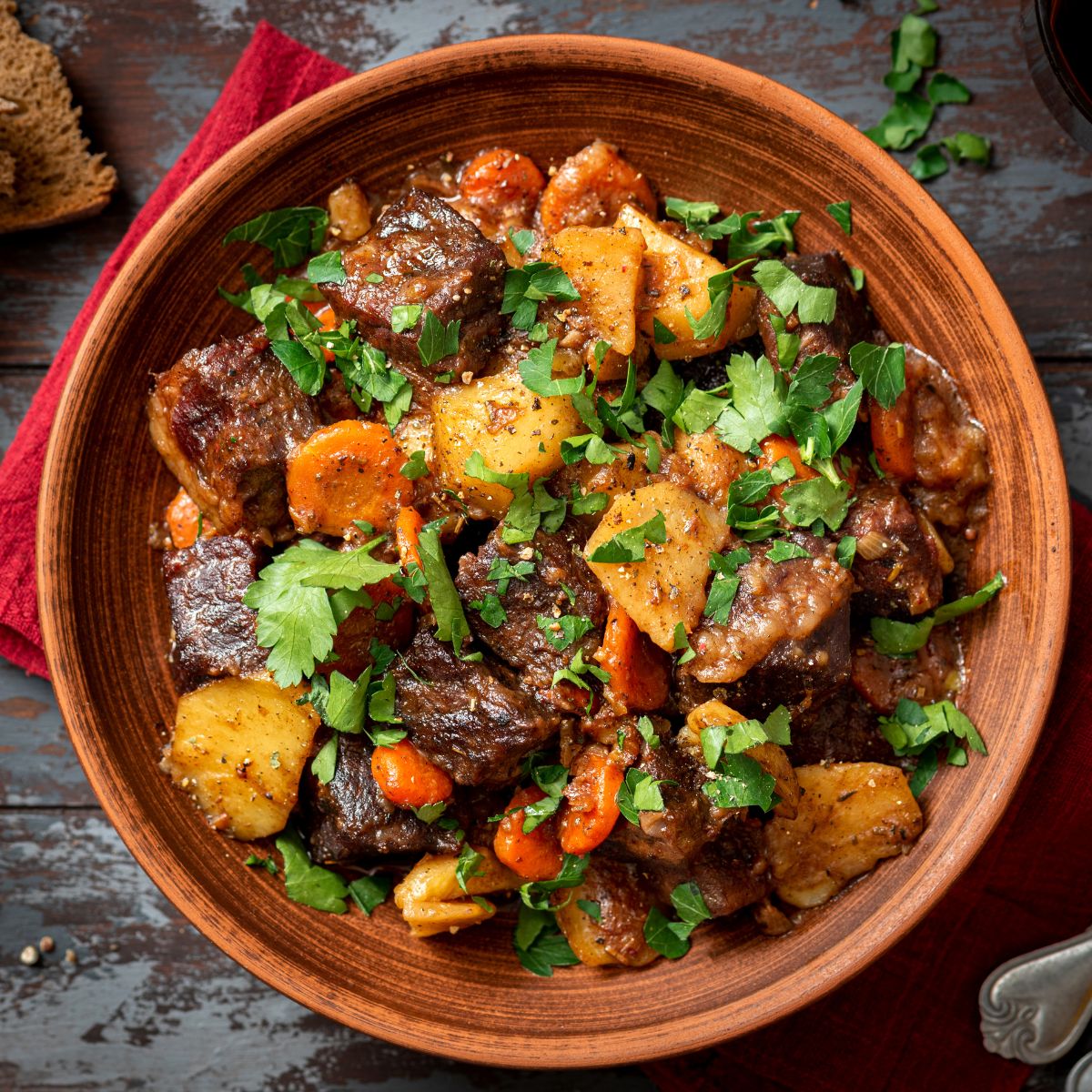 Root vegetables are essential ingredients in most pot roasts and stews. Just about every one includes onions, garlic, and spices that come from root vegetables. And then there are carrots, potatoes, turnips, and rutabagas. YUM!
13. Chicken curry
Easy Non-Diary Chicken Curry. Delicious inflammation fighter. Onions, garlic, turmeric, ginger, and other yummy ingredients make this curry so, so good. Ready in 25 minutes.
14. Ginger beef roast
Slow Cooker Ginger Beef Roast makes a hearty pot roast meal, which is especially inviting on cold evenings. It's an easy slow cooker recipe you are going to love. Carrots, potatoes, onions, ginger, and garlic add the root vegetable goodness. The gravy and beef make it comfort food!
Other Root Vegetables and How To Prepare Them
Horseradish gives meals a real zing. You can grate it and use it fresh, buy it prepared, or cook it with other veggies in your recipes.
15. Dill-flavored horseradish vinaigrette
Horseradish Dill Vinaigrette. You aren't going to believe how delicious this Horseradish Dill Vinaigrette is on vegetables. I love it on Brussels sprouts, green beans, and just about any other vegetable. Zesty goodness!
And according to WebMD: "Horseradish root is naturally rich in antioxidants, which can help protect your body from cellular damage by attaching themselves to free radicals. Early studies also suggest that horseradish may prevent the growth of colon, lung, and stomach cancer cells, though more research in humans needs to be done." So, there you have it. Add this vinaigrette to your cancer-fighting Brussels sprouts, and get some extra kapow!
Which of these recipes will you try first? Be sure to share the recipes with your friends!