Cauliflower Tagine is a savory stew served over couscous, rice or quinoa. You can make it vegan or add a little chicken.
Cauliflower Tagine
This delightful Cauliflower Tagine is flavorful without being spicy. The mixture of turmeric, coriander, ginger, cumin, cinnamon, apricots, garlic and onion melds together to create an aromatic bouquet for your senses. The chickpeas give you plenty of protein, and the apricots make it a bit sweet. The cauliflower is a little crunchy so you feel like you had a hearty meal.
Raddish Meal Kit
To make this entree, I started with the "Made in Morocco" meal kit from Raddish (affiliate link), which I ordered for my grandson so we can cook together online. The kits are top quality and I'm impressed.
Pros
Every meal kit comes with three recipes—appetizer, entree and dessert—each featuring a culinary skill or tip. It has a shopping list, a fun or useful tool, some table talk topics, and a game or activity.
The Moroccan kit came with teacake molds to make pretty little cakes and some tips on how to write in Arabic, along with four Arabic words related to the recipes. I chose this kit because some of our family members are Egyptian. My grandson and I are planning to make the kit's Orange Blossom Teacakes together soon.
Cons
One thing I did not like about the Raddish kits I reviewed is that every appetizer and main dish recipe calls for meat. Raddish offers alternative recipes online, but they don't come in the package. I think there should be another card in the package that provides a substitution list for the common food allergies, sensitivities and intolerances, along with a vegan option for the recipes.
The kit's entree recipe is for Moroccan Chicken Tagine, but my grandson is vegetarian so I wanted to make it without meat. I did a trial run without my grandson, using cauliflower instead of chicken. (I'm sure that it's good with chicken, too.) It turned out great, but I'm glad I made it without trying to supervise him from afar. He's only 10 and would need someone right there helping him with his knife skills and use of the stove in order to make this recipe.
Step-By-Step
Using the basic recipe for Moroccan Chicken Tagine, I substituted cauliflower for the chicken and reduced the salt. I prefer less salt in my food. You can always add salt when you eat a meal, but you can't take it out if too much has already been added during cooking.
I also added more broth because it seemed dry. Since I'm not vegetarian, I used chicken stock for the broth. If I was making it for my vegetarian grandson, I would use vegetable stock.
I thought the recipe was very good. I'd give it four stars. When you make it, please be sure rate the recipe, would you?
Step 1
Gather the ingredients. Use vegetable stock to make it vegan. Dice the onion and apricots. Mince the garlic. Or use jarred garlic, substituting about one-half teaspoon per garlic clove.
If you are using fresh garlic, the whole garlic is called a "head" and the individual pieces inside the head are called cloves. This recipe calls for three cloves.
Step 2
Cut the cauliflower into bite-sized pieces. Blanch (put in boiling water) or steam the florets for about 5 minutes until they are crisp tender. Run cold water over them to stop the cooking process. Drain and put the cauliflower in a large bowl. Set aside.
Dump all of the spices except the salt into the bowl of cauliflower. Stir gently to disperse the spices over the cauliflower. It doesn't have to be perfect.
Step 3
While the cauliflower is cooking, heat the oil until hot in a large, flat pot or wok. Add the onions and sauté for about 5 minutes until the onions are transparent, but not brown. Add the minced garlic and give it a stir.
Step 4
Dump the spiced cauliflower, vegetable or chicken broth, and drained chickpeas into the pan and cook over medium heat for about 10-12 minutes, until the cauliflower is the texture you like. I like mine crispy, so I only cook it around 10 minutes. While it is cooking, add the salt and stir.
Be very careful what you do with your spoon because turmeric will stain your counters and wooden tops. Use a spoonrest or rest your utensil on the stove. Immediately wipe up any drips you make on the counter.
Step 5
Serve hot over couscous, rice or quinoa. Add a sliced apricot to garnish.
What You Need
You'll need a knife, cutting board, measuring spoons and cups, garlic mincer, mixing bowls, a vegetable steamer or large pot, colander, and a large sauté pan with a lid. Whatever you buy, get the best you can afford, and you'll never be sorry.
Cauliflower Tagine Recipe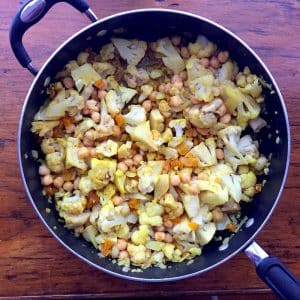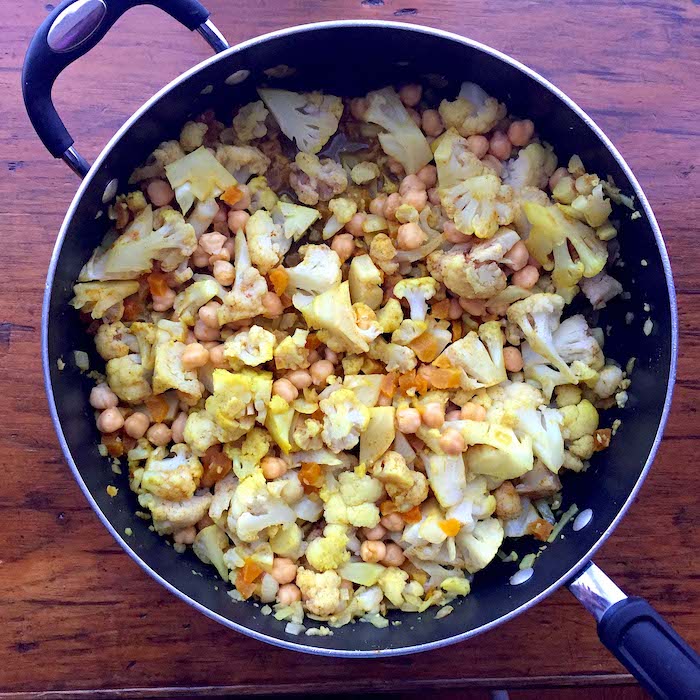 Cauliflower Tagine
A savory Moroccan-inspired vegan cauliflower and chickpea stew. Serves 4-6. Nutrition label is based on 6 servings.
Ingredients
½

cup

dried apricots

½

teaspoon

ground turmeric

¾

teaspoon

ground coriander

¼

teaspoon

ground ginger

1

teaspoon

ground cumin

¼

teaspoon

ground cinnamon

1

small head

cauliflower

1

small

onion

3

cloves

garlic

2

tablespoons

olive oil

½

teaspoon

salt

1

cup

vegetable

or chicken broth

1

15-ounce can

chickpeas

garbanzo beans, drained and rinsed

1

14.5-ounce can

coconut milk
Instructions
Dice the apricots and put them in a large mixing bowl.

Measure the turmeric, coriander, ginger, cumin, and cinnamon and put the spices in the mixing bowl with the apricots. Set aside.

Wash and cut the cauliflower into bite-sized pieces.

Steam the cauliflower in a vegetable steamer for about 5-7 minutes until it is crisp tender.

When the cauliflower is ready, dump it into a colander in the sink and run cold water over it. Then put it in the mixing bowl with the apricots and spices and stir to combine.

Peel and dice the onion.

Mince the garlic.

Over medium high heat, heat the oil until hot in a large sauté pan that has a lid. Set the lid aside until later.

Add the diced onions and sauté about 5 minutes until they are transparent.

Add the minced garlic and continue cooking for a minute.

Reduce the heat to medium. Dump the cauliflower mixture into the sauté pan. Sprinkle the salt over the mixture. Stir to combine.

Add the broth.

Add the chickpeas and coconut milk, stir, and cover the pan. Continue cooking over medium heat for about ten or twelve minutes until everything is hot and the cauliflower is the texture you like.

Serve with couscous, rice or quinoa.
Notes
Turmeric will stain your countertops and wooden kitchen surfaces. Don't put your utensils directly on the counter if you are using turmeric.
You can add some diced, stir-fried chicken to this meal for extra flavor.
I found this a little dry and when I reheated the leftovers, I added coconut milk. It's really good with the coconut milk included.
Nutrition
Calories:
91
kcal
Carbohydrates:
12
g
Protein:
2
g
Fat:
5
g
Saturated Fat:
1
g
Polyunsaturated Fat:
1
g
Monounsaturated Fat:
4
g
Sodium:
366
mg
Potassium:
297
mg
Fiber:
2
g
Sugar:
7
g
Vitamin A:
479
IU
Vitamin C:
23
mg
Calcium:
27
mg
Iron:
1
mg
Recipe Nutrition Information
This recipe is GF, DF, NF, SF, EF, CF (use sea salt), V, VG*
The information shown is an estimate provided by an online nutrition calculator. It should not be considered a substitute for a professional nutritionist's advice.
You May Like These Recipes & Posts From Recipe Idea Shop
Mac and Cheese Style Cauliflower
RATE, PIN & SHARE!
Please Rate our recipes and posts, and Pin and Share them on social media. Comments are welcome, too!
*Allergen Key
GF = Gluten free | DF = Dairy free | NF = Nut free | SF = Soy free | EF = Egg free | CF = Corn free | V = Vegetarian | VG = Vegan
Note: If you have serious allergies or sensitivities, to be considered free of these allergens, you need to use products specifically marked "gluten free," etc. There can be cross-contamination in facilities.
This recipe was originally posted on Recipe Idea Shop March 4, 2021.