Tomatillo Chutney (Slow Cooker Recipe) has a tangy lemon flavor. You will want to eat this.
Tomatillo Chutney, a lemony, versatile condiment, dresses up your meal.
This wonderful vegan Tomatillo Chutney is simple to make in the slow cooker. The recipe is a bit serendipity. It is modeled after another chutney recipe.
When late summer rolls around, I can usually find green tomatoes to make my delicious Green Tomato Chutney. I cook a big pot of it in my slow cooker, and can it to use throughout the year. But sometimes I miss the green tomato season because I'm out of town or slow to get to the Farmers Market. That was a bummer until I realized I could use green tomatillos.
Recipe Development
Because I like the chutney so much, one year I decided to make some and give it away for Christmas. I thought others would enjoy it, too, and I was right. But it was tough to find the ingredients. At Christmastime, there are no green tomatoes. I took a chance and subsituted tomatillos, which are readily available year round at one of the ethnic groceries in Harrisonburg. Wow, it was good! Tomatillos add a little lemony flavor to the chutney. Using tomatillos instead of green tomatoes is my preferred way to make chutney now.
My original chutney recipe came from a fabulous cookbook, Fresh from the Vegetarian Slow Cooker (affiliate link) by Robin Robertson. Robertson's recipes are always delicious and she has published several vegan and vegetarian cookbooks. I highly recommend her cookbooks.
How to Store and Serve Chutney
Chutney lasts up to one month in a tightly-sealed container in the refrigerator. When we made it, Don and I canned several pint jars of it to give away for gifts, and canned chutney, of course, can be put in the pantry and kept for a year or more.
I love this Tomatillo Chutney over chicken, rice or beans. I have taken it to a potluck with some warm diced chicken mixed in, and it was a hit. If you would like a complete meal, mix in a cup or cup-and-a-half of cooked rice. Or simply serve it over rice.
What You Need
You need a knife, cutting board, measuring cups and spoons, and a slow cooker. It's best to can your chutney so get yourself a good canner.
Tomatillo Chutney Recipe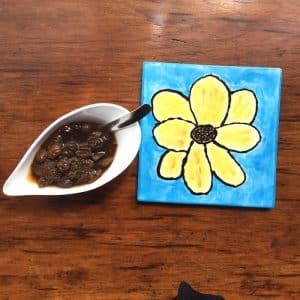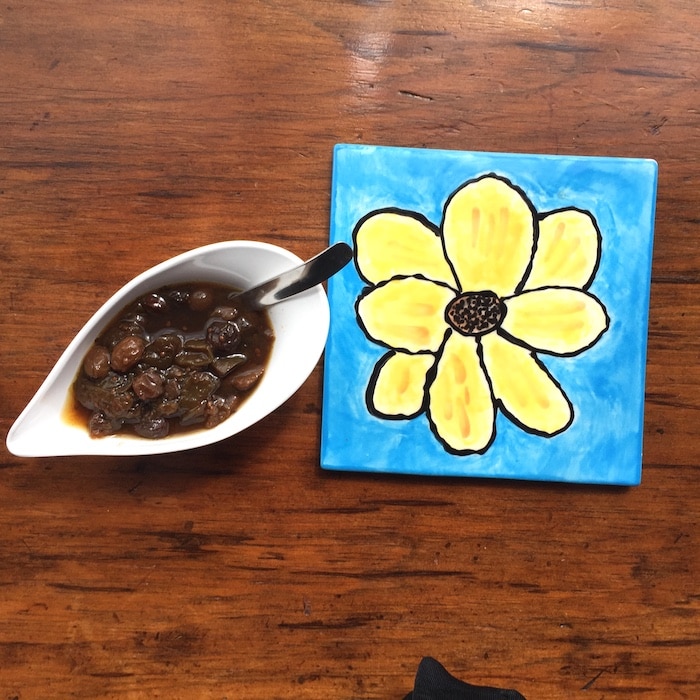 Tomatillo Chutney
A tangy, lemon flavored condiment for rice, chicken or fish.
Ingredients
4

cups

chopped fresh tomatillos

4

green onions

(white and tender green parts only)

1

cup

golden raisins

(can substitute brown raisins)

¾

cup

sugar

⅓

cup

apple cider vinegar

1-½

tablespoons

peeled and grated fresh ginger

1

teaspoon

ground allspice

1

teaspoon

salt

¼

teaspoon

ground cloves

¼

teaspoon

red pepper flakes
Instructions
Place all ingredients in a 3-½ quart slow cooker.

Cover and cook on low for 3 to 4 hours.

Remove the lid and let cool completely before storing in the refrigerator.

Alternative: Fill clean pint jars with chutney and can it.
https://recipeideashop.com/tomatillo-chutney/
Recipe Nutrition Information
The information shown is an estimate provided by an online nutrition calculator. It should not be considered a substitute for a professional nutritionist's advice.
This recipe is GF, DF, NF, SF, EF, CF (use sea salt), V, VG*
RATE, PIN & SHARE!
Please Rate our recipes, and Pin and Share them on social media. Comments are welcome, too!
*Allergen Key
GF = Gluten free | DF = Dairy free | NF = Nut free | SF = Soy free | EF = Egg free | CF = Corn free | V = Vegetarian | VG = Vegan
Note: If you have serious allergies or sensitivities, to be considered free of these allergens, you need to use products specifically marked "gluten free," etc. There can be cross-contamination in facilities.
You May Also Like These Recipes From Recipe Idea Shop
This recipe was originally posted on Recipe Idea Shop in 2012 and updated June 19, 2020.