Roasted Ratatouille with Corn is scrumptious and filling. Corn adds protein, a bit of sweetness and a bright color to the dish.
Roasted Ratatouille with Corn
Hi. It's Lois at Recipe Idea Shop. I attended Baltimore Yearly Meeting's annual Women's Retreat over the weekend. What a delightful experience! I have been attending BYM Women's Retreat for nearly 20 years now, so I know a lot of beautiful women from the wider Quaker community. It is always so affirming to attend. I can totally be myself without worrying about offending someone; people love me for who I am and I love them right back.
The food at the retreat was good, and they offered a wide variety of options. The cooks don't seem to understand the whole concept of vegetarian meals, however. I'm glad I am not a strict vegetarian (especially vegan!). With my milk intolerance, I would have been stuck with salads, simple cooked vegetables and very little protein. I opted for the meat choices instead, and they were delicious. Now I'm back to a bit more vegetarian fare.
Monday was a snow day for me; my office was closed. I'm a dedicated soul, though, and I still worked four hours. But the time off gave me a chance to make Roasted Ratatouille with Corn, a flavorful vegan dish.
Corn Adds Protein
I have several recipes for Ratatouille, and I love them all. This time I stuck with a more traditional recipe and I roasted the vegetables. I also added corn to the recipe for the extra protein value. Many fruits and vegetables contain 1 gram of protein in each serving, but corn and broccoli are loaded with protein (4 grams). Mushrooms and white potatoes have 3 grams of protein per serving.
How Much Protein Do You Need?
According to several websites, you should get 56 grams per day if you are an average sedentary man; you'll need 46 grams per day if you are the average sedentary woman. Web MD says a 3-ounce piece of meat contains 21 grams of protein; a cup of milk has 8 grams; an 8-ounce container of yogurt has about 11 grams; and a cup of dried beans has 16 grams of protein. However, the average person in the U.S. generally eats too much protein, which I certainly did today. My total protein (if I correctly remembered everything I ate) today was about 60 grams! I guess I didn't have to worry about adding protein into the Ratatouille, but it was good with the corn.
Check out the recipe...
I love, love, love Herbes de Provence. They really jazz up vegetables. Don't make this recipe without them.
Roasted Ratatouille with Corn Recipe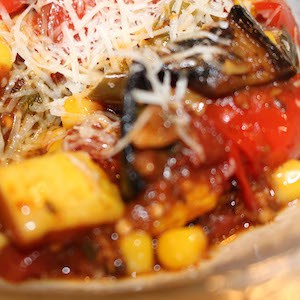 Roasted Ratatouille with Corn
Delicious vegan stew with terrific protein content.
Ingredients
1

large eggplant

1

zucchini

1

yellow squash

1

medium yellow onion

½

a green pepper

1 ½

red pepper

¼

cup

olive oil

2

cans diced fire-roasted petite diced tomatoes

4

garlic cloves

sliced

1

cup

frozen corn kernels

¼

cup

fresh basil

1

teaspoon

dried Herbs de Provence

¼

teaspoon

fennel seeds

¼

cup

red wine

1

teaspoon

salt

¼

teaspoon

black pepper
Instructions
Cut the onion, peppers, zucchini, and yellow squash in big chunks.

Spread the vegetables (except eggplant) on one layer on a baking sheet (I cover my baking sheet with parchment for easy clean up), toss in the sliced garlic, drizzle with olive oil, sprinkle with salt and pepper, and stir to coat the vegetables evenly with olive oil.

Bake in a 450-degree oven for 40 minutes until the vegetables are starting to turn brown. Turn the veggies over halfway through the baking time.

Roast the eggplant the same way, but separately, for 20 minutes.

While the vegetables are roasting, put the tomatoes, spices and wine in a large pot and bring to a boil.

Then turn the temperature to low and simmer until the other vegetables are finished roasting.

Add the roasted vegetables to the tomato mixture, stir in the corn.

Heat for another 5 minutes.

Serve hot or at room temperature.
Notes
Some people like shredded Parmesan or Pecorino Romano cheese over it. Add some crusty French Bread or Jalapeño Cornbread and call it a meal. Delicious!
Nutrition
Roasted Ratatouille with Corn Nutrition Information
Pin & Share!
Please Pin and share our recipes. And tell us what you think in the comments.
You May Also Like These Recipes From Recipe Idea Shop