This Chewy Gluten Free Chocolate Chip Cookies Recipe makes such good cookies, no one will even know they are gluten free. But if you want them all to yourself, just tell everyone they are gluten free. This chocolate chip cookie recipe tastes surprisingly like Mrs. Field's Cookies without the nuts.
Gluten Free Chocolate Chip Cookies Recipe
This Chewy Gluten Free Chocolate Chip Cookies Recipe is Don's favorite cookie recipe. He asks for it all the time. I usually keep some in the freezer to pull out as needed. That way, they don't go stale. I have made a lot of cookies, breads and cakes over the past few years, trying to make these delicious treats gluten free. The flavor has been terrific, but the texture has always left something to be desired. Until now.
These cookies are awesome. The texture is perfect. People who distain gluten free will be fooled into thinking they are made with regular wheat flour. I recently discovered the secret for baking gluten free cookies and breads that have the same, wonderful texture as wheat-based goodies. What's the secret? Psssst. Want to know?
The Secret
Let me tell you. The secret to good texture is xanthan gum. I tell you my secret to chewy cookies in the recipe. Here's what Bob's Red Mill has to say about how xanthan gum works:
Xanthan gum is a plant-based thickening and stabilizing agent. It is named for the bacteria, Xanthomonas campestris, which plays a crucial role in this description. Technically speaking, xanthan gum is a polysaccharide, which is just a fancy way to say "a string of multiple sugars." To create xanthan gum, the Xanthomonas campestris bacterium is allowed to ferment on a sugar. The result is a gel that is then dried and milled to create the powder substance.
Xanthan gum has a number of powerful properties. First, it works as an emulsifier, encouraging liquids that normally don't like one another to mix together. Second, it works as thickener, increasing the viscosity of liquids and batters. Third, it can create a creamy texture. In the world of gluten-free baking, xanthan gum plays the crucial role of imitating gluten.
In baking, gluten is what makes dough "doughy." It gives the dough elasticity, as well as viscosity. Those properties help to hold a cookie together while it bakes on a sheet in the oven, and they enable cakes and breads to hold onto the gas bubbles that form inside them, this allows them to rise and take shape. Xanthan gum helps replicate these properties in recipes that do not contain gluten.
What You Need
I use my KitchenAid Stand Mixer (affiliate link) to make cookies. And I do like my cookies chewy. These cookies are awesome. Consider adding a teaspoon of baking powder (listed as optional) to the mix for a fluffier cookie. You will, of course, need measuring cups and spoons, a mixer, bowl, cookie sheet, and cooling racks. Get yourself some cookie scoops and don't forget the amazing coffee machine because you know you're gonna wanna have some coffee with these cookies.
Gluten Free Chocolate Chip Cookies Recipe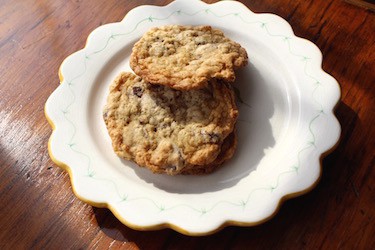 Gluten Free Chewy Chocolate Chip Cookies Recipe
These Gluten Free Chewy Chocolate Chip Cookies are so good, no one will even know they are gluten free. This chocolate chip cookie recipe tastes surprisingly like Mrs. Field's Cookies without the nuts.
Ingredients
1

cup

unsalted butter

softened

1

cup

organic sugar

1

cup

light brown sugar

2

large eggs

1

teaspoon

pure vanilla extract

½

teaspoon

kosher or sea salt

1 ¼

teaspoon

Xanthan Gum

2

cups

Bob's Red Mill Gluten-Free 1-to-1 Baking Flour

1

teaspoon

baking soda

1

teaspoon

baking powder

optional, makes the cookies a bit fluffier

2 ½

cups

gluten free oats

12

ounces

semisweet chocolate chips
Instructions
Heat the oven to 375F degrees.

Mix the butter, sugars, eggs, vanilla and salt until well blended.

Add the gluten free baking flour and sprinkle the Xanthan Gum and baking soda (and baking powder, if using) over the other dry ingredients. Mix the dry ingredients a little (I use a wire whisk). Now thoroughly mix the dry ingredients into the butter mixture.

Add the oats, mix.

Add the chocolate chips, mix.

Drop by rounded teaspoons on an ungreased baking sheet, spacing each cookie about 2 inches from the others. (I fit 12 cookies on each baking sheet.)

Bake at 375F degrees for 8-10 minutes, depending on whether you want your cookies chewy or crispy, until the cookies are lightly browned at the edges (see note) for chewy or golden brown for crispy.

Remove the cookies from the baking sheet and cool on a cooling rack. Store in a sealed container.
Recipe Nutrition Information
This recipe is GF, NF, SF, CF, V*
The information shown is an estimate provided by an online nutrition calculator. It should not be considered a substitute for a professional nutritionist's advice.
Nourish Your Body & Soul
I encourage you to care of yourself by eating satisfying, nourishing food that is good for your body and makes you feel healthy. Protect your spirit by living authentically, moving your body, and taking time to replenish and rest. I think you might also like these recipes & posts from Recipe Idea Shop:
RATE, PIN & SHARE!
Please Rate our recipes, and Pin and Share them on social media. Comments are welcome, too!