These daikon radish recipes will help you learn what to do with this interesting-looking vegetable. Daikon radish looks like a big, white carrot and if you're not familiar with it, you may be curious about what it tastes like and how to cook it. Luckily, there are many great recipes that use Daikon radishes.
Whether you have it on top of a fresh salad, with some steamed rice or white rice on the side, or even if you put it in rice noodles or a similar dish, you will love the flavor of this root vegetable.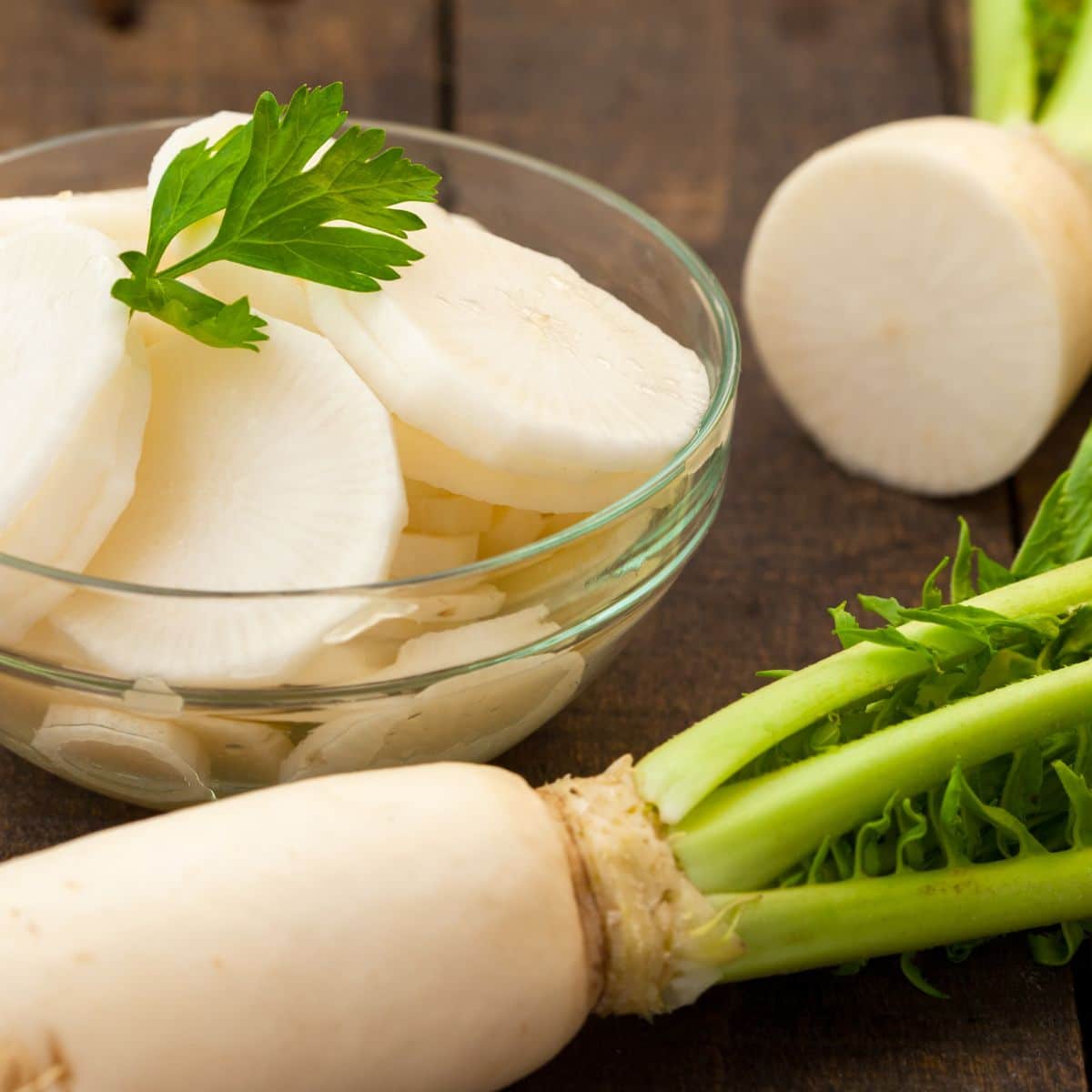 What is a Daikon Radish?
Daikon is Japanese for "big root", which describes this type of root vegetable well. This winter radish is mild-flavored and has fast-growing leaves and a long, white, napiform root. While it is originally native to East Asia, it's now found in many places across the globe.
The white radish is often used in soups and stir-fries and it can even be pickled. But you may not know that there are so many other things you can do with it too. It has a mild flavor and grows very large. Let's take a look at some popular recipes you might enjoy.
Related: Delicious root vegetable recipes
Daikon Radish Recipes
These Daikon radish recipes mean you will never be left wondering what to make with them. This Japanese radish can be cooked in many ways. It's a staple in Asian grocery stores and if you grow your own at home, you can work it into any Asian cuisine. But the goodness doesn't stop there. Let's look at some delicious recipes that use this white radish.
Daikon Radish Recipes FAQ
Here are some questions people commonly ask about daikon radish and its delicious Asian flavors.
What do you do with a daikon radish?
The Japanese daikon is a white root vegetable that is a popular ingredient in Asian recipes. You can eat it in a lot of different ways. Our recipe list will show you some of the things you can do with it.
What part of daikon do you eat?
You can eat both the root (the white part) and the leaves (that stick up from the ground) of the daikon radish. They can be prepared in different ways and have different flavors. Just make sure not to let them grow too big, as they'll become bitter.
Can you eat daikon root raw?
You can eat both the roots and the tops cooked or raw.
Do you need to peel daikon radish?
You don't have to peel the daikon radish, but you might want to, depending on how you plan to eat it. When cooking, a lot of people like to peel it. If you leave the skin on, be sure to clean it very well before eating.
What does cooked daikon taste like?
It tastes similar to other radishes but daikon has a milder flavor. Most people think it tastes less peppery and it can be tangy when raw. However, when cooked it has a more concentrated sweet flavor that is similar to cooked turnips.
Why is my daikon bitter?
All daikon has a slightly bitter taste but it can become stronger when the plant experiences stress during growth. Plant stress creates a chemical compound known as cucurbitacin to increase, making the vegetable more bitter.
How do you wash daikon?
You can wash it like you would any root vegetable, under running water to rinse off any dirt or other things on the outside. Some people also like to use a soft veggie cleaning brush to gently scrub the outside of the radish.
Why is daikon good for you?
There are many benefits of daikon. In simple terms, it is very low in calories and very high in nutrients. It has calcium, magnesium, folate, potassium, copper, and vitamin C.
Can daikon radish be cooked?
Yes. Although you can eat this radish raw, it's also very good when cooked. We have some recipes above for you to consider.
Can you eat too much daikon?
Technically, too much of anything is possible. But overall, daikon is pretty healthy for you. However, eating too much of it can contribute to issues if you have asthma or dermatitis. It is also not recommended for people who have gallstones.
How do you make daikon less bitter?
When you cook daikon, it helps with the bitterness. However, if you're going to eat it raw, you can take an extra step to make it less bitter. Just treat it with some salt, allow it to sit for around five minutes, and then rinse the salt away. That's it!