French Green Lentils. The best ones to use for salads or warm entrees. Soups, not so much. You will want lentils to be softer in soup, so use the brown, red or yellow ones.
French Green Lentils Stay Firm
Hi. It's Lois in the kitchen at Recipe Idea Shop, giving you some tips on lentils, particularly French Green Lentils.
A few years ago, our good friends, Marky and Ed Trinkle gave Don and me a terrific French cookbook by Dori Greenspan, Around My French Table, for Christmas. I love the French Lentils recipe in the cookbook.
Get the Right Lentils
But first, you have to make the lentils!
There are many kinds of lentils, but I personally like French Green Lentils best. They are tiny and remain firm if you don't overcook them. Other kinds of lentils tend to easily become mushy, and that's okay for some recipes. Many Indian or Pakistani recipes, for instance, use red lentils for their softer texture.
Chop the Veggies
I wrote up this recipe the way Dorie Greenspan says to make the lentils. The broth makes them very flavorful.
However, I prefer to chop the veggies (except the onion) and toss them in at the beginning to avoid having to chop them when they are hot. Either way, trust me, you're gonna wanna eat these lentils.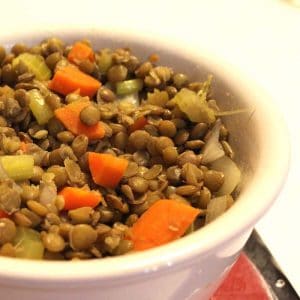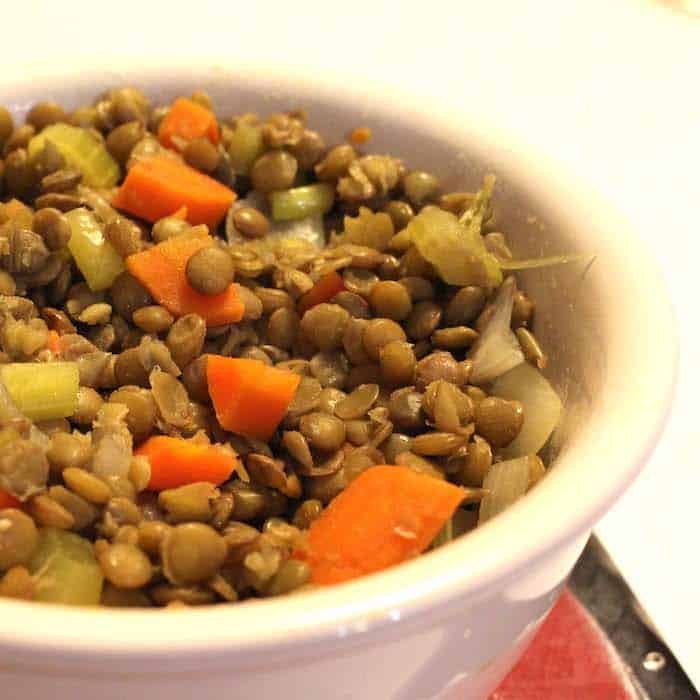 French Green Lentils Recipe
French green lentils are small and green. They take less time to cook than other lentils, and when you cook them, they don't become mushy. If you cook them in broth instead of water, they take on a much deeper flavor.
Ingredients
1

cup

French green lentils

1

whole clove

1

small onion

1

medium carrot

peeled and cut in to 4-6 pieces

1

celery stalk

trimmed and cut in 4-6 pieces

1

garlic clove

minced

1

bay leaf

3-½

cups

vegetable broth

chicken broth or water can be substituted

salt and pepper

1

Tablespoon

Cognac or other brandy

optional

1

shallot

finely chopped, rinsed and patted dry, optional
Instructions
Put the lentils in a strainer and rinse them under cold water.

Look them over to make sure no rocks were missed when they were packed.

Put the lentils in a medium saucepan and cover them with the broth.

Press the clove into the onion and toss the onion, celery, garlic and bay leaf into the pan.

Stir to combine.

Bring to a boil and then reduce the heat.

Simmer for 25-30 minutes until the lentils are tender.

As the lentils cook, skim off the solids that rise to the top.

Stir the lentils periodically as needed.

Season with salt and pepper.

Add the Cognac, stir and continue cooking for a minute or two.

Drain the lentils.

Remove the vegetables and bay leaf.

Finely chop the vegetables and return them to the lentils. (I prefer to chop the veggies—except the onion—in the beginning instead of putting them in whole)

Stir in the shallot if you are using it.

Serve the lentils warm or at room temperature.
Nutrition
Calories:
208
kcal
Carbohydrates:
36
g
Protein:
13
g
Fat:
1
g
Saturated Fat:
0.1
g
Polyunsaturated Fat:
0.3
g
Monounsaturated Fat:
0.1
g
Sodium:
16
mg
Potassium:
574
mg
Fiber:
16
g
Sugar:
4
g
Vitamin A:
2569
IU
Vitamin C:
6
mg
Calcium:
43
mg
Iron:
4
mg
More Recipes To Try