Heavenly Hash Candy is an old-fashioned candy recipe made with chocolate, nuts, and miniature marshmallows. If you've never had the pleasure of trying it, you're truly missing out! It's actually a very simple candy recipe if you wanted to make it yourself at home. It is generally made with sugar, milk, corn syrup, walnuts or pecans (but some people use almonds), chocolate chips, and mini marshmallows. It's similar to Rocky Road ice cream but is chocolate fudge with added texture. Usually, it is made as candy bars that you can enjoy any time you want a quick sweet treat!
You can make this delicious dessert in under five minutes when you have the right ingredients and you know how to. Bring it to an office party, a family function, your next holiday dinner, or just make a batch and enjoy yourself at home whenever you want. The ingredients in this dessert make it a perfect pairing for nearly any kind of meal you're having, or you can enjoy this candy all to itself.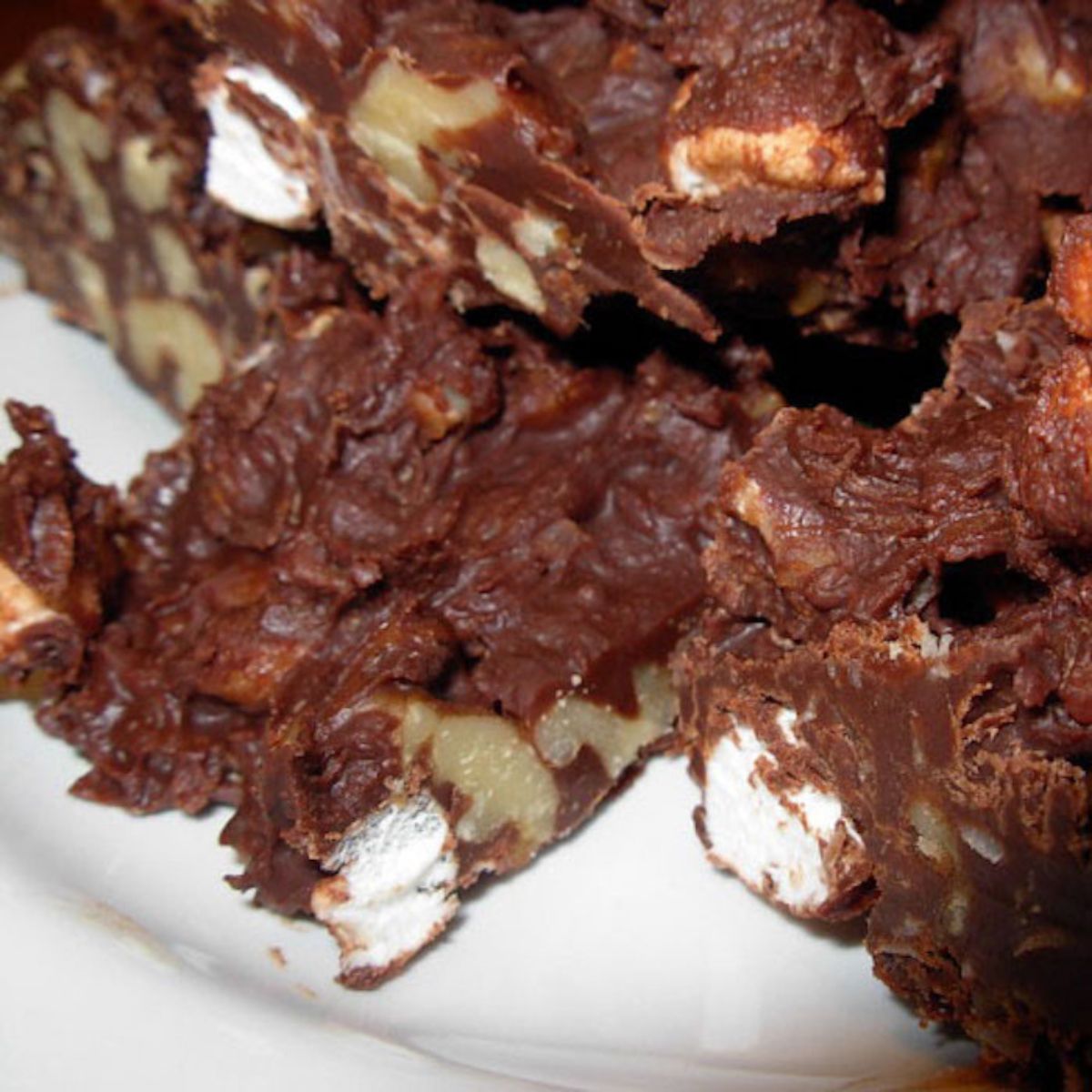 Heavenly Hash Candy reminds me of Mom.
My mom was a candy maker, not professionally of course, but she made lots of candy for Christmas and sometimes at other times. Easter is a terrific time for homemade candy. Mom made Fudge, Heavenly Hash, Sea Foam, and other candies. This Heavenly Hash Candy recipe is good any time of year and takes just 30 minutes.
Heavenly Hash: Easy Recipe
Some candies, like Heavenly Hash, are easy to make. My favorite candy that Mom made is Sea Foam, but I have not learned to consistently make it correctly. This is perhaps because the humidity in Virginia is higher than it is in Wisconsin. Mom always said it had to be cold outside for it to turn out. Do you know how to make it? Make me some!
Heavenly Hash and Fudge, on the other hand, are not difficult to make. Heavenly Hash is scrumptious and looks pretty on a plate. Following Mom's recipe, I made some with marshmallows, and then I also made some with coconut, leaving out the marshmallows. I called this Walnut Joy Candy.
If you prefer dark chocolate, try Nestle's Dark Chocolate Morsels instead of milk chocolate in the Heavenly Hash recipe. Or, use semi-sweet chocolate chips in place of milk chocolate. Any chocolate will be tasty.
What You Need
For this recipe you only need a few things:
measuring cups
a heavy-bottomed pan
a small baking pan
I suggest you use a small glass pan to pour your candy into because you don't have to worry about cutting grooves in the pan when you cut the candy.
If you need to use a metal pan, then use this trick: after fully cooled and set, put the pan in a small pan of hot water (without letting it seep over the side, of course) for about 3-5 minutes to melt it just a bit. Then dump the whole pan of candy out on the counter and cut it into pieces. This will save your pan.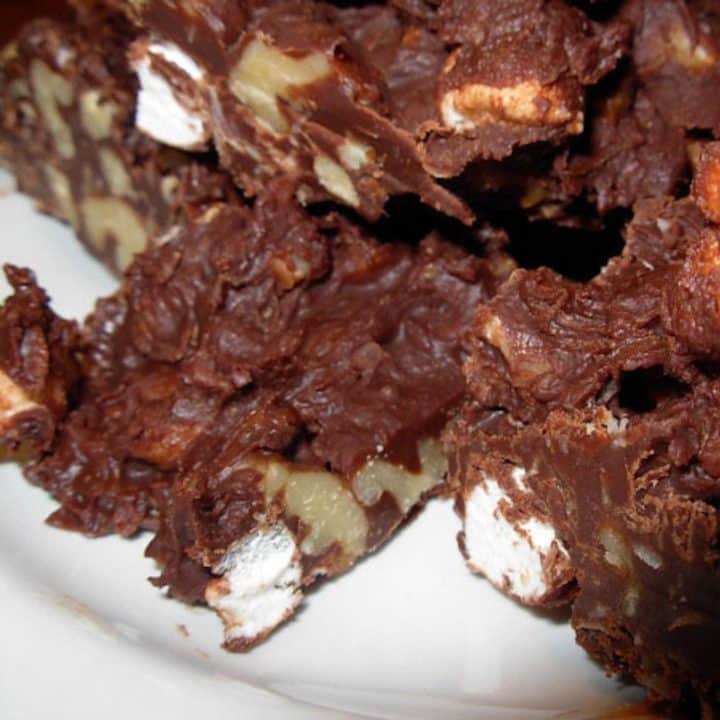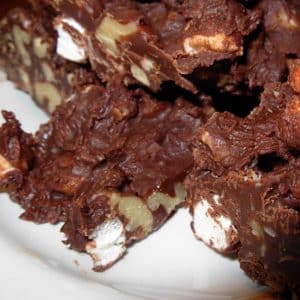 Heavenly Hash Candy Recipe
Chocolate, nuts and marshmallows. Great candy.
Ingredients
½

pound

milk chocolate

¼

pound

German chocolate

1

cup

chopped walnuts or nuts of your choice

¼

pound

butter

1

cup

miniature marshmallows
Instructions
Melt the chocolates and the butter in a double boiler, stirring frequently.

Remove from heat.

Stir in nuts and marshmallows.

Pour into a 7" x 9" buttered pan (glass preferred).

When cool, cut into 1"-2" squares.
Notes
Alternate Technique
I always melt the chocolate in the microwave, but you have to be super careful as it doesn't look like it's melted and it is easy to go from melted to burned. For this recipe, I microwave it for about 2 minutes and then check it. If it is not melted, I microwave it 30 seconds at a time until it is almost melted.
Then I take it out and stir it to finish the melting process because a microwave does not heat the ingredients the same throughout the dish, and some of it is very hot while the rest is not. When stirred, it melts the rest.
Nutrition
Calories:
116
kcal
Carbohydrates:
11
g
Protein:
1
g
Fat:
8
g
Saturated Fat:
3
g
Polyunsaturated Fat:
2
g
Monounsaturated Fat:
2
g
Cholesterol:
1
mg
Sodium:
8
mg
Potassium:
55
mg
Fiber:
1
g
Sugar:
9
g
Vitamin A:
9
IU
Vitamin C:
0.1
mg
Calcium:
13
mg
Iron:
1
mg
Heavenly hash recipe tip
If you want to make your candy into clusters instead of bars, you can use a spring-form ice cream scooper to make round clusters from the mix. Drop this onto a sheet pan lined with parchment paper. Now, refrigerate it until it's hardened. It will usually take at least an hour.
Heavenly Hash FAQ
Now that you know how to make this decadent dessert dish, let's take a look at some other questions that people often have about it.
Why do they call it heavenly hash?
This recipe of candy was originally marketed under the Heavenly Hash Eggs brand and that is where it got the name. Although it is no longer produced under that brand and you can just make your own at home, people have still continued to call it Heavenly Hash.
What is heavenly hash made of?
In any recipe that uses chocolate, marshmallows, and nuts, this name can be used. There are some variations of the type of chocolate, the type of nuts, and even the types of marshmallows that go in, but in general, these are the main ingredients for any heavenly hash.
What's the difference between rocky road and heavenly hash?
Because these two are so similar, you may be wondering about the difference between rocky road and heavenly hash? Usually, the heavenly hash has chopped almonds in it and smaller marshmallows. The rocky road often has peanuts and in the United States, we see rocky road as an ice cream where heavenly hash is a fudge. In some areas, both are an ice cream flavor but heavenly hash uses vanilla ice cream.
Does heavenly hash have nuts in it?
Yes, it does have nuts, but the type of nuts can vary. It's usually done with almonds but it can also be done with pistachios, walnuts, peanuts, or pecans.
Does heavenly hash have marshmallows?
Yes, heavenly hash has marshmallows. If the recipe does not use marshmallows, it doesn't create the same unique flavors you get when you combine the ingredients and it won't technically be a heavenly hash.
Other Sweet Recipes To Try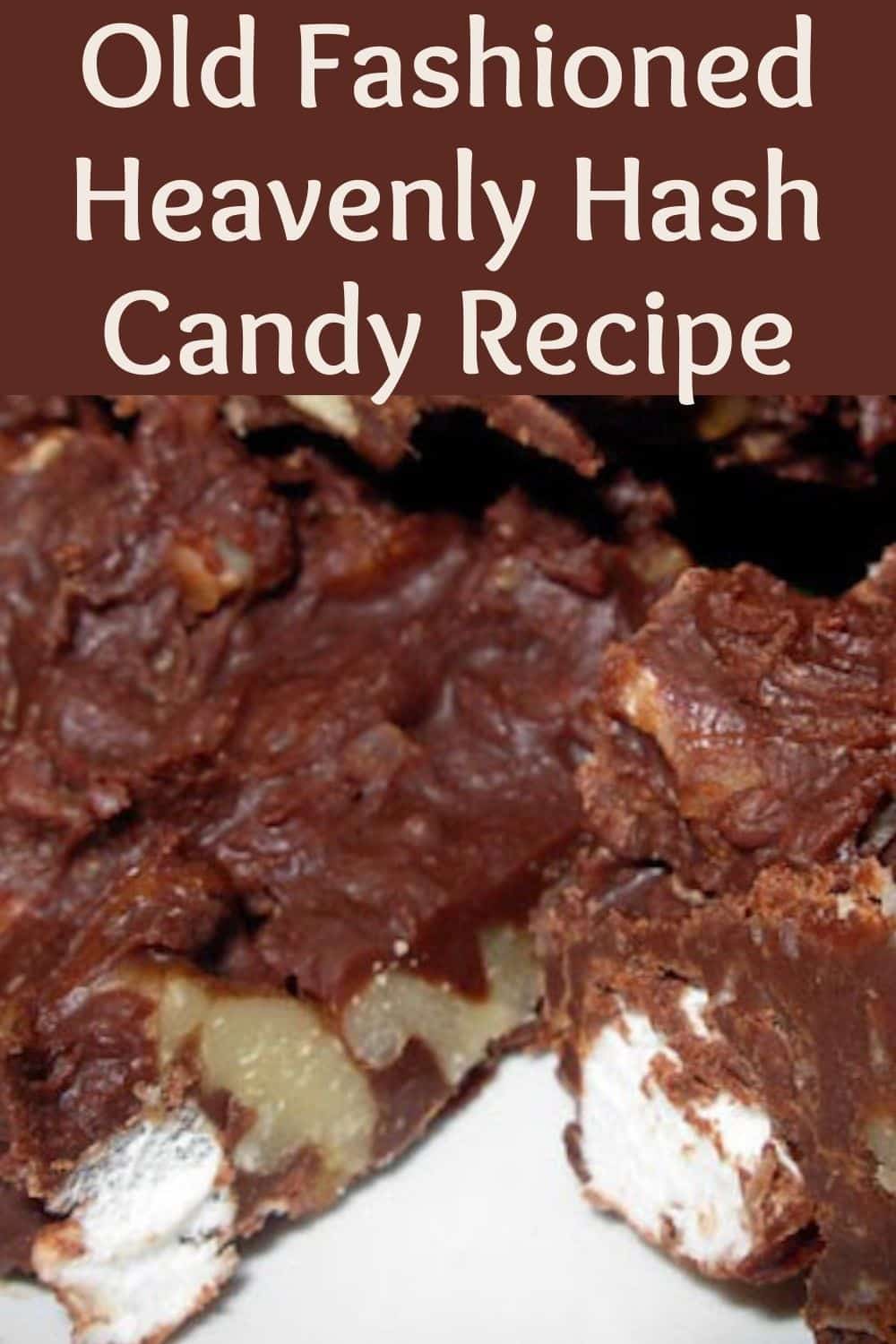 This post was first published on Recipe Idea Shop in November 2011 and updated on July 2, 2022.