How to Make a Fried Egg. Anyone can do it, even kids. It's a good basic breakfast.
How to Make a Fried Egg
Hi. It's Lois in the kitchen at Recipe Idea Shop. One of the first things I learned to cook when I was a child was a Fried Egg. I believe I was about 6 when I started making eggs for my brother and myself.  I have always liked them "over easy," but my brother liked it when I just splashed the oil over the top of the egg until it was entirely cooked—that's called a "basted egg." There's less chance of breaking the yolk if you use this method. My niece/daughter Veronica, however, likes hers "over hard," meaning the yellow part (yolk) is cooked hard all the way through. She hates the runny yolk (over easy), which I think is the best part!
We often made bacon in the pan and then used that grease to fry the egg, but my favorite cooking fat for eggs is butter. Today, I use olive oil or Pam cooking spray. I also prefer to add salt and pepper as the egg is frying instead of at the table. Don generally forgets this when he makes eggs. I suspect he doesn't like salt on his eggs, but to me, an egg is SO much better with a tad of salt.
I use this same method if I am making a Fried Egg Sandwich, except that I break the yolk to make sure it cooks hard. More on that another time.
How to Make a Fried Egg Recipe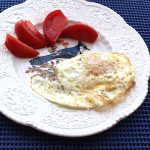 How to Make a Fried Egg
Ingredients
1

egg

1

tablespoon

butter

Pinch

salt and pepper
Instructions
Place a nonstick frying pan on the stove eye.

Add the butter (or oil, if you prefer) and melt it over medium heat.

When the butter is completely melted and hot, break an egg into the pan. (Don always breaks the egg into a cup ahead of time and then just slides it into the pan.)

Add salt and pepper.
Over Easy Egg
For an "over easy" egg, cook the egg over medium heat until the white part of the egg is set (about a minute or so); then "flip" it over (that is, turn it over) to cook the other side for about 30-45 seconds.
Basted Egg
If you prefer not to "flip" the egg, you can use a bit more butter or oil and splash the oil over the top of the egg to cook it the way you like it.

Or, you can cook the egg at a lower temperature and cover the pan so the condensation finishes cooking the egg to perfection. The top will have a slight white film over it when it is done.
Over Hard Egg
For an "over hard" egg, cook the egg over low heat until the white part of the egg is set and the yellow yolk is also becoming hard (2-3 minutes). Then flip it over to the other side and cook it for 1-2 minutes longer.
Sunny Side Up Egg
For a "sunny side up" egg, do not cover the pan. Simply cook the egg over low heat until the white part is properly congealed and the yolk is still yellow and soft.
https://recipeideashop.com/how-to-make-a-fried-egg/
Note: Many of the links included throughout Recipe Idea Shop are affiliate links, which means if you follow them and you buy something, we will get a small commission. It doesn't cost you a penny more, and you can still use your Amazon Prime (Shop Amazon — Give the Gift of Amazon Prime) account to buy. Don and I love our Amazon Prime account. This posting includes affiliate links. 
How to Make a Fried Egg Nutrition
Want More Recipes Like This?
If you want more delicious recipes, please sign up for our free cookbook.
Pin & Share!
Please Pin and share our recipes. And tell us what you think in the comments.
You May Also Like These Recipes From Recipe Idea Shop
BEFORE YOU GO, DID YOU GRAB YOUR FREE COOKBOOK?
[mc4wp_form id="5109″]