Do you know How to Make Soft Boiled Eggs? I love them. They make me feel so decadent. Just like living in Downton Abbey.
Soft boiled eggs are one of the easiest eggs to make.
I'll teach you how to make soft boiled eggs, but you can make them soft, medium or hard boiled in the same manner. I like them any way they are boiled. And two boiled eggs are just 140 calories.
Just Like Downton Abbey
If you lived in Downton Abbey, you might have seen morning eggs served in beautiful egg cups like these:
Don and I have some like these egg cups and we love them because they have room for the little spoons...
How do you cut the tops off eggs?
Of course, the Downton Abbey servants made the eggs and cut the tops off, which always seems like the most daunting part about eating Soft Boiled Eggs.
When we had Soft Boiled Eggs when I was a kid, we just whacked them with a spoon to break the shell, and then cut them in half. We dug the egg out of the shell and put it in a bowl. Of course, there would be times when there were a few eggshells in the bowl, but a little calcium never hurt anybody, right? Now you can use this handy device, it's called an Egg Topper, to cut the tops off and eat your eggs without little pieces of the shell! Super easy.
What You Need
All you really need for this recipe is a pan with a lid, but we love the egg cups and egg topper. As long as you are buying pans (or anything), be sure to buy the best you can afford so your tools last a lifetime. And get a teapot and a good espresso machine. What's breakfast without coffee or tea?
Soft Boiled Eggs Recipe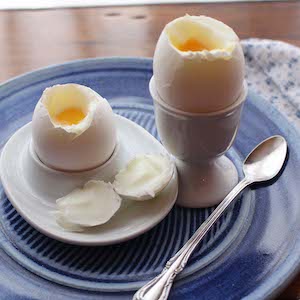 How to Make Soft Boiled Eggs Just Like Downton Abbey
Perfect eggs for royalty.
Instructions
Put the eggs in a small sauce pan that has a cover.

Add about ½ inch of water to the pot; the water should not cover the eggs.

Cover the pot and bring the water to a boil.

When the water boils, turn the burner down to medium high, and continue cooking for 6½ minutes (or 9 minutes for medium).

Pour the water off the eggs. Cover with cold water for about a minute to stop the cooking process.

Serve the eggs in individual egg cups.
https://recipeideashop.com/how-to-make-soft-boiled-eggs/
Recipe Nutrition Information
The information shown is an estimate provided by an online nutrition calculator. It should not be considered a substitute for a professional nutritionist's advice.
RATE, PIN & SHARE!
Please Rate our recipes, and Pin and Share them on social media. Comments are welcome, too!
You May Also Like These Recipes From Recipe Idea Shop