Are you wondering how to steam vegetables the best way to ensure a delicious taste every time? All you need is a few simple tips and you'll be able to steam any veggie you want to perfection! Steamed vegetables are so good because they stay a bit crispy if you don't overcook them. When cooked properly, you can prevent them from tasting bland or getting soggy. Instead, you can enjoy crisp, tender, delicious steamed vegetables on the table every time. Vegetables don't need to be boiled and you can actually lose some of their nutrients when you cook them this way.
Steaming is one of the easiest and quickest ways you can cook your vegetables and you retain the nutrients, too. Unfortunately, it has sometimes gotten a bad reputation from people who just didn't know how to do it correctly. When steamed wrong, it can result in bland, overcooked veggies that end up soggy and gross. But that's not the fault of steaming itself, but rather a poor steaming method. When you learn to season and steam them correctly, you'll be wondering why you didn't do this sooner!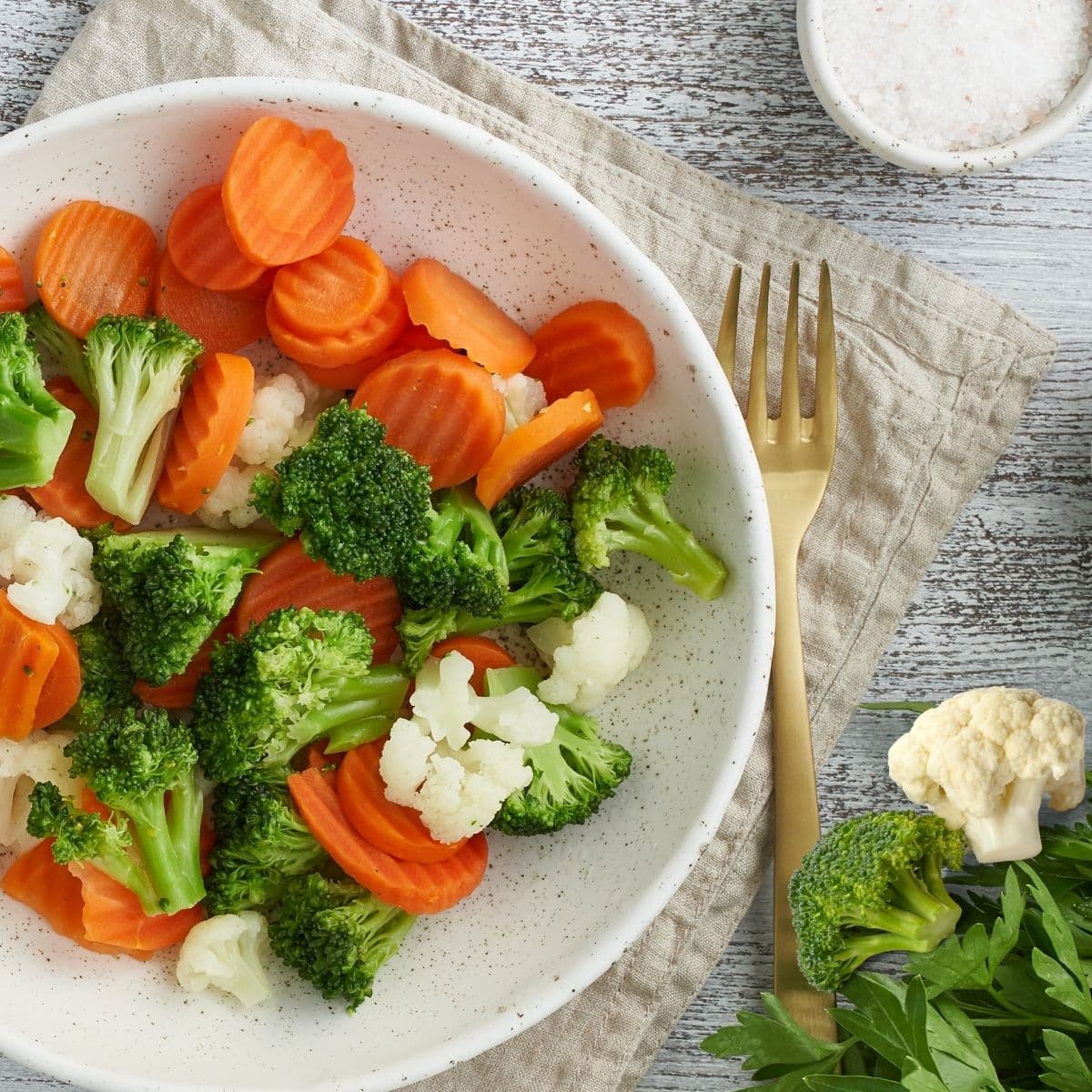 How to Steam Vegetables - It's Simple to Learn
Steaming vegetables is just about the same for any vegetable you want to cook, whether they are fresh or frozen. Bigger vegetables take a bit longer, so if you need to steam them quickly, cut them smaller. Carrots, for instance, are a bit denser than peas, so they will take a minute or two longer to cook. I generally cut carrots in rounds, but sticks work great, too. I prefer my veggies a bit crunchy, and thankfully, that's the way hubby likes them, too.
When I make asparagus or broccoli, I watch it very closely because I do not like mushy asparagus or broccoli. I also do not care for steamed cauliflower. It has no taste to me at all. So if I'm making cauliflower, I will eat it raw or make it into "mashed potatoes" with melted butter and milk.
What You Need
steamer basket
steamer pot
You can use a steamer basket or steamer pan, or there are specific types of pots made for steaming veggies. I have a double pot for steaming vegetables, similar to these (I have two sizes). A steamer pot makes it very easy.
But this type of steamer works great, too. And for asparagus, I use an asparagus steamer.
These simple tools definitely make it easier and make your veggies come out better every time. You will find you're making veggies a lot more often, and that the whole process is easier when you have the right tools to work with. Now, let's get to the details of how to do it.
How to Steam Vegetables - A Tutorial
Here's the basic recipe for fresh veggies steamed to perfection.
Prep your veggies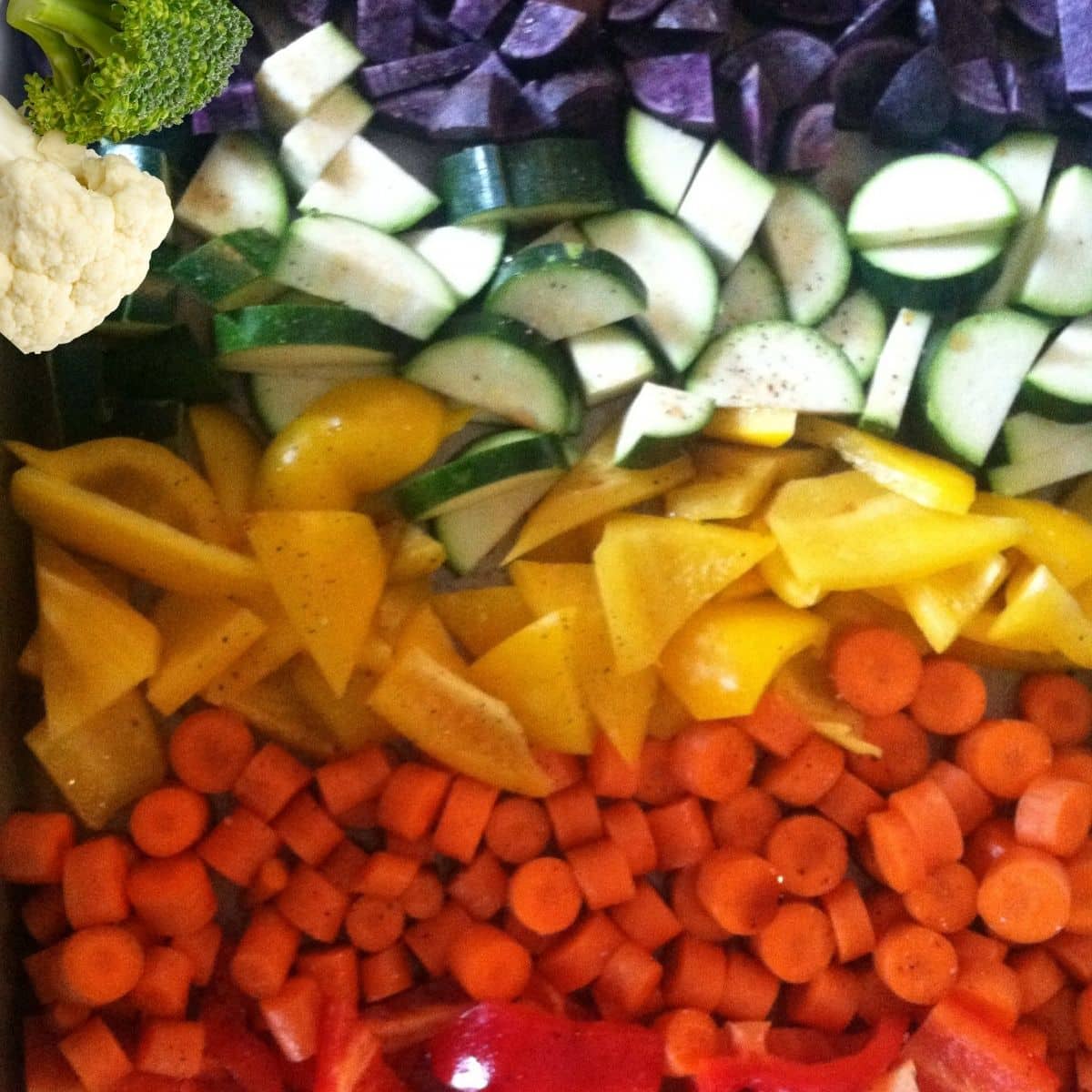 First, you need to prepare your vegetables for cooking. If you want them to cook evenly, you need to chop them into even pieces, as best you can. The thicker the pieces, the longer it will take to cook. Small veggies like peas will not need cut up, obviously. But for sweet potatoes or large broccoli or even cauliflower florets, you might want to cut them down for better steaming.
Prep your pot
Next, when using a steamer pot you need to fill the pot under the steamer basket with water. You usually only need a few inches of water - just enough that it doesn't boil off in the cooking time. For most veggies, a couple of cups of water is going to do it. Bring this water to a boil. You should always bring it to a boil first and don't be tempted to try to shortcut and throw everything in the steamer before the water is boiling.
Add your veggies
Once the water comes to a boil you can add your vegetables to the steamer basket. Cover the pot with a lid and cook with the lid on just until it is tender. The timing can vary, depending on the veggie. Root vegetables usually need longer. Tender vegetables do not need as much time to steam to a crispness. On average, it's 3-5 minutes but we'll give more specific guidelines below.
Drain and season
The last step is to drain the water and then season your crisp, steamed veggies to taste. You can do a little olive oil and Kosher salt, or you may add some black pepper. Some people like a squirt of lemon juice or some fresh herbs. You can even add other spices or feta cheese. It all depends on the veggies and your personal tastes. You might also consider what you're serving them with when it comes to deciding on flavorings.
How to Steam Vegetables Tips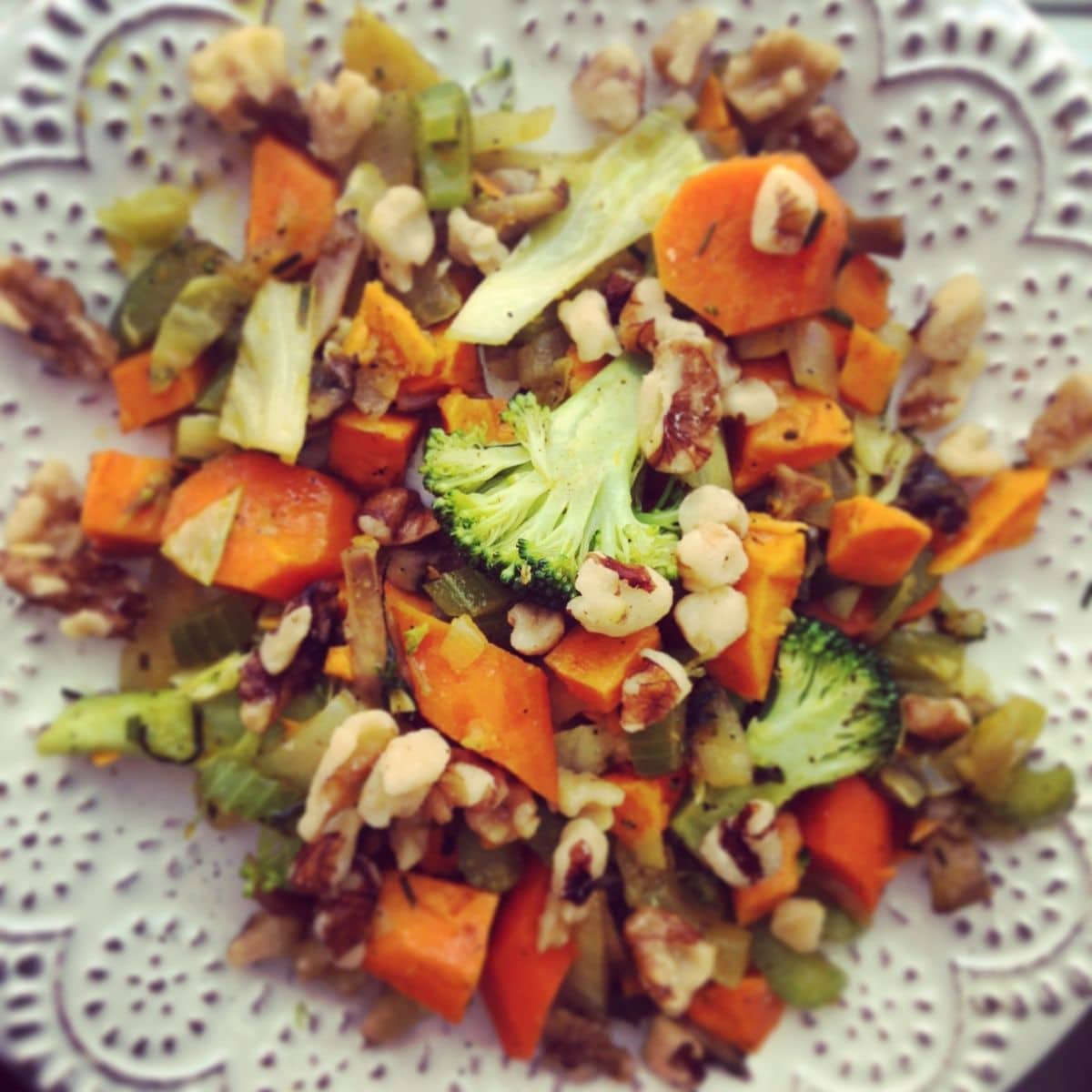 Here are some additional tips to help you get the perfect steamed veggies every time. First, always do a taste test. When you think they're done and before you drain the water and season, take a piece out of the steamer and test it. Not done? Leave it in a bit longer. Perfect? Pull off the stove and drain!
Cooking time for steamed vegetables
The exact time you steam your vegetables can vary depending on the veggies but here are some general guidelines.
Green beans: 4 to 5 minutes
Broccoli: 3 to 5 minutes
Cauliflower: 10 to 12 minutes
Carrots: 4 to 5 minutes
Of course, the exact steam time also varies, depending on how small you cut the vegetable pieces.
How to Steam Vegetables in An Instant Pot
Now, what if you want to steam your veggies in an instant pot? Instant pots are so popular today and nearly everyone has one in their kitchen. You can steam almost any vegetable in your Instant pot. If you want to make full use of it for your steamed veggies, here's how.
Just take the veggies you want to steam and use a steamer basket inside your instant pot to hold them (this also keeps them from sticking and burning to the bottom). Add your water (or other liquid, like a veggie or chicken broth), and then seal the lid and set the timer to 0 (yes, you read that right: veggies will cook to perfection while the instapot gets to pressure, in about 10 minutes).
You can steam nearly any veggie in the instant pot in under 15 minutes. Chopped veggies will cook faster than whole ones and harder veggies will need a little more time than softer ones.
The best part of using the instant pot is that you can walk away while it's cooking and do other things. It also has a very easy clean-up process.
How to Steam Vegetables in a Rice Cooker
What if you want to use a rice cooker instead? If you don't have an instant pot or if you're already using it for something else for this meal, you might decide to pop a side of veggies into the rice cooker. This is an easy way to steam them to perfection and it's quick and easy. It's going to work very similarly to the instant pot and the same as with other steaming methods: a steamer basket is going to be the key to getting them perfect.
Follow your rice cooker's instructions for more specifics, but the timing will vary based on the size of the vegetable and its natural toughness, the same as cooking in the instant pot. Add water, put the veggies in the steamer basket, close it up, set your timer, and let it cook! It's that easy. Once you practice a few times with your own rice cooker, you will also get the "feel" for just how much time your veggies need to be done and how you like them.
How to Steam Vegetables in a Pot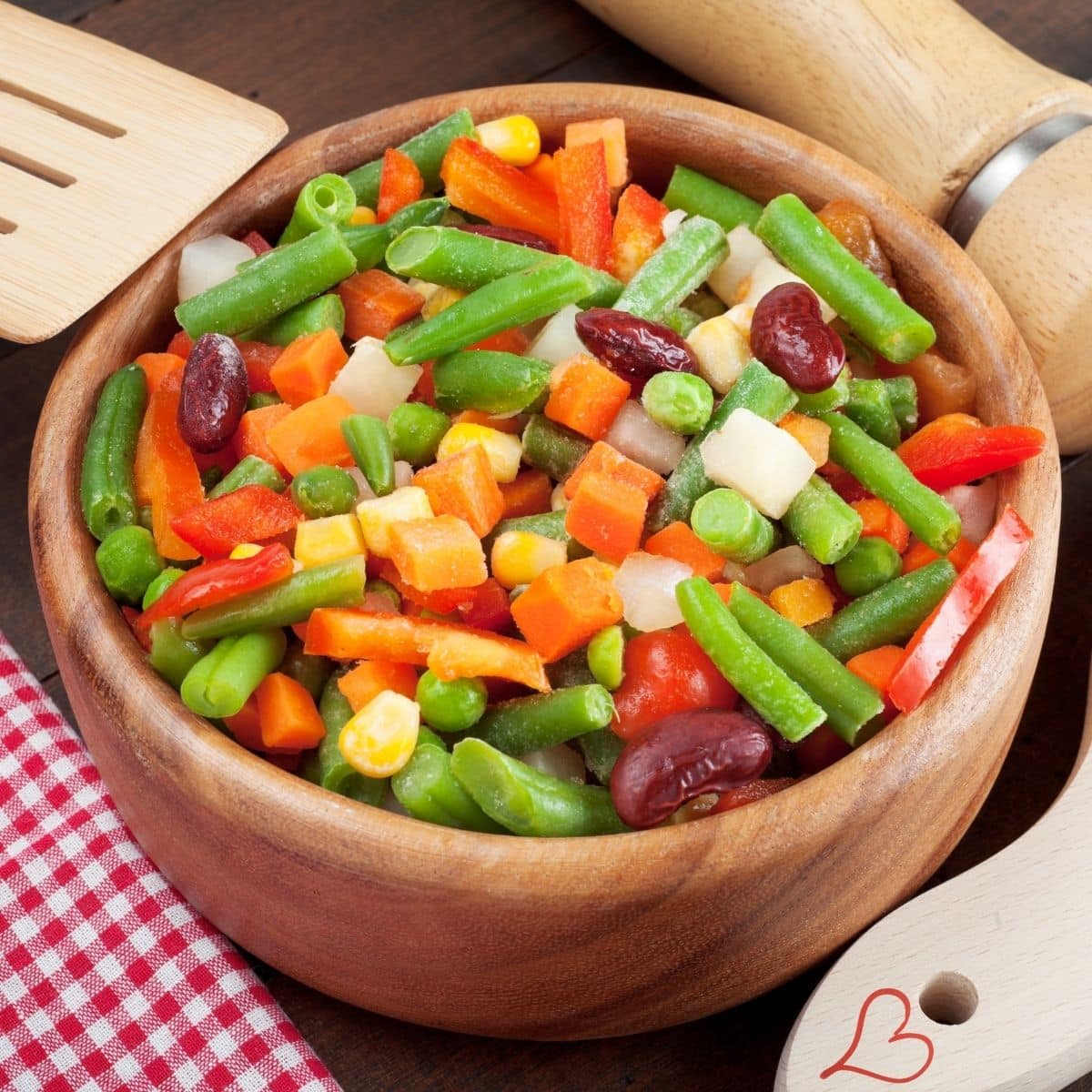 What if you want to steam your veggies but you don't have a steamer? Well, as mentioned above, it is easier with a steamer, but you can also do it with a regular pot. Here's how.
First, you need the perfect pot. One that has a properly fitting lid and a thicker bottom will allow the heat to spread evenly and the steam to build up inside the pot. You also need to choose the right size. It's important to fill your pot ¾ of the way with veggies so if you're not making a large serving, you need a smaller pot. You need condensate to build on the underside of the lid of the pot and then drop down to the bottom. This is how you will steam them inside the pot without a steamer basket.
You want to add just enough water to keep the veggies from burning but you don't want to use the water itself to boil them. Layer your veggies up in the pot. Put the ones that take the longest to cook on the bottom and quicker cooking ones on top.
Next, choose your heat setting. Never use the highest settings with steaming. Medium-high heat is usually best. Heat it until the lid to the pot starts to feel very hot and then reduce the heat to low. Don't open the lid or you will interrupt the steaming process and let the steam out. Once you turn down the heat, this is when your cook time actually begins. So if you want to steam for 3 minutes, for example, this is when you begin counting down the three minutes.
More Recipes Using Vegetables

Green Beans Almandine
Green Beans, Walnuts, and Shallots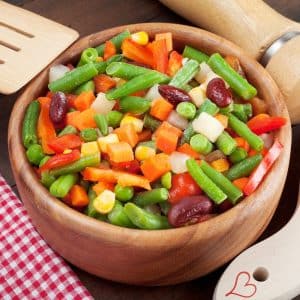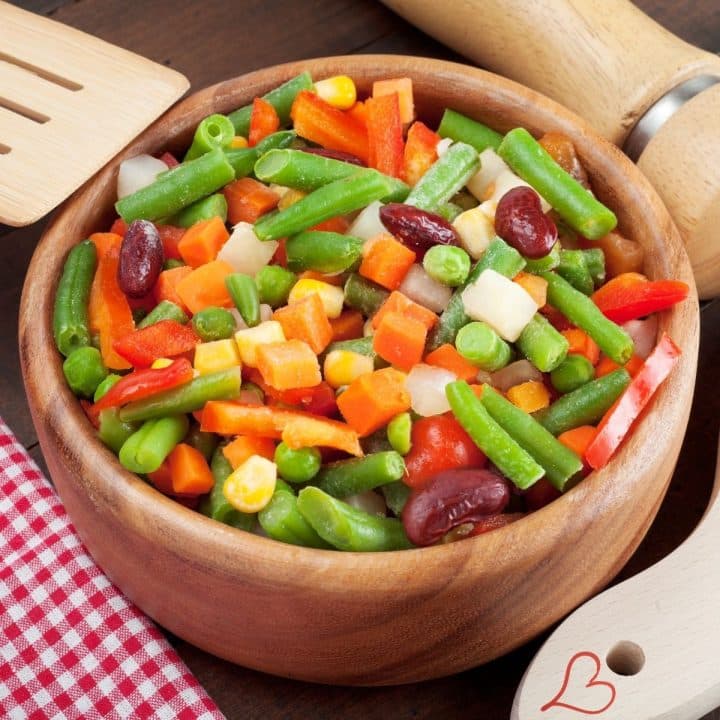 How to Steam Vegetables Recipe
Steaming vegetables is a cinch.
Ingredients
1

cup

raw or frozen vegetables

such as green beans, peas, carrots

1-2

cups

water
Instructions
Put about a cup or two of water in the bottom of the pot.

Place the steamer device or top of steamer pot over or into the pot with the water, depending on your steamer basket/pot.

Place the vegetables into the steamer basket.

Bring the water to a boil.

If the vegetables are large, boil the water for 5-7 minutes.

If the vegetables are small (think peas), turn the burner off immediately and let sit for 4-5 minutes.

Serve hot or cold.
Nutrition
Calories:
58
kcal
Carbohydrates:
12
g
Protein:
3
g
Fat:
0.5
g
Saturated Fat:
0.1
g
Polyunsaturated Fat:
0.2
g
Monounsaturated Fat:
0.03
g
Sodium:
49
mg
Potassium:
193
mg
Fiber:
4
g
Vitamin A:
4621
IU
Vitamin C:
9
mg
Calcium:
26
mg
Iron:
1
mg
Recipe Nutrition Information
The information shown is an estimate provided by an online nutrition calculator. It should not be considered a substitute for a professional nutritionist's advice.
RATE, PIN & SHARE!
Please Rate our recipes, and Pin and Share them on social media. Comments are welcome, too!