With Memorial Day right around the corner, you may be looking for salads you can make ahead and serve at an outdoor picnic. At such gatherings, I like to serve unique, tasty salads made without mayonnaise, don't you? Here are 10 awesome make ahead salads you and your guests will love.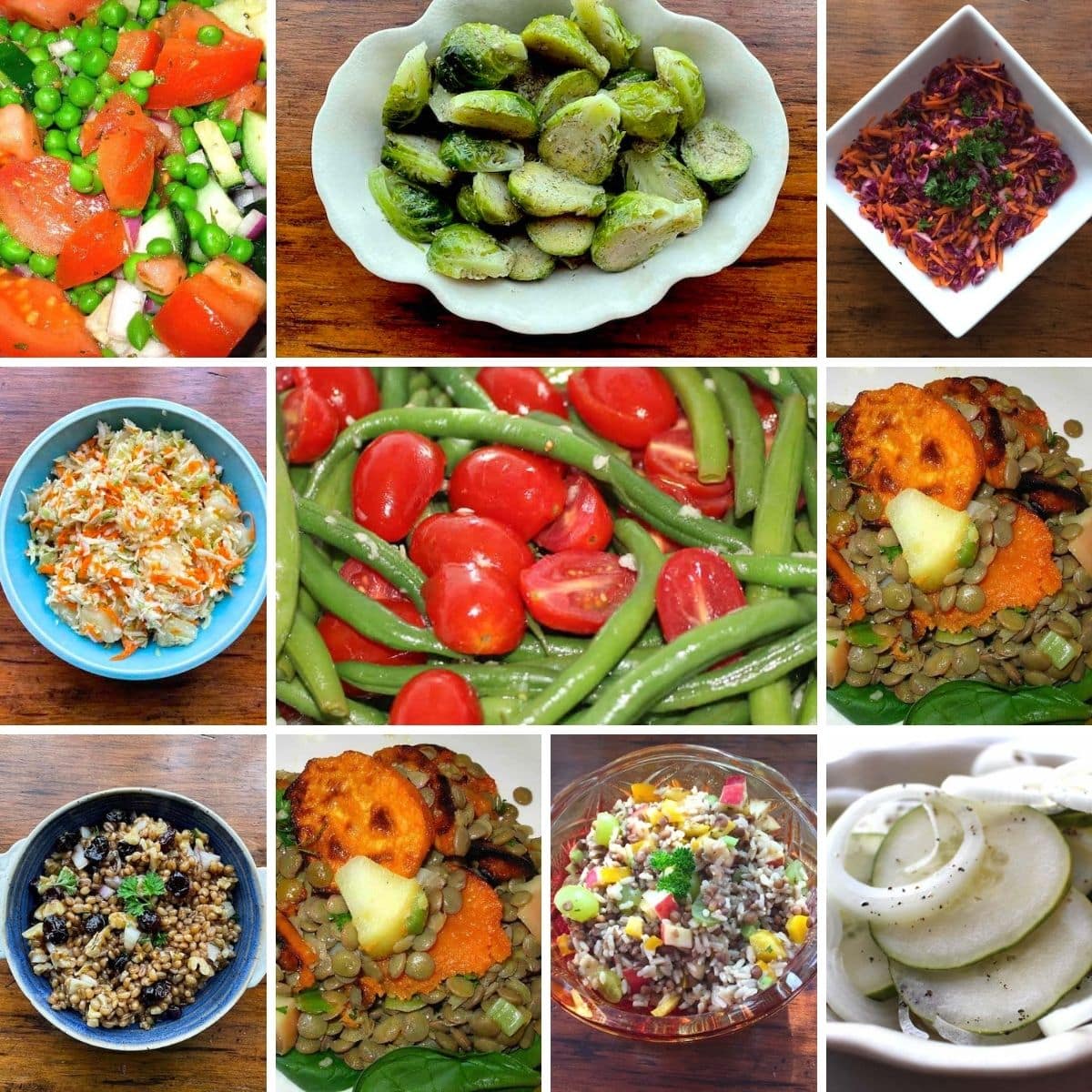 10 Picnic Salads Without Mayo
Let me tell you about 10 amazing salads that will have your guests asking for the recipes. None of them have mayonnaise in them so they can sit out a bit longer at a picnic. All can be served cold or at room temperature and are easy to prepare a day or two before your event. Some, like Asian Salad (quick kimchee), actually get better with age.
1. Asian salad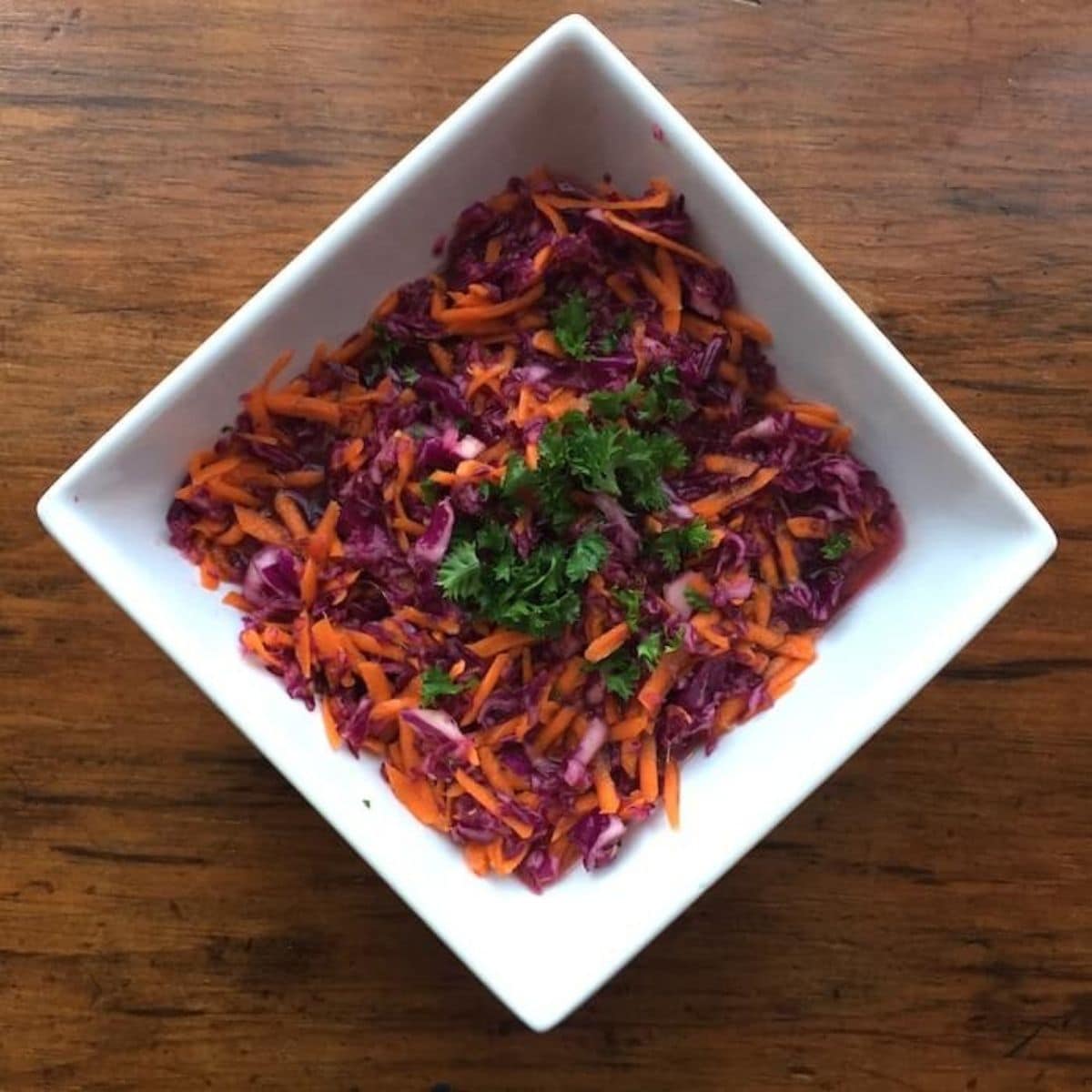 Asian Salad is a cabbage slaw with a vinegar and ginger dressing that is colorful and oh, so tasty. This is a salad that improves over time. In fact, you have to refrigerate it for at least 6 hours to "season" it. The slaw is a little spicy because of the ginger paste and red pepper flakes and is also tangy from the rice vinegar. But it's super easy to make if you have a food processor with a shredding blade. It's the best quick kimchee I've tasted.
Serve it cold or at room temperature. In a group setting, I like to offer my foods in disposable, recyclable individual serving cups to prevent any worry of anyone contaminating the serving bowl. Try a variety of sizes and shapes for different salads and appetizers.
2. Brown rice salad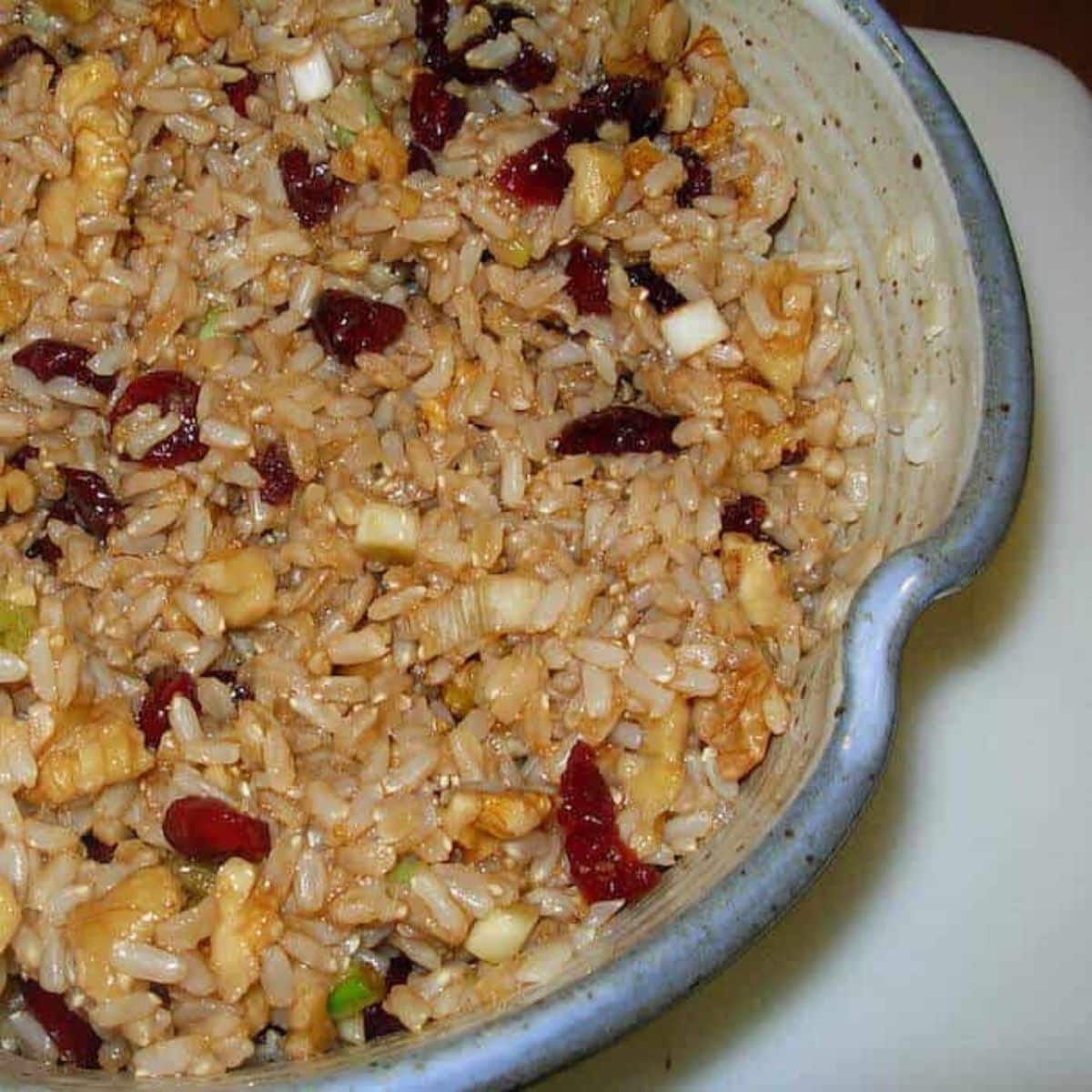 I love this Brown Rice Salad. It is not only delicious, it is filling and contains complex carbs that don't spike blood sugar. That's important if you are diabetic or pre-diabetic. Start with three cups of cooked brown rice. Add nuts, cranberries, and a couple of scallions (green onions).
Whisk the lemon, lemon zest, soy, and a good extra virgin olive oil until emulsified. Then stir it into the rice mixture. People always say "Mmmmm" with this one.
3. Cabbage pineapple slaw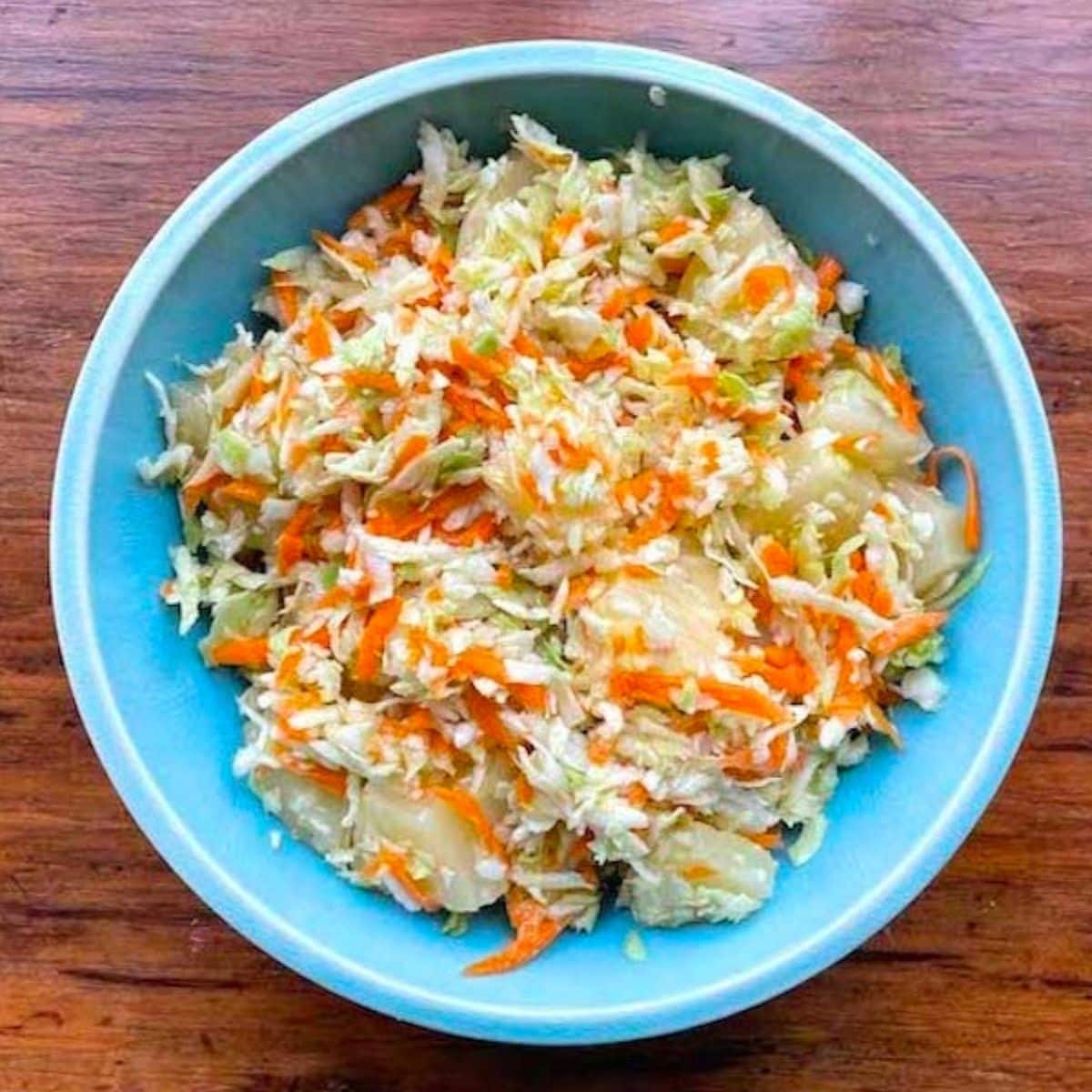 For a sweet and crunchy salad, try Cabbage Pineapple Slaw. Shredded green cabbage, shredded carrots, pineapple chunks, and a simple dressing of lemon juice, orange juice, salt, and olive oil make a beautiful, tasty side dish.
Total time to make this salad: maybe 30 minutes. Try serving it in pretty little dessert cups to avoid possible contamination by guests.
4. Cucumber & onion salad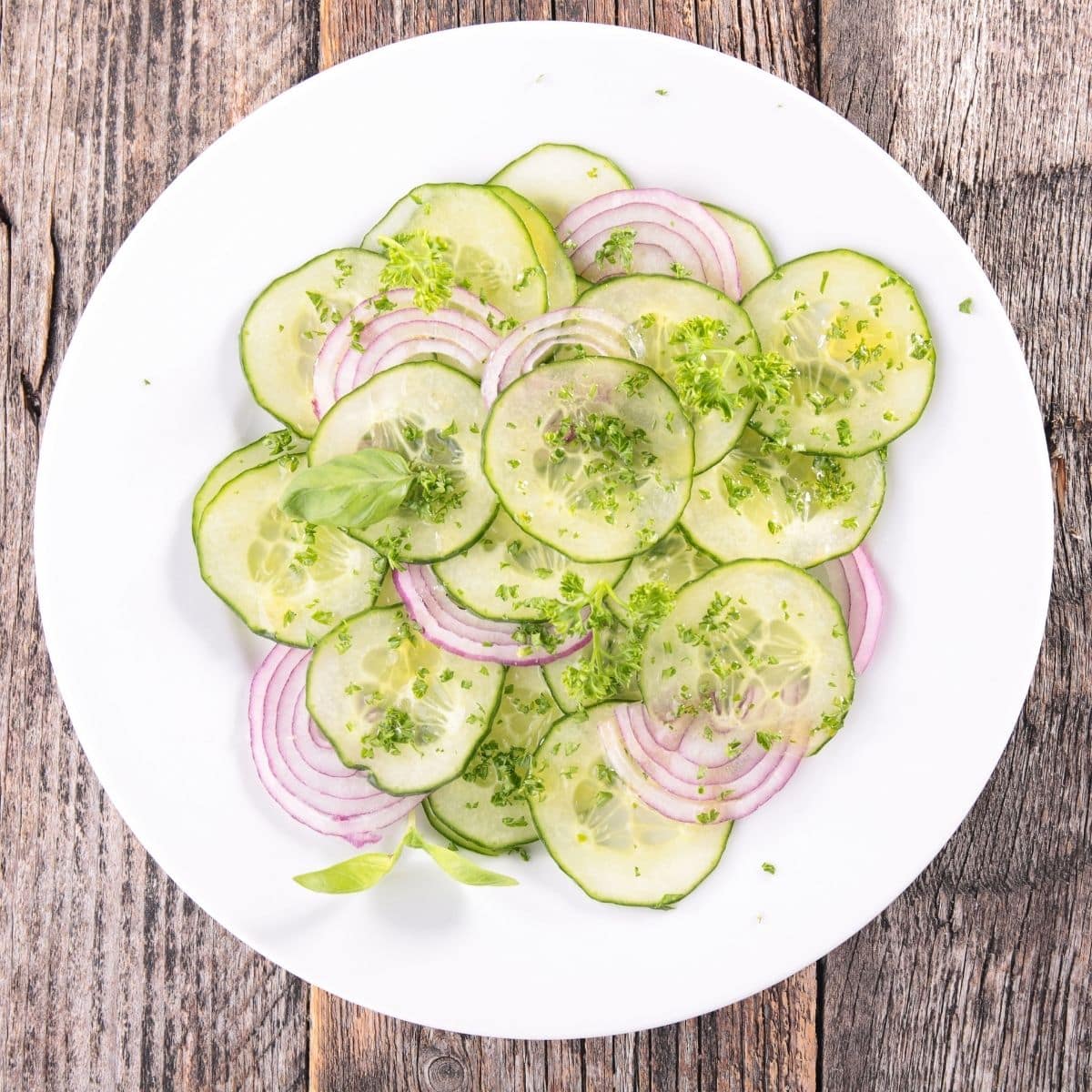 This Cucumber & Onion Salad is a 15-minute salad. It's so simple, you will wonder why you haven't made it before. I always leave the peels on my cucumbers and soak up the nutrition, but you can peel them if you prefer.
Slice the cucumber in small rounds, layer with sliced sweet or red onions, and top with the easy vinegar-sugar dressing. Just 7 ingredients in the whole recipe. Whisk together the salt, pepper, vinegar, sugar, and water to make this amazing dressing.
And now that you know how to make the dressing, you can use it for a simple leaf lettuce salad, too.
5. Dilled Brussels sprouts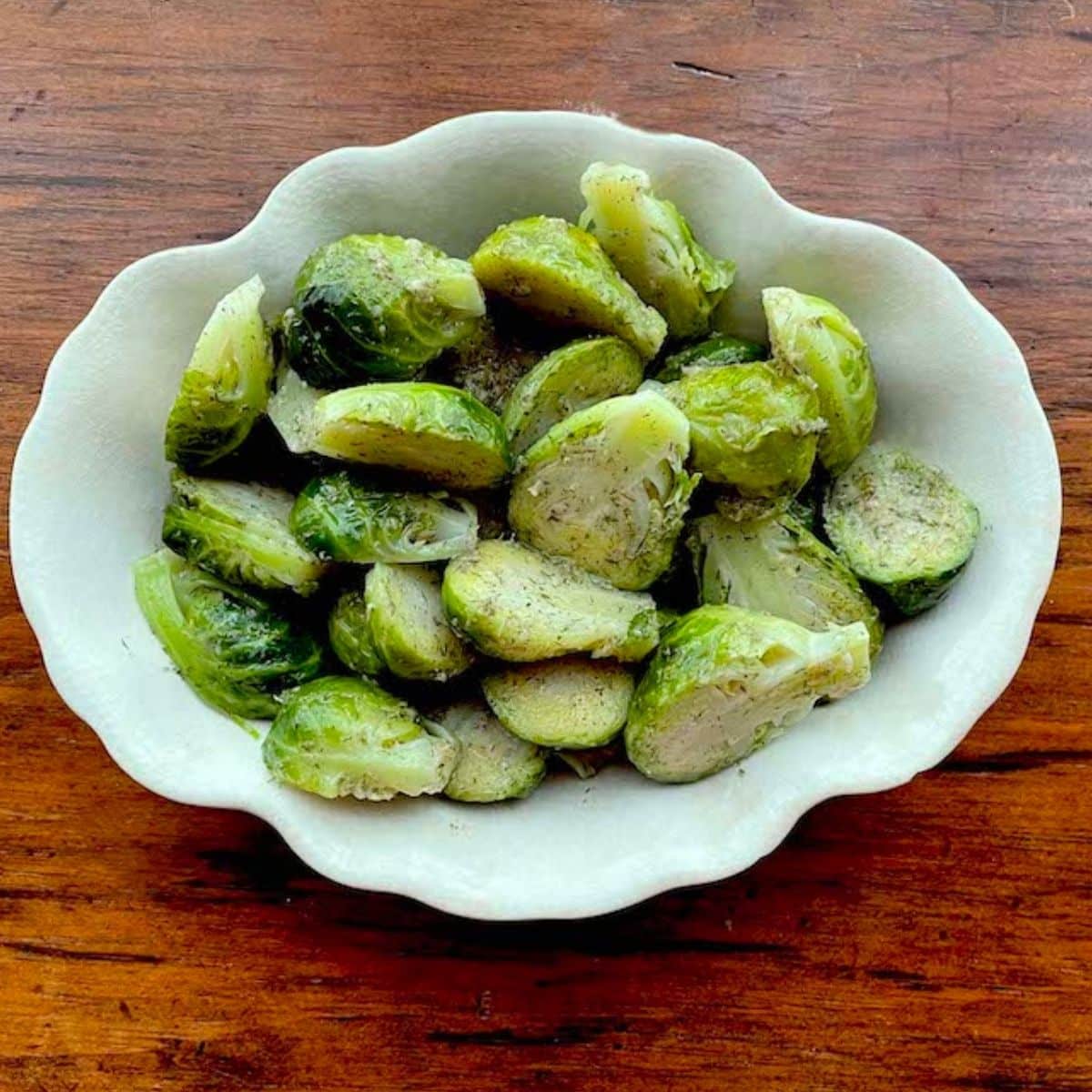 Only 6 ingredients make Dilled Brussels Sprouts the perfect side salad anytime. This dish has a little bite to it because one of the dressing ingredients is horseradish. Combining dill with horseradish is brilliant!
Trim, halve and steam your Brussels sprouts, whisk the dressing ingredients, and combine both with a quick stir for a beautiful salad. I love, love, love this one and your guests will love it too.
6. Green bean tomato salad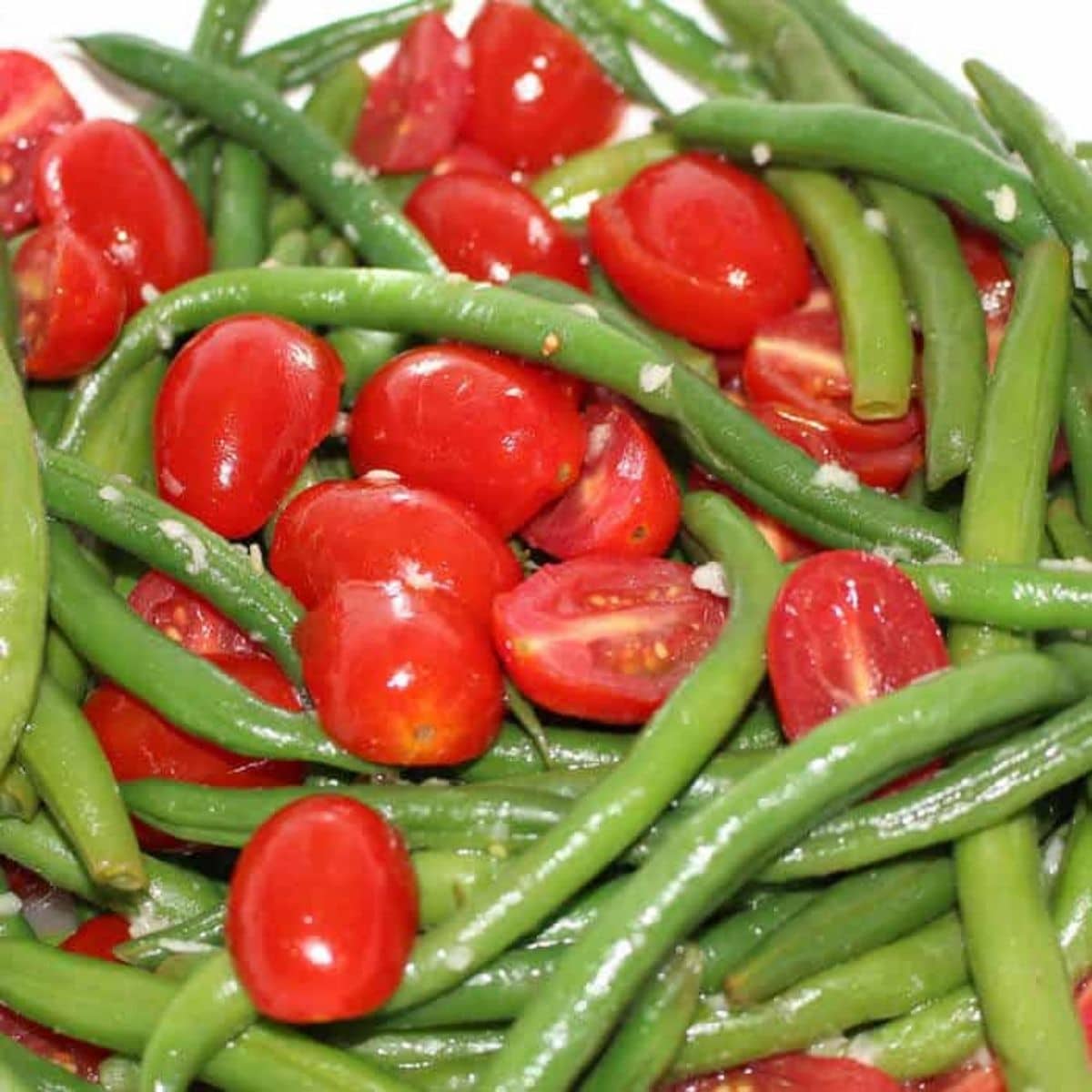 Garlic, crispy green beans, and cherry tomatoes are the main ingredients in this amazing Green Bean Tomato Salad. Only 6 ingredients for this salad. And so, so easy.
Trim, cut into bite-sized pieces, and steam fresh green beans. Add cherry tomatoes (cut them if they are big). Whisk together the lemon, oil, salt, and garlic for the dressing. Pour the dressing over the beans and tomatoes, give them a stir, and chill. Oh, my. So delish.
7. Lentil rice & fruit salad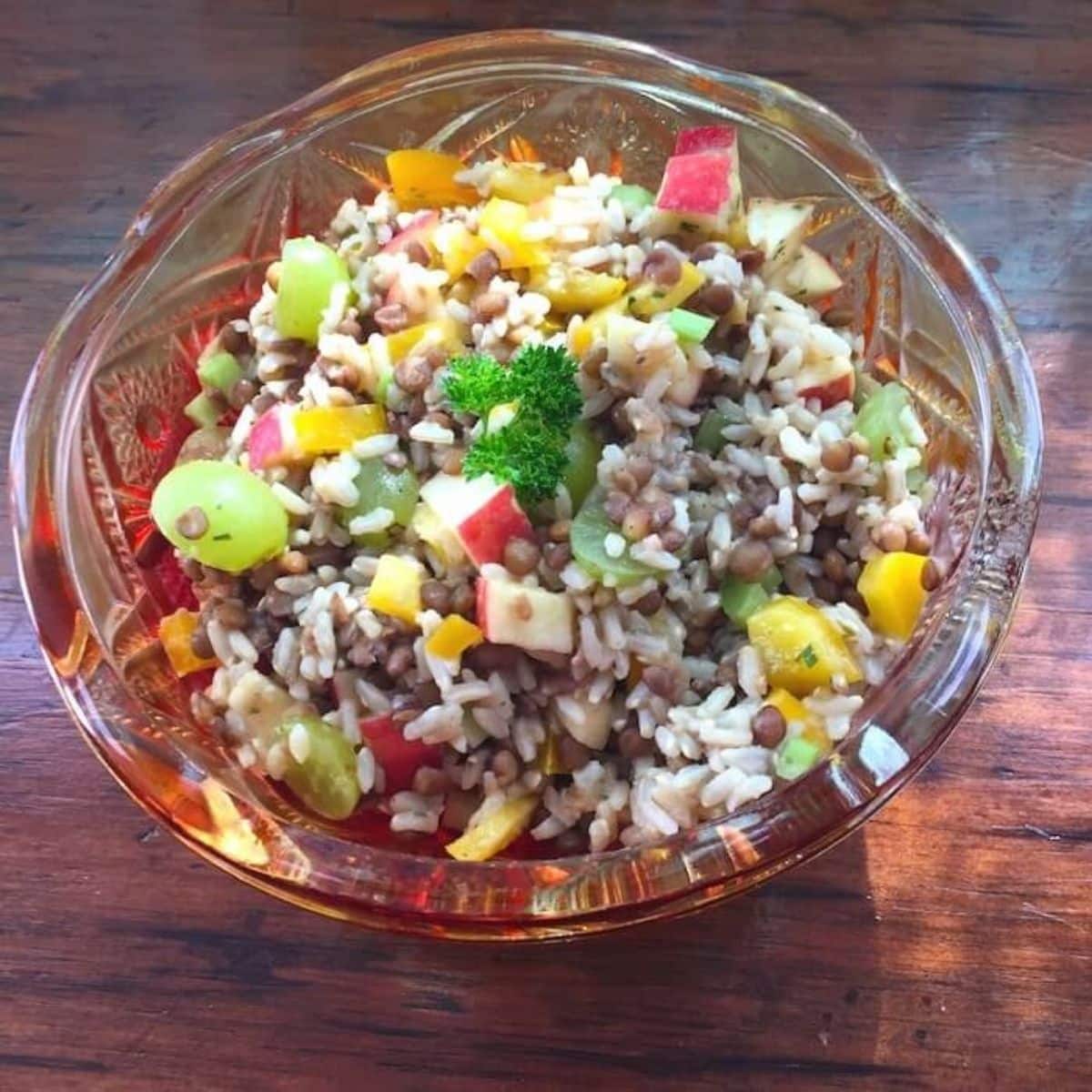 For a hearty salad that is both sweet and crunchy, try our Lentil Rice & Fruit Salad. This salad will take you about an hour to make because you will have to cook the lentils and rice and chop the fruits and veggies. But the textures are so worth it. The apple and grapes give it sweetness. The celery makes it crunchy, and the rice and lentils provide an awesome chewiness.
Be sure to use French green lentils for this recipe. They are perfect for salads because they don't get mushy. And they are really good for you because they have lots of protein.
I love the light tarragon dressing, too. Whisk together olive oil, white balsamic vinegar, Dijon mustard, garlic, salt, and pepper, and give it a taste. If you don't think it's outstanding, I'd be surprised. White balsamic vinegar is one of my favorites. It has a much lighter flavor than regular balsamic vinegar.
8. Lentil sweet potato salad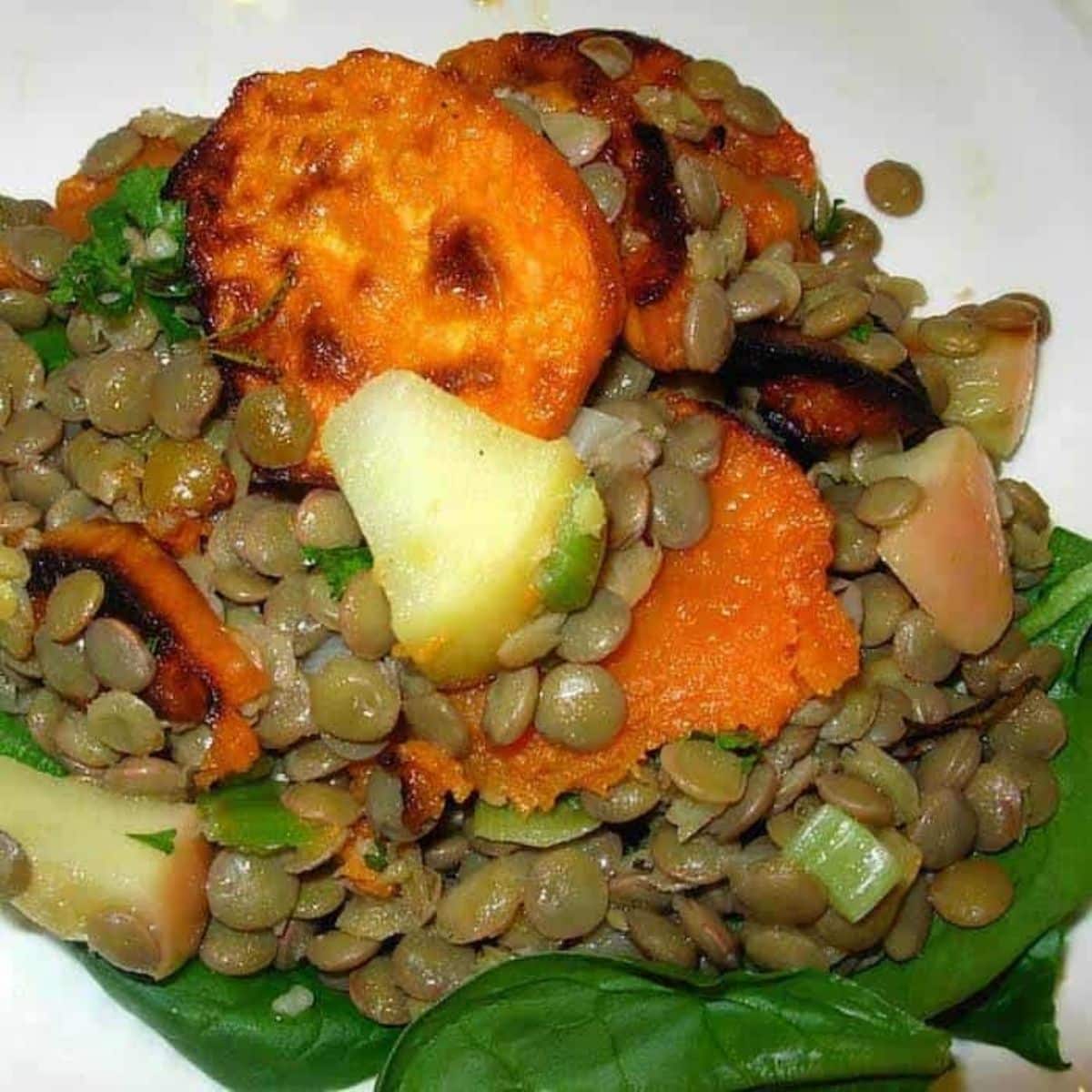 And while you have those lentils cooking, add some extra to the pot for this Lentil Sweet Potato Salad recipe.
Roasted sweet potatoes, combined with chewy green lentils, are such a great combination. Again, this recipe takes about an hour to make, but it's so worth it. It can be eaten warm, at room temperature, or cold.
The combination of spices - rosemary, nutmeg, salt, pepper, garlic, onion, and lemon - is to die for. The bits of apples and roasted sweet potatoes add sweetness, and the spinach adds depth. Not to mention how beautiful it is!
9. Pea and cucumber salad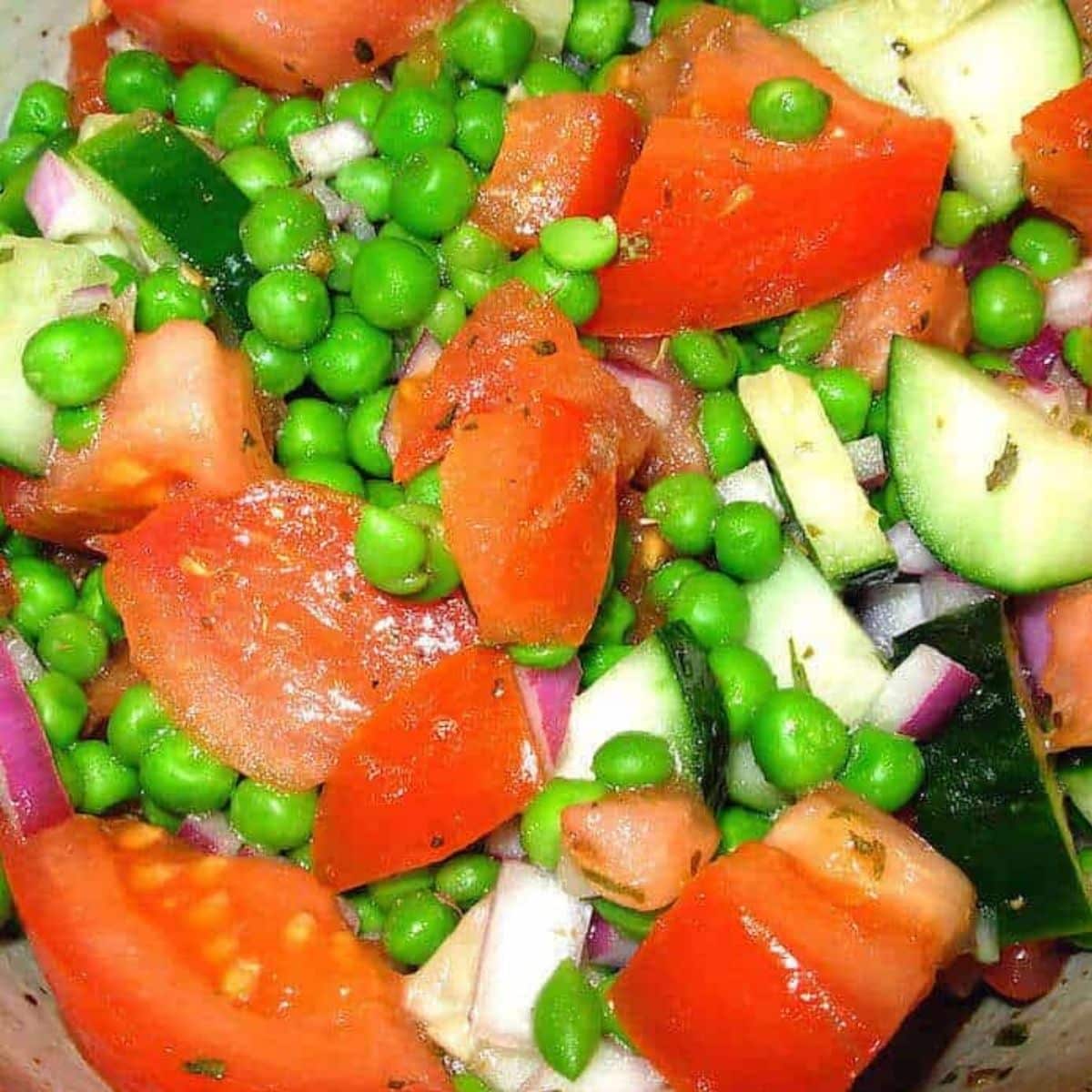 Pea and Cucumber Salad is a wonderful spring salad, but you can make it any time of the year. It's a quick 15-minute salad made with peas, diced cucumbers, tomatoes, onions, and a tasty vinaigrette. Whisk together white vinegar (or consider white balsamic vinegar!), olive oil, oregano, tarragon, salt, and pepper for a super tasty vinaigrette.
This salad is so pretty, especially served in individual cups.
10. Wheat berry salad
This Wheat Berry Salad is one of my favorites. Wheat berries are interesting complex carbs that are chewy and a bit nutty. Great for people suffering from diabetes.
It takes about an hour to make this salad because the wheat berries take a while to cook. But while they are cooking, you can chop the other ingredients and make the dressing. The salad is a luscious combination of flavors and can be served warm, room temperature, or cold. Only 8 ingredients, and such a scrumptious salad!
Memorial Day is a time to honor all our heroes who keep us safe and free. It's a time for gathering family and enjoying togetherness. And it's the first big picnic day of the season.
For more terrific picnic salad ideas, take a look at Just in time for picnics: potato salad, with 5 different potato salads you will love.