Have you ever tried pickle wraps? This is a recipe reprise from the 1980s that is delicious and pretty on a plate. It will pop in your mouth with its creamy, crunchy, tangy flavor. If you're new to the idea of pickle wraps, don't worry. I'm going to tell you all about it and how to make it. If you are familiar with them, maybe from your own childhood, and you're ready to bring them back, read on for the recipe and instructions.
Pickle wraps are sometimes also called pickle rolls or pickle roll ups. These are just different names for the same thing. Sometimes they are called "roll-ups" due to how they are made. You roll up, or wrap, the pickles with something else (in this case, sliced corned beef) and cheese, rolled up, and then sliced up.
You may have also heard them called by the nickname "Minnesota Sushi". Some people make them with thin deli ham and they can also be made with different types of cheese. My favorite recipe is below, but feel free to experiment with different versions, as you wish.
PICKLE WRAPS are a bit messy to make but easy enough for the kids to help
One of our family favorites is a vintage recipe called pickle wraps. They are more common in certain parts of the country than others, but I have fond memories of enjoying them growing up, especially around the holiday season. With the holidays almost here, I'm reposting a few favorite appetizers. These Pickle Wraps are delicious and pretty on the plate. Make them and you will see that your guests will hover over them.
The combination of the tangy pickle with the smooth cream cheese and touch of meat is almost addictive. I always try to use whole Claussen Dill Pickles (found in the dairy case) because they are crisp, crunchy, and tangy. They really are the best dill pickle out there.
The cream cheese bumps up the calories and fat, but if you don't eat too many, you can stay on your diet. Don't worry. They will be gone in no time and you will only get a couple of them!
What You Need To Make Pickle Rolls
The most important ingredient is a good, crisp pickle, like the kind you get in the dairy case (Claussen). You also need a sharp knife or an electric knife (which is what I use). But what you really want is a terrific serving plate and some beautiful beverage glasses, right?
Ingredients for Pickle Roll Ups
Here are the ingredients you will need for this recipe.
Pickles - You can't have a pickle wrap without the pickles!
Roast beef - Then you need the meat that you will wrap around the pickles.
Cream cheese - Room temperature cream cheese works because it will spread better.
Other Delicious Snacks You Might like
Pickle Wrap FAQ
What are some questions you might have about pickle wraps? Here are some common ones answered for you.
Are pickle wraps a Midwest thing?
Although these treats are now often found all over the United States, they do seem to be most common in the Midwest. The pickle wrap is very popular in Iowa, Michigan, and Minnesota, and some people believe the recipe may have originated in one of those states.
What are pickle wraps made of?
Pickle wraps are always made from pickles with some type of thinly sliced meat wrapped around them and cheese in between. Most people use cream cheese but you can try other cheeses if they blend well. And usually thinly sliced deli ham or beef is used.
Can you freeze pickle wraps?
Although they are best when they are fresh, you can freeze pickle wraps if you end up with leftovers you can't eat that quickly.
Can you get fat eating pickles?
Eating too much of anything can make you gain weight but it's not so black-and-white as saying pickles make you fat. They are actually a low-calorie food and they do have health benefits. Pickles do have a high sodium count (it's part of the brining process), so if you have a medical condition that requires you to reduce your sodium intake, it's important to be aware of this. The cream cheese used in pickle wraps is not the healthiest food around, but in moderation, it's not going to contribute to any significant weight gain either.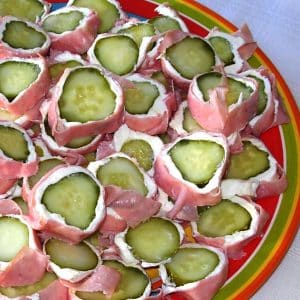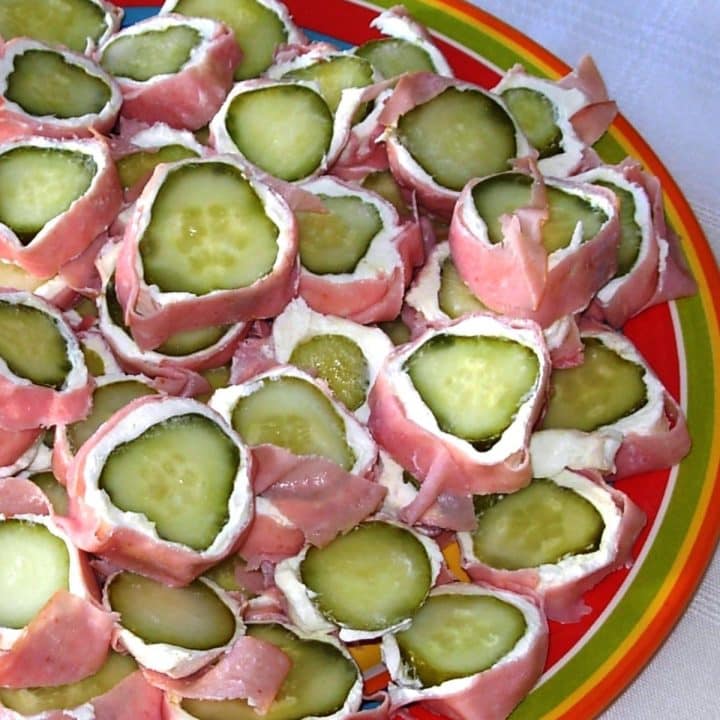 Pickle Wraps Recipe
Terrific finger food that is tangy and creamy.
Ingredients
1

jar

Claussen Dill Pickles

found in the dairy case

1 8-

ounce

package Neuchatel Cheese

1

package corned beef extra thin slices

found in processed meats section
Instructions
Drain and dry the pickles.

Split the cream cheese so you have about the same amount for each pickle.

Spread the cream cheese on the meat slice

Wrap the meat slice and cream cheese combo around each pickle.

Cut pickles into ½" rounds and place the pickles on a pretty plate to serve. I find that an electric knife works best for this.
Nutrition
Serving:
1
slice
Calories:
171
kcal
Carbohydrates:
2
g
Protein:
9
g
Fat:
14
g
Saturated Fat:
6
g
Polyunsaturated Fat:
1
g
Monounsaturated Fat:
5
g
Cholesterol:
46
mg
Sodium:
963
mg
Potassium:
220
mg
Fiber:
0.3
g
Sugar:
1
g
Vitamin A:
266
IU
Vitamin C:
16
mg
Calcium:
35
mg
Iron:
1
mg
Recipe Nutrition Information
This recipe is GF, NF, SF, EF*
The information shown is an estimate provided by an online nutrition calculator. It should not be considered a substitute for a professional nutritionist's advice.
RATE, PIN & SHARE!
Please Rate our recipes and posts, and Pin and Share them on social media. Comments are welcome, too!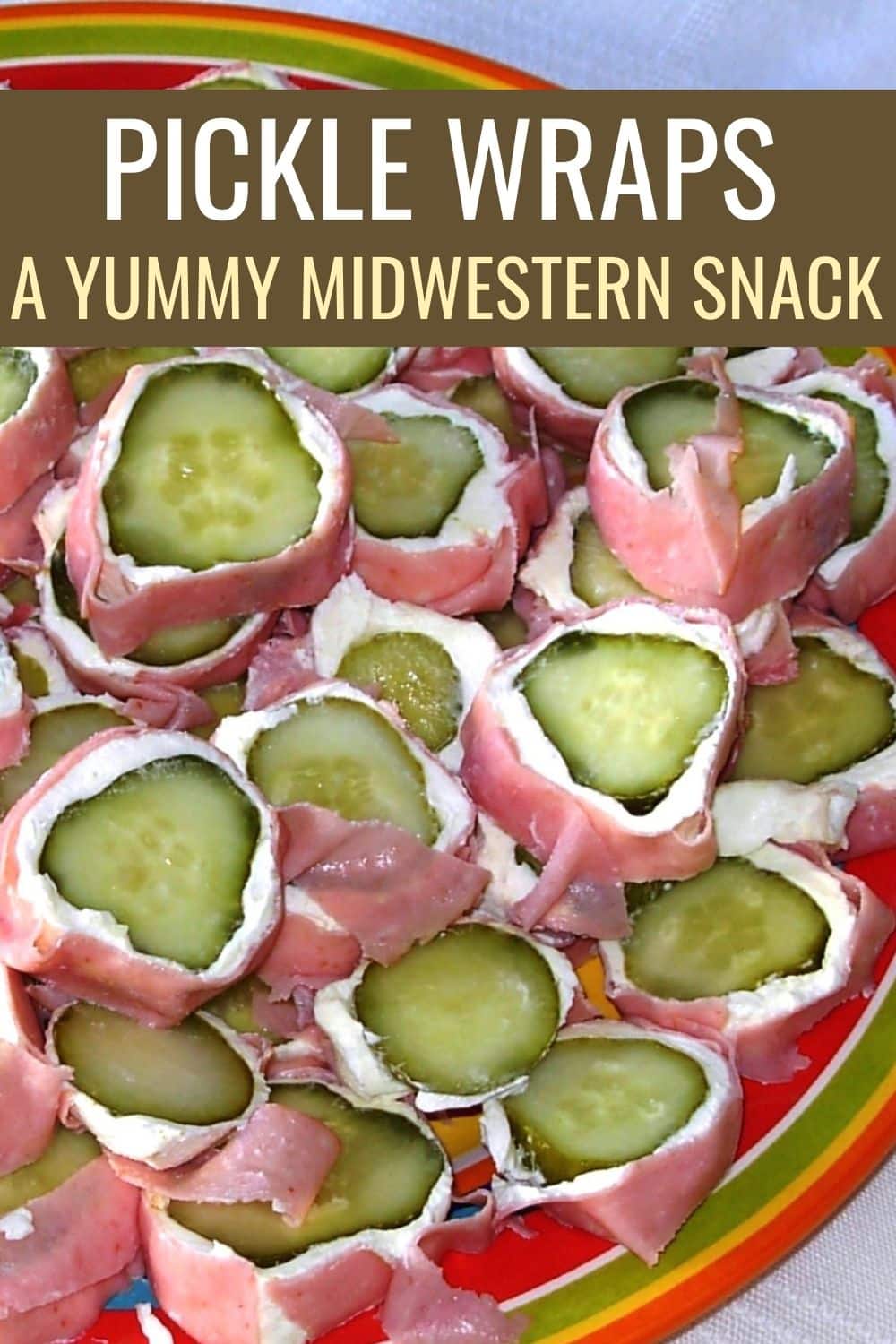 This post was first published on Recipe Idea Shop on January 10, 2017, and updated on July 6, 2022.