Tomatillo Guacamole, made with tomatillos and avocados. Super good. Lemony.
Tomatillo Guacamole tastes terrific with chips or veggies.
Have you heard of Tomatillo Guacamole? A few years ago discovered tomatillos, not like Al Gore discovered the Internet. I mean that I had never heard of them before then. Tomatillos are very tasty, somewhat similar to a tomato, but they have a little lemon flavor to them. The texture is also a bit different than tomatoes.
I modeled this recipe on one from a favorite cookbook, the Moosewood Restaurant New Classics cookbook (affiliate link). I haven't had a bad meal yet from Moosewood!
I often use tomatillos instead of green tomatoes in my Green Tomato Chutney because tomatillos are much easier to purchase in Harrisonburg, Virginia. They are available year round at the Hispanic food stores.
Tomatillos are a little harder to work with than tomatoes because they have an outside husk that needs to be pulled off, and inside the husk, the fruit is a bit sticky. They are hard, like a green tomato, and the inside is more fibrous. I have used them just like I use fresh tomatoes, and they are always delicious.
What You Need
For this recipe you need a knife, cutting board, measuring cups and spoons, and a small (or regular size) food processor. I love my little food processor. It's perfect for small batches and appetizers.
Tomatillo Guacamole Recipe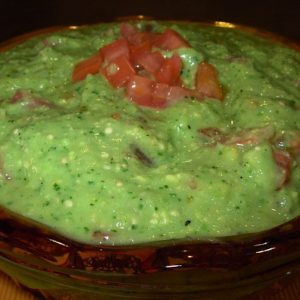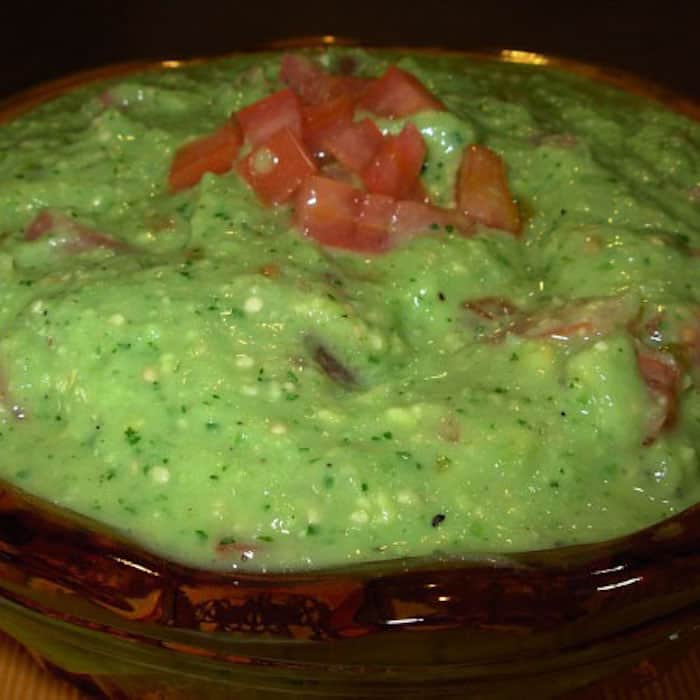 Tomatillo Guacamole Recipe
Lemony dip for chips or vegetables.
Ingredients
3

ripe avocados

1

pound

tomatillos

(husked, rinsed and halved)

2

garlic cloves

(minced)

½

cup

scallions or chopped onions

2

tablespoons

olive oil

2

tablespoons

lime juice

1

teaspoon

jarred or canned diced jalapeno

½

teaspoon

salt

½

teaspoon

ground black pepper

½

cup

chopped fresh cilantro

1 or 1

large

tomatoes

(diced)
Instructions
Seed and peel the avocados.

Cut the avocado meat into chunks and put it in a food processor.

Add the tomatilllos.

Blend until smooth.

Add the remaining ingredients except the tomatoes.

Blend.

Add the tomatoes.

Mix by hand until thoroughly combined and transfer to a pretty dish to serve.

Keep cold until serving.

Serve with taco chips or pita chips.
Recipe Nutrition Information
This recipe is GF, DF, NF, SF, EF, CF (use sea salt), V, VG*
The information shown is an estimate provided by an online nutrition calculator. It should not be considered a substitute for a professional nutritionist's advice.
RATE, PIN & SHARE!
Please Rate our recipes, and Pin and Share them on social media. Comments are welcome, too!
*Allergen Key
GF = Gluten free | DF = Dairy free | NF = Nut free | SF = Soy free | EF = Egg free | CF = Corn free | V = Vegetarian | VG = Vegan
Note: If you have serious allergies or sensitivities, to be considered free of these allergens, you need to use products specifically marked "gluten free," etc. There can be cross-contamination in facilities.
You May Also Like These Recipes From Recipe Idea Shop
Last Updated on August 11, 2022 by Adriana