Sautéed Cod Fish with Tomato Basil Chutney and Sautéed Spinach is a deliciously beautiful, heart-healthy meal. And this whole meal is ready in about 35 minutes. Just the fish? 12 minutes!
Sautéed Cod Fish is a simple, tasty main dish.
Sautéed Cod Fish is one of my favorite ways to eat fish. Cod is a mild white fish that has a "meatier" texture. It's not as "meat-like" as swordfish (which has the texture of beef steak), but it is a little thicker and more compact than tilapia or orange roughy. This recipe works for any fish you like and sautéing the fish takes about 12 minutes. What's your favorite?
Food Pairings
Don and I thought this whole meal—Sautéed Cod, Tomato Basil Chutney and Sautéed Spinach—was stupendous. Cod by itself is satisfying and delicious, but adding these two sides put it over the top. Although I have not posted a Sautèed Spinach recipe, you make it just the way you make Wilted Kale.
This whole meal took me about 35 minutes. It may take you a bit longer if you aren't used to putting a meal together, but it's pretty simple. First, make the chutney and set it aside. Then start the Sautéed Cod. After you flip the cod to the second side, add the spinach to the pan and wait until it wilts slightly. Take it out before it darkens. You will have a delightfully beautiful meal.
What You Need
This recipe requires a sauté pan and a spatula. If you don't have a great set of pans, this should be your first purchase. Why be frustrated in the kitchen? And remember if you have nonstick pans, you will need the proper utensils (no metal!) when you use your pans.
Sautéed Cod Fish Recipe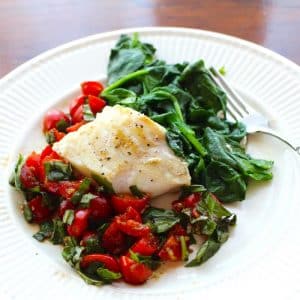 Sautéed Cod Fish
Light, flaky fish
Ingredients
2 6-

ounce

cod filets

2

tablespoons

olive or canola oil

1

teaspoon

butter

salt and pepper to taste

I use about ¼ teaspoon salt; ⅛ teaspoon pepper.
Instructions
Heat the oil and butter in a medium skillet over medium heat.

Add the cod to the pan when the oil is hot.

Sprinkle with salt and pepper.

Sauté for about 4-5 minutes until the fish is slightly turning brown.

Flip the fish to its other side and continue to sauté for 3-5 minutes.

The fish should be slightly browned, but still flaky when you test it with a fork.
Recipe Nutrition Information
This recipe is GF, NF, SF, EF, CF (use sea salt)*
The information shown is an estimate provided by an online nutrition calculator. It should not be considered a substitute for a professional nutritionist's advice.
Nourish Your Body & Soul
I encourage you to care of yourself by eating satisfying, nourishing food that is good for your body and makes you feel healthy. Protect your spirit by living authentically, moving your body, and taking time to replenish and rest. I think you might also like these recipes & posts from Recipe Idea Shop:
RATE, PIN & SHARE!
Please Rate our recipes, and Pin and Share them on social media. Comments are welcome, too!
*Allergen Key
GF = Gluten free | DF = Dairy free | NF = Nut free | SF = Soy free | EF = Egg free | CF = Corn free | V = Vegetarian | VG = Vegan
Note: If you have serious allergies or sensitivities, to be considered free of these allergens, you need to use products specifically marked "gluten free," etc. There can be cross-contamination in facilities.
This post was first published on Recipe Idea Shop May 25, 2016 and updated September 15, 2021.