Slow Cooker Caramelized Onions. Easy peasy. Make a whole pot and freeze them to use in French Onion Soup, Scalloped Potatoes with Caramelized Onions, on your roasts, or in anything savory.
Slow Cooker Caramelized Onions
Hi. It's Lois at Recipe Idea Shop, telling you about some super easy, crazy Slow Cooker Caramelized Onions, a recipe I got from my friend, Jane Megginson. I made some and froze them in one-recipe size bags a couple weeks ago. Then, when I wanted to make Scalloped Potatoes with Caramelized Onions, I simply pulled them out of the freezer, thawed them, and made my potatoes. Yum!
There are two simple tricks to making these Slow Cooker Caramelized Onion. The first oneis to use a slow cooker (Crockpot) that gets nice and hot on the high setting.
The second trick is to put your slow cooker outside when you are making them. Why do I say that? Because the onion flavor will permeate everything in your house if you make the onions in your kitchen! The first time I made these scrumptious caramelized onions, I had the Crockpot in my kitchen. Don complained for days about the onion smell. It was a bit strong. I liken it to making kimchi in your house. The smell sticks with you.
So trust me. If you have a porch or a shed with electricity, put your slow cooker there when you make these delicious Slow Cooker Caramelized Onions. You will be happy you did. And you're gonna love them when you eat them!
Try Making It With This
Slow Cooker Caramelized Onions Recipe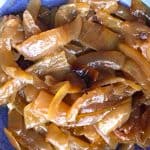 Slow Cooker Caramelized Onions
Flavorful, savory, somewhat sweet caramelized onions. Good for onion soup, pizza, scalloped potatoes, just about any savory dish.
Total Time
6
hours
30
minutes
Ingredients
3

pounds

yellow onions

(about 8-10 medium onions)

2

tablespoons

butter

2

tablespoons

olive oil

1

teaspoon

salt

1/2

teaspoon

pepper

1/2

cup

cooking sherry
Instructions
Peel and slice the onions in thin slivers.

Set your slow cooker to high temperature. Add the butter and oil.

When the butter is melted, add the sliced onions, salt and pepper.

Cook the onions on high for about 6 hours, stirring a few times, until they have browned (caramelized) to the color you like.

Toward the end (maybe 5 hours into the cooking) because they are wet, vent the pot lid by putting chopsticks across either end to allow steam to escape (if you just prop one side, the condensation will just drip back into the pot).

When the onions are almost done, add the sherry, and continue to cook on high for another half an hour or hour.
https://recipeideashop.com/slow-cooker-caramelized-onions
Note: Many of the links included throughout Recipe Idea Shop are affiliate links, which means if you follow them and you buy something, we will get a small commission. It doesn't cost you a penny more, and you can still use your Amazon Prime (Shop Amazon — Give the Gift of Amazon Prime) account to buy. This posting includes affiliate links. Don and I love our Amazon Prime account.
Slow Cooker Caramelized Onions Nutrition
Want More Recipes Like This?
If you want more delicious recipes, please sign up for our free cookbook.
Pin & Share!
Please Pin and share our recipes. And tell us what you think in the comments.
You May Also Like These Recipes From Recipe Idea Shop
BEFORE YOU GO, DID YOU GRAB YOUR FREE COOKBOOK?