RECIPE IDEA: South Beach Lemon Ricotta Creme
Hi. It's Lois at Recipe Idea Shop, telling you about some delicious South Beach Lemon Ricotta Creme (pudding) we had recently. I love these ricotta puddings. They are simple and tasty. Instead of 5 minutes, this one took 7 minutes because I had to zest the lemon.
The easiest way to zest a lemon is to use a microplane grater, and that's what I usually use. We have an old-fashioned zester, which looks like a set of brass knuckles on a stick (ours has a wooden handle), and sometimes I use it. See the pictures below.
If you don't have either of these tools, you can use a sharp knife to slice the zest (the outer peel) off the lemon, cut off the pith (white inner lining), and then cut the rind in tiny strips.
The zest adds a tartness to the Lemon Ricotta Creme. It also looks pretty when added to the top as a garnish.
Creamy and flavorful, this dessert is packed with protein. It's relatively low fat and definitely satisfying. Of course, it's not smooth and creamy like a "real pudding," such as Jackie's Vanilla Pudding, but it hits the spot when you are trying to lose a few pounds or cutting out sugar. I know you're gonna love this recipe.
BUT FIRST, DID YOU GRAB YOUR FREE COOKBOOK?
Recipe follows…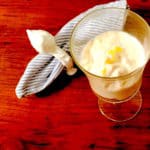 South Beach Lemon Ricotta Creme
Ingredients
1

cup

part-skim ricotta cheese

zest of one lemon

1/4

cup

lemon juice

1/2

teaspoon

vanilla extract

2

individual packages of sugar substitute
Instructions
Mix all the ingredients until well blended.

Chill for at least 1/2 hour before serving.
https://recipeideashop.com/south-beach-lemon-ricotta-creme/
Note: Many of the links included throughout Recipe Idea Shop are affiliate links, which means if you follow them and you buy something, we will get a small commission. It doesn't cost you a penny more, and you can still use your Amazon Prime (Shop Amazon – Give the Gift of Amazon Prime) account to buy. This posting includes affiliate links. 
SaveSave
SaveSave