Spicy Coconut Chicken. Crispy on the outside, juicy on the inside. You're gonna love it.
Spicy Coconut Chicken
Don here. I was looking for an interesting fish recipe and came across "Nutty Coconut Fish" submitted by Missybic at allrecipes.com. I suspect Missybic is from my Mother's generation because two of the ingredients are Kraft Mayonnaise and sugar. Seems a lot of my Mother's recipes call for the same two ingredients. Kraft must have given away lots of free recipes after WWII.
Use Chicken Instead of Fish
Looking in our freezer, the only fish I found was Talapia, which we had just a few nights ago, but there was an abundance of frozen chicken breasts. The coating for the Nutty Coconut Fish looked like it would do equally well with chicken, so off I went to prepare our Sunday feast. The next time hopefully we'll have some cod or flounder and I can try it with fish.
Or what do you think about using it for shrimp, scallops or even pork chops? When you make your version, please post your recipe.
TOOLS FOR A WELL-EQUIPPED KITCHEN
Every kitchen should have the very best tools you can afford. At the least, buy yourself a good set of pans, a slow cooker, an Instant Pot, measuring cups and spoons, and the best set of chef's knives you can afford. Also be sure to get a full sized food processor and a mini food processor. These tools are essential for any well-equipped kitchen!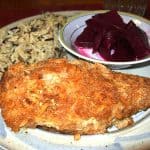 Spicy Coconut Chicken
Crunchy on the outside, juicy on the inside.
Total Time
1
hour
10
minutes
Ingredients
4

large

chicken breasts

1/2

cup

mayonnaise

1/2

cup

prepared brown mustard

1

cup

dried gluten free bread crumbs

(Panko is usually GF)

1/2

cup

shredded coconut

(use unsweetened)

1/2

cup

finely chopped nuts

(any kind you like would do or mix several together)

2

teaspoons

granulated sugar

(I prefer the natural kind which is sweeter, I think)

2

teaspoons

salt

1

teaspoon

cayenne pepper

(adjust this to your taste)
Instructions
Lightly grease an oven-proof baking dish large enough to hold the chicken breasts in a single layer.

Preheat the oven to 350F degrees.

Mix the mayonnaise and prepared mustard together in a dish large enough to lay a chicken breast flat.

In a second dish of similar size, combine the dry ingredients, mixing thoroughly.

Dip the chicken first in the mayonnaise mixture being sure to coat both sides.

Then dip it in the dry mixture, gently pressing the chicken into the dry mixture to coat both sides. Place the chicken breasts in the baking dish in a single layer.

Bake for 1 hour or until done.
https://recipeideashop.com/spicy-coconut-chicken/
Note: Many of the links included throughout Recipe Idea Shop are affiliate links, which means if you follow them and you buy something, we will get a small commission. It doesn't cost you a penny more, and you can still use your Amazon Prime (Shop Amazon — Give the Gift of Amazon Prime) account to buy. Don and I love our Amazon Prime account. This posting includes affiliate links. 
Spicy Coconut Chicken Nutrition
Want More Recipes Like This?
If you want more delicious recipes, please sign up for our free cookbook.
Pin & Share!
Please Pin and share our recipes. And tell us what you think in the comments.
You May Also Like These Recipes From Recipe Idea Shop
BEFORE YOU GO, DID YOU GRAB YOUR FREE COOKBOOK?
[mc4wp_form id="5109″]