Do you love pie, but you don't eat gluten? This Sweet Gluten Free Pie Crust is the best. The flavor is great; it's a bit sweet and nice and flaky.
Sweet gluten free pie crust is a tasty option when you need a gluten free pie crust.
Are you looking for a Gluten Free Pie Crust recipe? Gluten is the stuff that makes bread and pastry dough stick together. When Lois discovered she was sensitive to gluten, her taste for pie didn't diminish. So we set off to find a Gluten Free Pie Crust recipe that worked as well as the traditional one. This recipe uses Bob's Red Mill Gluten Free 1 to 1 Baking Flour (affiliate link). It has the combination of gluten free flours that allows the mixture to become sticky enough to hold together when mixing and making a pie shell.
Do It By Hand
Lois found a recipe for GF pie crust on A Little Insanity. Of course, having made hundreds of pies in my short life, I modified it, not the proportion of the ingredients but the method. Erika at A Little Insanity makes the crust using a stand mixer. I make mine by hand. The attachments for our mixer don't reach far enough into the bowl for this small quantity. Besides, I like the feel of the dough and the pleasure of seeing it all come together perfectly.
Which Pies Are Best With This Sweet Gluten Free Pie Crust Recipe?
This recipe is for sweet pies like pumpkin, apple, blueberry, lemon meringue or peach. It has sugar added to the crust. For savory pies, I would leave out the sugar and add a bit more salt and perhaps herbs and spices depending on the type of savory pie. However, Lois used it for her Tomato Basil Pie and we loved it.
What's the Secret to a Good Pie Crust?
Like any pie crust recipe, the secret is in cutting in the butter and adding just the right amount of water. I use a pastry cutter (affiliate link) to blend the butter into the dry mixture. Use very cold (but not frozen) butter cut into tablespoon size or smaller chunks, and then keep pushing the pastry cutter through the dough. Scrape the butter chunks off the pastry cutter and continue doing it over and over again until the mixture looks like coarse cornmeal with some small pieces the size of dried peas. Add the water slowly a couple of tablespoons to start, then one by one, until the dough almost holds together when mixing with the spoon.
This whole mixing process takes about 20 minutes. Unlike regular pie crust, you don't roll out the dough. Gluten free dough is difficult to roll out. It cracks. And rolling out the dough eliminates the flakiness. So instead, pat the pie crust into the pie.
What You Need
You will need a mixing bowl, pastry cutter, measuring cups and spoons, and a pie plate. You also need some pie weights to keep your crust from poofing up if you are prefacing it. Do yourself a favor and buy a pretty pie plate that will last you a lifetime.
Sweet Gluten Free Pie Crust Recipe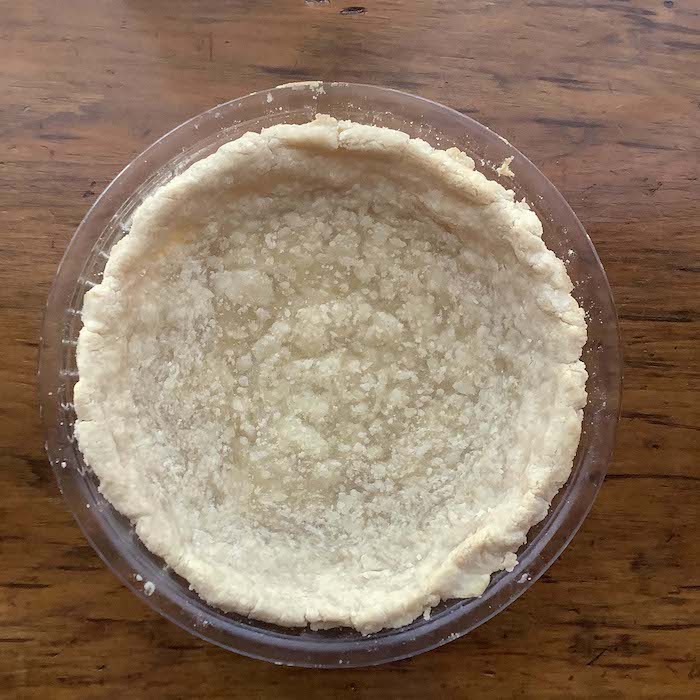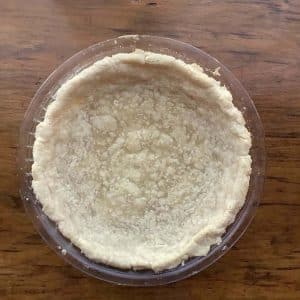 Sweet Gluten Free Pie Crust
A sweet, flaky, buttery gluten free pie crust.
Ingredients
1 ½

cups

Bob's Red Mill Gluten Free 1 to 1 Baking Flour

or another gluten free flour

2

tablespoons

sugar

½

teaspoon

salt

7

tablespoons

cold butter

for vegan, use Crisco

8-10

tablespoons

cold water

(put an ice cube in the water while preparing the ingredients)

1

teaspoon

apple cider vinegar

Pam nonstick cooking spray
Instructions
By hand, whisk together flour, sugar and salt.

Add in the cold butter or Crisco in small pieces.

Using a pastry cutter, mix until well combined. It will be dry and crumbly.

Add the apple cider vinegar and a couple of tablespoons of cold water.

Blend until the dough comes together, adding more water—1 tablespoon at a time—as needed.

The dough should not be sticky and should hold together when pressed.

Do not roll out the dough. Instead, press the dough into the pie plate, working it slowly up the sides of the plate.

Place the pie plate in the refrigerator until ready to use. If you are not using it within an hour, cover it with plastic wrap to hold in the moisture.

Follow the instructions on your pie recipe for baking temperatures and time.
For Pies That Are Unbaked (i.e., Cream pies)
If you need to prebake the crust for chilled pies (think Lemon Meringue Pie), prick bottom of crust with a fork and place pie crust in the refrigerator until you are ready to use it. When baking an empty pie crust, fill it with pie weights or dry beans to prevent shrinkage and bake the pie crust at 375°F degrees for approximately 15 or 20 minutes or until crust is lightly browned.
Notes
Note: The amount of needed water may vary depending upon what gluten free flour you use. For Bob's Red Mill, you will need about 10 tablespoons of water.
Nutrition
Recipe Nutrition Information
This recipe is GF, NF, SF, CF (use sea salt), V, VG (use Crisco instead of butter)*
The information shown is an estimate provided by an online nutrition calculator. It should not be considered a substitute for a professional nutritionist's advice.
You May Like These Recipes & Posts From Recipe Idea Shop
RATE, PIN & SHARE!
Please Rate our recipes and posts, and Pin and Share them on social media. Comments are welcome, too!
*Allergen Key
GF = Gluten free | DF = Dairy free | NF = Nut free | SF = Soy free | EF = Egg free | CF = Corn free | V = Vegetarian | VG = Vegan
Note: If you have serious allergies or sensitivities, to be considered free of these allergens, you need to use products specifically marked "gluten free," etc. There can be cross-contamination in facilities.
This recipe was originally posted on Recipe Idea Shop in October 4, 2015 and updated March 1, 2021.