Hungry for greens? Dandelions are abundant now. And FREE. If you like bitter greens, this Dandelion Greens Recipe is for you.
Try our Dandelion Greens Recipe.
It will have you digging in your yard. Do you think dandelions are just for the bees? No way. In fact, you can eat every part of a dandelion, though I only eat the greens and I prefer them when they are small and young. I love my greens (kale, collards, dandelions) sautéed with olive oil, garlic and onions, or with a vinegar-and-sugar type dressing.
When you  buy that package of "mixed greens" at the grocery store, take a careful look at it. You'll find baby dandelion leaves in it. And you probably paid $5 for the box, right? It's simple to dig them up and cook them. The hardest part is washing them. I tell you about that a little later.
With the scary pandemic going on, I'm not going to the grocery store any more often than I have to go. I like to eat green, leafy vegetables nearly every day, either as a salad or cooked. They are super good for you because they are loaded with Vitamin K and other good vitamins and minerals.
The Process
I took my special dandelion digging tool and went out and dug up some. My yard looks better, and we have greens to eat. (Caution: I suggest you don't eat greens from your yard if you use chemicals on it.)
The bigger leaves are rather tough. Try to dig up your dandelions when they are tiny, if possible. If they are big, you will need to steam them before eating them, and I suggest cutting them up Chiffonade style before cooking them.
How to Wash Dandelion Greens
Washing them is quite a process. Since they are weeds that love to cling to the dirt, you will have lots of dirt, leaves and other debris mixed in. First, shake off the dirt while you are outside. Put the greens in a bag or a bucket to bring them inside.
Fill up your kitchen or laundry sink with cold water and swish them around. Let them soak for awhile. Swish again. Be sure to use a drain strainer to catch the dirt and debris. Drain the water. Remove as much dirt from the sink as you can.
Leaving the strainer in place, rinse the dandelion leaves each individually and put them into a salad spinner. Spin to remove excess water. Leaving them in the basket of the salad spinner, rinse and spin them again. Now carefully look at your greens to make sure they are clean and free of leaves and other weeds you don't want.
Spin Dry
When they are thoroughly clean, spin them "dry." They will still be damp, which is okay if you are going to cook them soon. If you plan to store them, wait until they are dry, wrap them in a paper towel, put the paper towel wrapped greens in a plastic bag, and store them in the vegetable crisper of your refrigerator for no more than a day or two.
Prepare to Cook
To cook large dandelion leaves, Chiffonade the leaves, steam them for a few minutes. You can skip steaming them if the leaves are still quite small. Then sauté the dandelions with olive oil, onions and garlic. Or sauté them with Molasses Honey Vinaigrette. Serve hot.
What You Need
Depending on the size of your dandelions, you will need a vegetable steamer, knife, cutting board, salad spinner, large sauté pan, and, of course, a dandelion digging tool like this one.
Dandelion Greens Recipe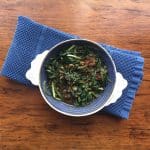 Dandelion Greens Recipe
Dandelions are a bitter green plant that grows abundantly. Lots of Vitamin K for you!
Ingredients
4

cups

Dandelion greens

(picked over and thoroughly washed)

1

tablespoon

olive oil

1/4

cup

chopped onion

1

clove

garlic

(minced)
Instructions
Steam the dandelion greens over boiling water for about 5 minutes.

Heat the olive oil in a large sauté pan over mediium heat.

Add the chopped onions and sauté until the onions arre transparent (5 minutes or so).

Add the minced garlic. Stir.

Add the steamed dandelion greens and continue cooking for 10 minutes or so.

Optional: Stir in about 1/4 cup Molasses Honey Vinaigrette.
https://recipeideashop.com/dandelion-greens-recipe
Recipe Notes
Note: If your dandelion greens are large, cut them in thin strips (Chiffonade) before steaming them or they will be tough.
Affiliate Disclosure: Many of the links included throughout Recipe Idea Shop are affiliate links, which means if you follow them and you buy something, we will get a small commission. It doesn't cost you a penny more, and you can still use your Amazon Prime account to buy. Don and I love our Amazon Prime account. This posting includes affiliate links.
Recipe Nutrition Information
The information shown is an estimate provided by an online nutrition calculator. It should not be considered a substitute for a professional nutritionist's advice.
WHAT'S NOT TO LOVE?
Trust me, you're gonna love this recipe. Up your recipe repertoire. Add this recipe to your collection. But don't stop there…subscribe to our email newsletter and get a free cookbook and a printable grocery shopping list.
RATE, PIN & SHARE!
Please Rate our recipes, and Pin and Share them on social media. Comments are welcome, too!
You May Also Like These Recipes From Recipe Idea Shop
BEFORE YOU GO, DID YOU GRAB YOUR FREE COOKBOOK?
[mc4wp_form id="5109″]