Grilled Peaches. So simple, yet amazingly delicious. Did you know they don't even have to be fully ripe to grill them?
Grilled peaches. Wow!
Don, here, planning my trip to the Harrisonburg Farmers Market, to look for some peaches. Boy, do I love peaches! Especially Grilled Peaches. Ready in 25 minutes. Do you know that August 23rd is National Eat a Peach Day? What a good time to make grilled peaches.
Eat a Peach Today
There are so many ways to eat ripe peaches. But what if the peaches need a few days to reach peak ripeness, and I get the urge to eat one right now? Grill those not-yet-quite-ripe peaches!
In the summertime, I like to use the grill instead of heating up the kitchen. This means that when I want to make grilled peaches, it's likely the grill on the deck is already hot. And the cool thing is that Grilled Peaches can cook while we are eating supper and will be ready just in time for the dessert course. Grilling is simple and quick. Just cut your peaches in half, and put them face down on a hot grill. There's a tiny bit more to it, but details are in the recipe.
What Makes a Good Peach?
Peaches start ripening in July and are still available now where I live in the Shenandoah Valley. The best, ripest peach is one that when I first bite into it, the flavor explodes in my mouth. It is so juicy that the luscious liquid dribbles down my chin. My favorite way to eat peaches is juicy and raw, but I also love Grilled Peaches, peach cobbler, peach pie, peach crisp, peach salsa and lots of other peach dishes.
What You Need
Well, if you're going to grill something, you'll need a grill. You also need measuring spoons and a good grill set. But get yourself some beautiful dinnerware, too.
Grilled Peaches Recipe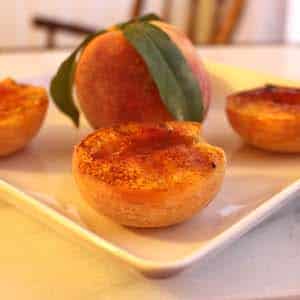 Grilled Peaches
Warm, fresh peach, seasoned lightly with sugar and cinnamon
Ingredients
2

fresh peaches

1

tablespoon

sugar

1

tablespoon

ground cinnamon
Instructions
Slice the peaches in half along the line formed between the stem and the flower end.

Remove the pit.

Place the peaches cut side down on the hot grill.

Close the cover if yours is a covered grill.

Cook for 5 to 10 minutes depending on how hot the grill is.

If the grill marks are seared onto the peach and it is just starting to brown, turn it over.

Mix the cinnamon and sugar and sprinkle over the cut side.

Close the lid and turn the gas grill off. (If you use a charcoal grill, move the peaches out of direct heat and leave the lid off if you think the temperature is too hot.)

Grill for another 10 minutes or so depending on how hot the grill is.

The peaches are done when they feel soft to the touch and the indentation where the pit was fills with juice.

Serve just as they come off the grill. Or add some heavy cream, ice cream or maybe a shortbread cookie.
Notes
Note: For a different flavor, spoon a dollop of raspberry jelly in the pit indentation instead of the cinnamon-sugar combination.
Nutrition
Serving:
1
whole peach
Calories:
35
kcal
Carbohydrates:
8.7
g
Protein:
0.7
g
Fat:
0.2
g
Sodium:
0.1
mg
Fiber:
1.5
g
Sugar:
7.4
g
Recipe Nutrition Information
This recipe is GF, DF, NF, SF, EF, CF, V, VG*
The information shown is an estimate provided by an online nutrition calculator. It should not be considered a substitute for a professional nutritionist's advice.
Nourish Your Body & Soul
I encourage you to care of yourself by eating satisfying, nourishing food that is good for your body and makes you feel healthy. Protect your spirit by living authentically, moving your body, and taking time to replenish and rest. I think you might also like these recipes & posts from Recipe Idea Shop:
Rate, Pin & Share!
Please Rate our recipes and posts, and Pin and Share them on social media. Comments are welcome, too!
*Allergen Key
GF = Gluten free | DF = Dairy free | NF = Nut free | SF = Soy free | EF = Egg free | CF = Corn free | V = Vegetarian | VG = Vegan
Note: If you have serious allergies or sensitivities, to be considered free of these allergens, you need to use products specifically marked "gluten free," etc. There can be cross-contamination in facilities.
This post was first published on Recipe Idea Shop August 20, 2015 and updated August 10, 2021.
Last Updated on May 25, 2022 by Adriana